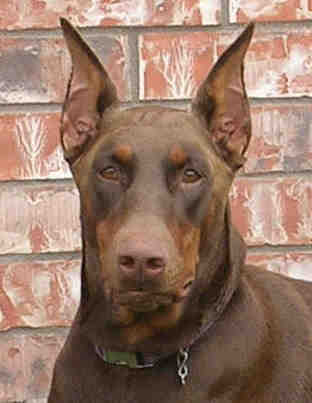 Garretts' Dobermans .com
Welcome to Garretts' Doberman Puppy Site!

Maggie's Litter's Development Diary
---
Litter Links - Born May 1, 2006:
Litter's Home Page
First Day
Tail Dock
1st Week
2nd Week
3rd Week
4th Week
5th Week
7th Week
8th Week
9th Week
10th Week
Development Diary
Sire of this Litter
Litter's Mother
---
July 28, 2006 -
"Max" flew home today. Wendy called and said everything went fine. "Max" was a little confused, though. She emailed later and let us know he is fitting in well with their Malamute ... and he has a new name - Titan.

July 26, 2006 -
Well, the last remaining pup has finally found himself some awesome owners (just like his siblings did!). He will soon be living in Colorado Springs, CO with Wendy and her family. So, that wraps up this litter -- no more pups available.

The red female tagged pink went in this morning to have her ears cropped.

July 23, 2006 -
The red female that was originally tagged pink sold today to Gustavo from Frisco, Texas. He brought his niece and mom out to help with the decision making process. She is still with us, though. He will pick her up next Friday so he will be able to spend the whole weekend with her, helping her adjust.

July 22, 2006 -
The red male tagged blue found his new owners today. Heather, James and their two boys drove from Flint, Texas to come meet the three remaining pups .. and chose him!

July 7, 2006 -
Max returned to us today. Family's son turned out to have allergies to dogs. Letter included on site. Boy was that hard to take him back!

Red Female tagged pink made available again today. Janet said the yard on her new house is just not ready to bring a puppy home to .. no grass down yet and fence is not up. Janet will be waiting for better timing.

July 4, 2006 -
Red male and red female went to Hot Springs, Arkansas with us. They traveled very well!

June 26, 2006 -
Black male given a name - Maximillian, "Max"

June 25, 2006 -
Black male goes home today!

June 19, 2006 -
Dexter goes in today for his ear cropping!

June 18, 2006 -
The Garretts were out of town until today. Karah brought the pups over when we got back. We gave them their first round of shots per Karah's vet's recommendation. They all are doing great!

June 9, 2006 -
"Both females are extremely playful and love to be held. However, the girl with the pink ribbon is mischevious. She likes to lay on her belly with her bottom up in the air and then when one of her sibblings is least expecting it... She Pounces! It is hilarious. Both are very loveable. Hope this helps a little. --Karah"
>>In response to an inquiry from Dana.<<


June 6, 2006 -
The puppies are doing really great. They are either playing or sleeping!

June 3, 2006 -
Larry switched his pick .. he has decided on the red/rust male tagged black. So, that is our new "Dexter".

June 2, 2006 -
Janet from California has decided to take our second red/rust female.

May 29, 2006 -

"Hey Laura,

Well, the puppies are 4 weeks old today. We introduced them to the grass today and they loved it. Maggie is still trying to wean them so they are eating some puppy food and some off of mom. They are doing really great and growing every day. I will send the pictures to you of them on the grass. I will get some yarn so we can tell them apart and take some more pictures.

Karah"

May 28, 2006 -
Dana from Colorado Springs, CO and her family decided to make one of the red females one of their own.

May 20, 2006 -
Larry told us today that he is going to name his little boy Dexter "after one of the greatest sax players, Dexter Gordon.

May 16, 2006 -
The puppies are starting to stand up on their legs! Last night, we put a sheet in the living room and one of them was starting to walk on its legs. It seems these five pups are developing really well. I am keeping an eye on their weight and if they become lethargic. Happy to report no problems and they are getting stronger everyday!

May 14, 2006 -
The pups are beginning to be able to see the world around them .. eyes are open!

May 13, 2006 -
Sad day .. it happens, and when it does, it's heartbreaking. The Weavers lost the two black females. They did everything
they could to save them. After the first one passed away (it was sudden), they rushed mom and litter to the vet. The second one was questionable but the vet thought she would pull through just fine.

It was probably no longer than 5 hours after being at the vet's office and she suddenly passed away while a family member was holding her. The cause of death? Hookworms. The litter and mom are being treated right now. Here is some info copied/pasted off a web site. Apparently, it is very common for pups to get and symptoms hit very suddenly.

>>Dogs may become infected with hookworms by four routes: orally, through the skin, through the mother's placenta before birth, and through the mother's milk.

>>A dog may become infected when it swallows hookworm larvae (immature worm). The larvae may also penetrate the skin and migrate to the intestine to mature and complete its life cycle. If a pregnant dog has hookworms, the pregnancy may reactivate larvae. These larvae will enter the female's circulation and pass to the puppy through the placental blood flow. Finally, puppies may become infected through the mother's milk. This is considered to be an important route of infection for puppies.


Karah was very emotional over the whole experience. They were up all night supplementing with formula, had the 1st pup on a heating pad and blanket, and later went to sleep with it on the husband's chest.

So, how will the health of the rest of the litter be? Fine. Once the cause is identified, the treatment is simple. Here is a letter from Karah a few days following the loss telling what actions are being taken to ensure the health of the remaining littermates:

"Hey Laura,

By the time the puppies come to you (at 7 weeks), there should be no problem. We have already started worming them. We wormed them for three days as recommended by the vet. We will wait 2 weeks and worm them for another period of three days. Wait another 2 weeks and worm them for another period of three days. Dr. Russell was sure they had hookworms. She did a stool sample. Also, the wormer we have is not over the counter. They mixed this wormer up for us at the vet's office. So this should be more effective than something over the counter. We are also worming Maggie.

Karah"


Week 1 or Day 7--
Well, the puppies are growing, growing, growing! They are getting so big!! I noticed this morning that two of them are making small barking noises at each other. Of course, they can't hear yet since the ears are still closed as of today. The puppies are doing really great.

May 6, 2006 -
Received confirmation that the black/rust male puppy will be living in Baltimore, Maryland.

May 4, 2006 -
Ginger from Houston, Texas decided to make one of the black/rust females part of her family!

Day 4

Today the puppies had their tails docked. This was a very stressful day but had to be done. We took Maggie with us but had to wait outside. She was too stressed after the puppes went in to the room to have the "procedure" done. All is well, the puppies and Maggie are doing really good. We are back home and resting now.

May 1, 2006-
The baby's have a arrived!! Maggie started getting restless 2 days ago so we knew that it would be just any day. She had her first pup today around 4:15pm. I had been running errands in the early afternoon and was not home. Thankfully, Daniel (my husband) had come home early from work and was able to be here when she started having the puppies.

Right now as of 5:24 pm we have 1 red and 1 black male. Maggie is doing really great and mom is here with her now. The third pup was a red male, the fourth a red girl, the fifth a red girl, and the sixth a black girl.

The last pup was born around 9:30 pm. Maggie is resting now with her babies. We were all able to get "pretty good nights sleep".
---
Find a New Home for Your Dobe
Doberman Rescue Organizations
All Content Copyright © 2000-2010 GarrettsDobermans.com.
All rights reserved.