Moms for the pups you see on this site!





Females used in current breeding program:
Garretts' Red Sable - "Sable"
(owned by the Garretts)
Sable will be retired after her next (3rd) litter. The Garretts will keep a pup from that litter, thus Sable will not be bred until we are ready to home a new Dobe. Current plans are summer 2014.






Garrett's Princess Ella Bella - "Ella"
(owned by the Garretts)
Ella's next litter is expected to be bred late 2014 for 2nd and final litter.

Violet Tay Watson
(owned by the Watsons)
Mother of current litter born August 20, 2014.

These moms are the best of the best in the eyes of Garretts Dobermans. Sable and Ella are unbelievable with our children. Our kids are old enough now that they really are a big part of Sable's and Ella's day. The result of which are two Dobermans that are so sweet and loving, words don't do them justice. The Watsons share similar admiration for their girl, Violet. It's a true blessing to have them as part of our families. Puppies just makes it fun!


---
Scarlett was the daughter of Lady Agatha, "Aggie", both owned by the Garretts. Both girls had everything to do with the Garretts success and experience with the Doberman breed. Scarlett passed away November of 2013. She birthed 4 litters and from her last litter the Garretts kept a red female - Sable. Scarlett lived with the Garretts and was very much part of our family.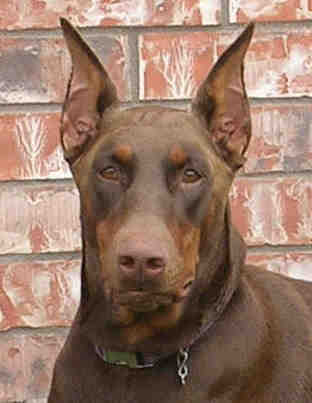 Garrett's Scarlett Red - "Scarlett"
(owned by the Garretts)

[DECEASED]

Mother of Sable & Pyro / Grandmother of Ella & Violet


---
The Dobe that started it all --
Aggie was the Garretts first Doberman. She was brought into the Garretts lives in 1998. She was retired after her 3rd litter and enjoyed life as a wonderful family pet! As you will witness through pictures on the site, Aggie very much enjoyed having pups around and loved to step in and help out with them! Sadly, Aggie passed away on July 12, 2010. Her body shut down from old age. She had no existing medical disease and her heart was in excellent shape to the end. Aggie lived a long life with the Garretts and we miss her very much.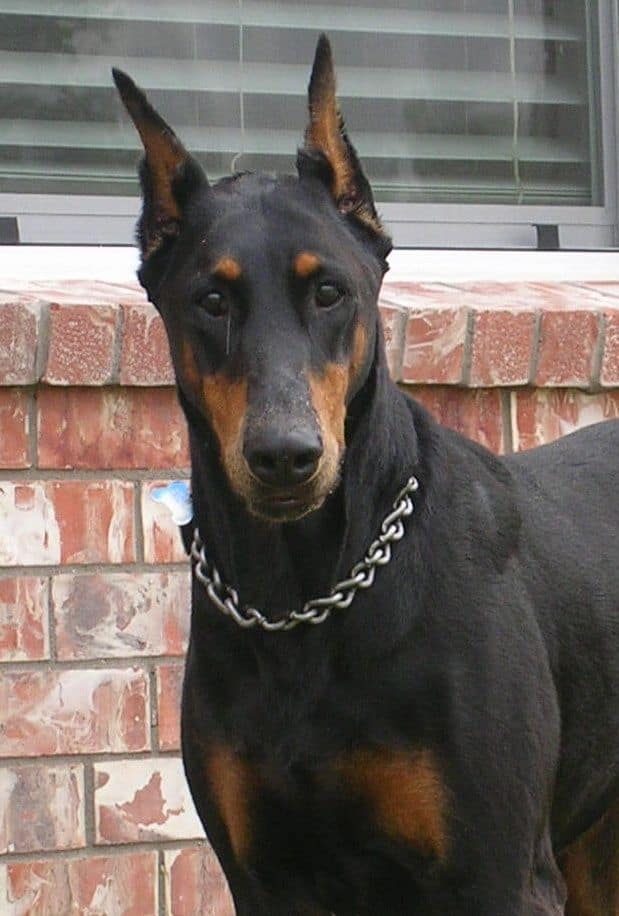 Lady Agatha - "Aggie"
(owned by the Garretts)

[Deceased]

Mother of Scarlett / Grandmother of Sable & Pyro / Great Grandma of Ella & Violet


---

Ellie wass owned by the Watsons. She birthed 4 litters; the Garretts' blue female, Ella, was out of Ellie's second litter. Ella lived with the Watsons and enjoyed a very full life of outdoor fun as well as being spoiled with the family life.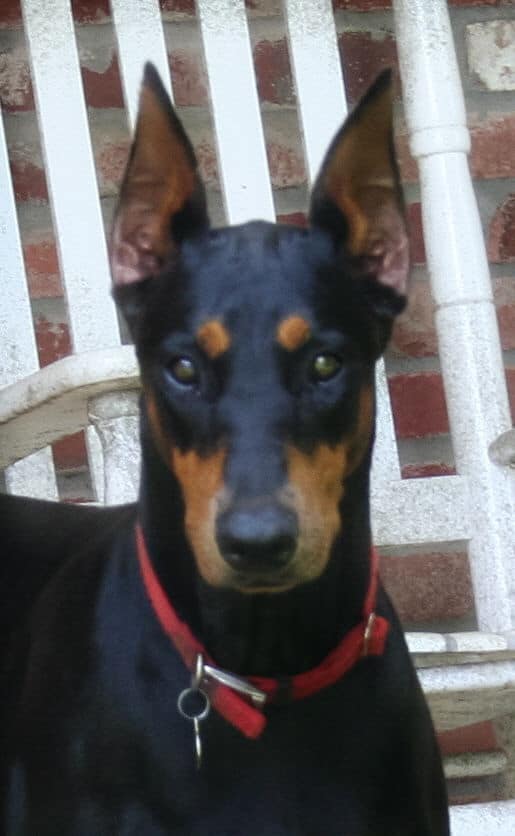 Ellie

(owned by the Watsons)

[DECEASED]

Mother of Ella / Grandmother of Doc


---
Other retired females associated with past litters
represented by Garretts' Dobermans :
Guenevere
(owned by the Georges)
RETIRED in 2006 -- "Our baby girl, Guen, is retiring. She has been a very caring mother. She has been the best mom and our best dog. I firmly believe the love of our pets is true love. I know in my heart it is." -- Pat G
Other Females: Owned by breeders not associated with Garretts' Dobermans.
We helped with the litter placement.
Polly
(owned by the Swehlas)
* formerly owned by the Georges

Amber
(owned by the Ruthann Stovall)
* formerly owned by the Georges

Shadow
(owned by Vickie Blair)

Peppy
(owned by the Busters)

Jadzia
(owned by the Kents)
Note: We have not personally placed pups from other breeders
other than our family members, the Watsons, since 2008. Garretts'
Dobermans now strictly supplies pups from either ourselves,
the Garretts OR the Watsons (family members).

We are not puppy brokers.

Pups from other sources will be handled as rescues or re-homing.
This we do actively help -- Dobermans in need of new homes.
If you are a rescue organization, please email us your contact
information. We will post on our rescue organizations page.

All Content Copyright © 2000-2014 GarrettsDobermans.com.
All rights reserved.