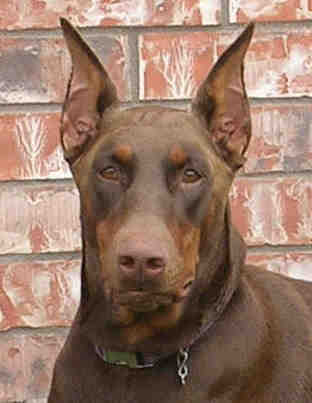 Garretts' Dobermans .com
Welcome to Garretts' Doberman Puppy Site!

Duke
---
Litter Links - Born May 1, 2006:
Litter's Home Page
First Day
Tail Dock
1st Week
2nd Week
3rd Week
4th Week
5th Week
7th Week
8th Week
9th week
10th Week
Development Diary
Sire of this Litter
Litter's Mother
---
This pup is now living with Heather, James,
and their two boys in Flint, Texas.
---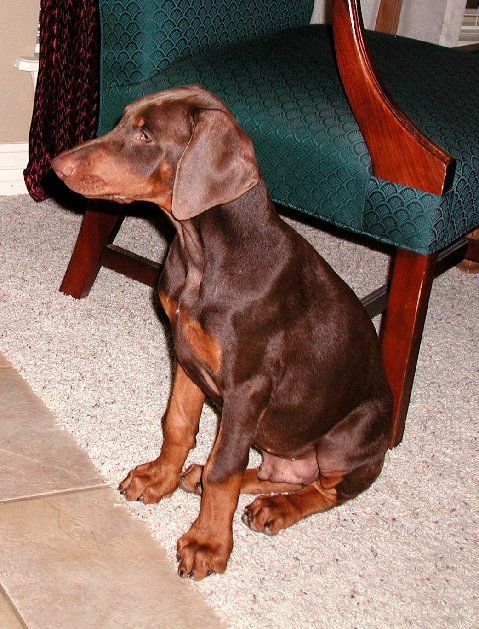 July 23, 2006 -

"Hey Mom, Dad & Laura,

Here's DUKE after his first full day home with us. Laura, he is already totally housebroken! He whines when he wants to go out to potty; no accidents in the house thus far. Such a smart boy.

Everything went just fine on the way home. He slept on my lap the whole way...woke up now & then & we walked him about half way. We got home around 11:00 p.m. He explored for a while. Went to sleep around 12:00 a.m. or so. He did not wake up until 7:00 a.m. when the boys woke him up to play!!

He loves it outside, too. It is nice out this morning. He is darling. We are already in love with him!

I will email you some pictures after his ears are done. Hope you place the one lone black pup soon. He's so pretty.

Take Care,
Heather, James, Blake, Bryce & Duke "
---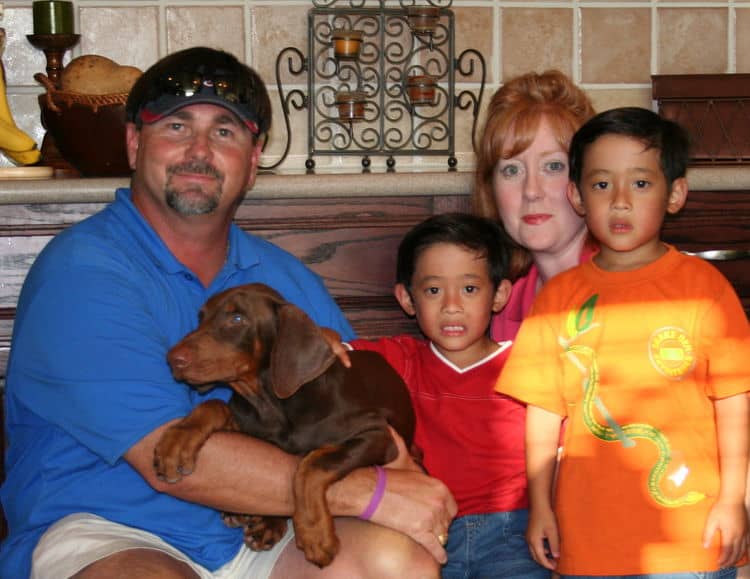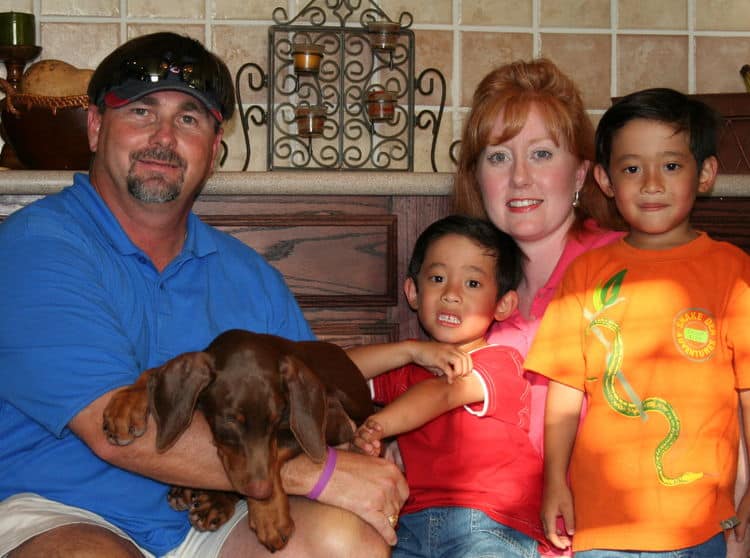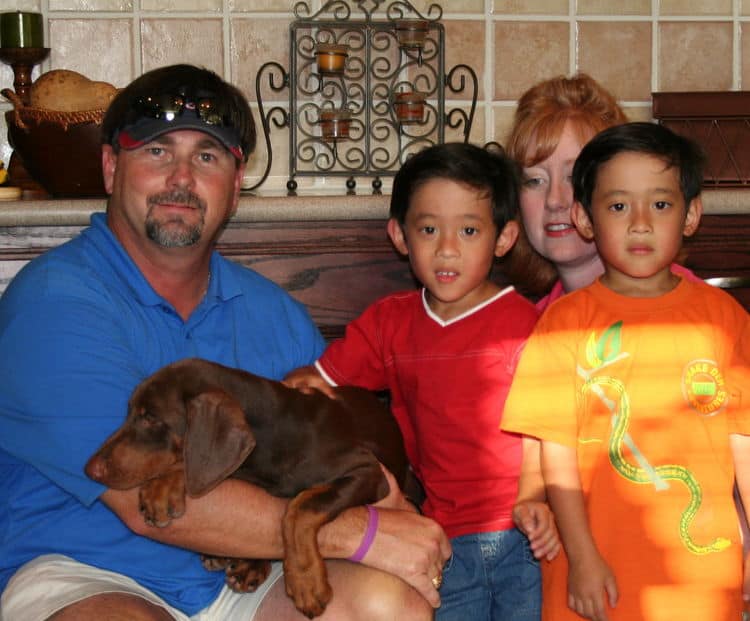 July 23, 2006 - James, Heather, and their sons came
out to meet the pups. They were drawn to this red male
and decided to take him home!
---
Pictures at 10 weeks old..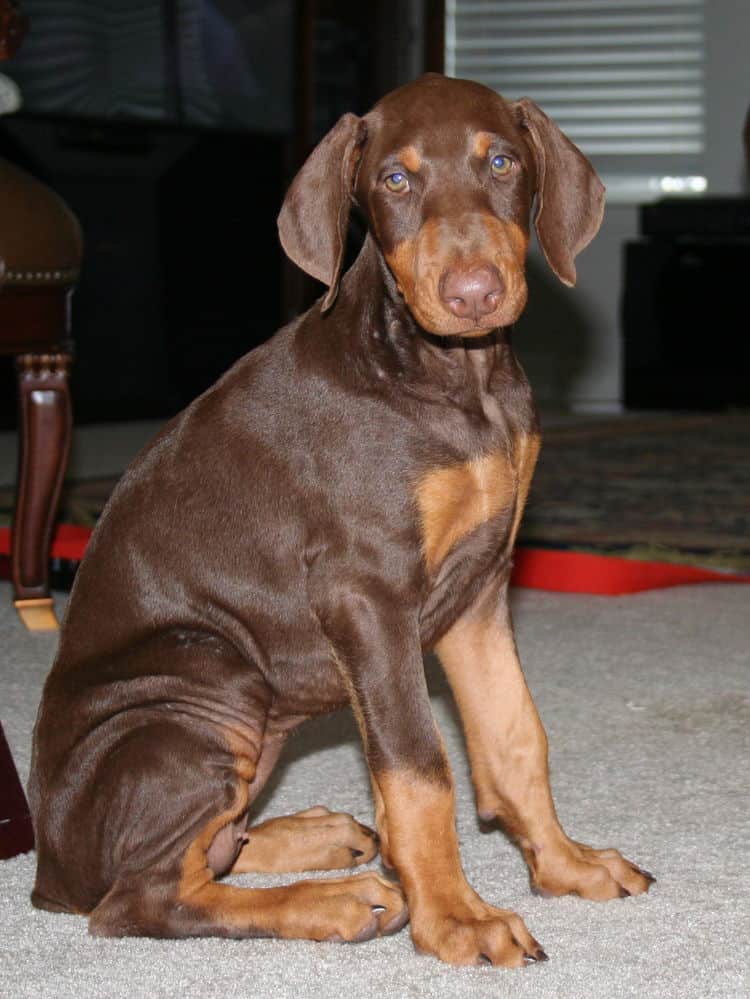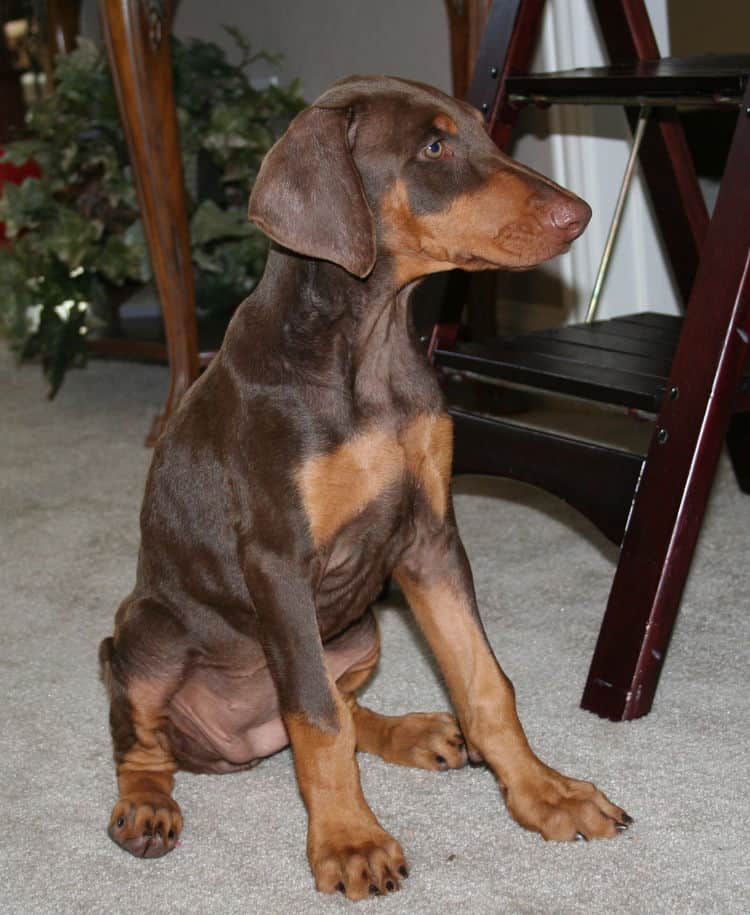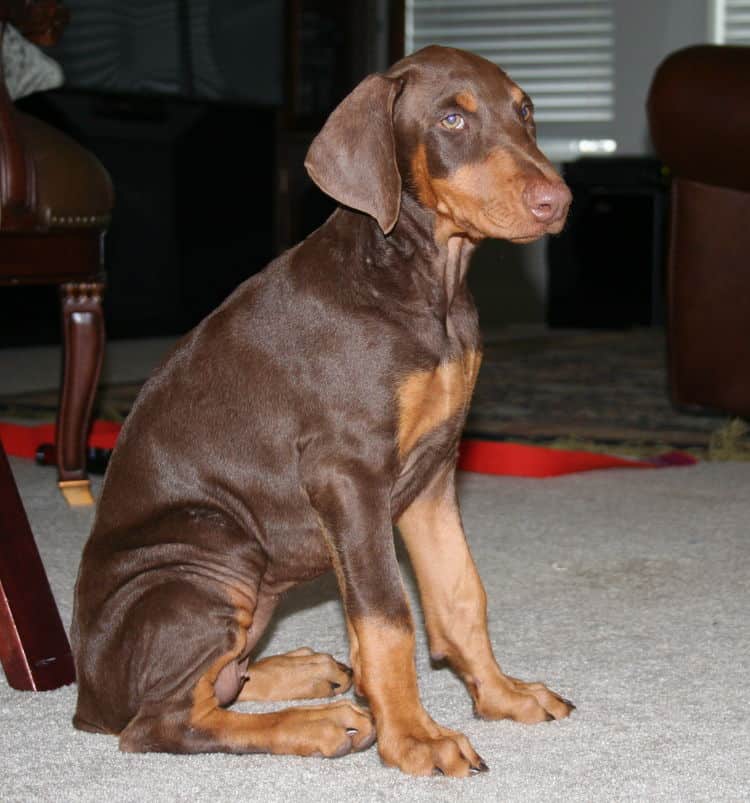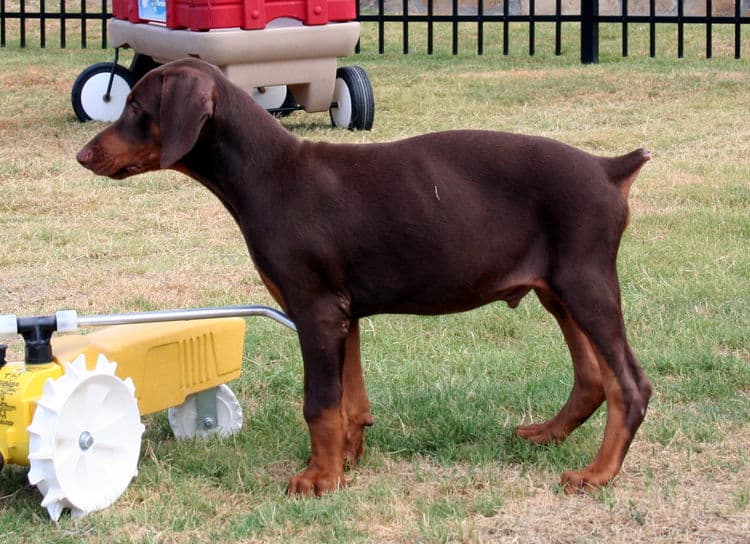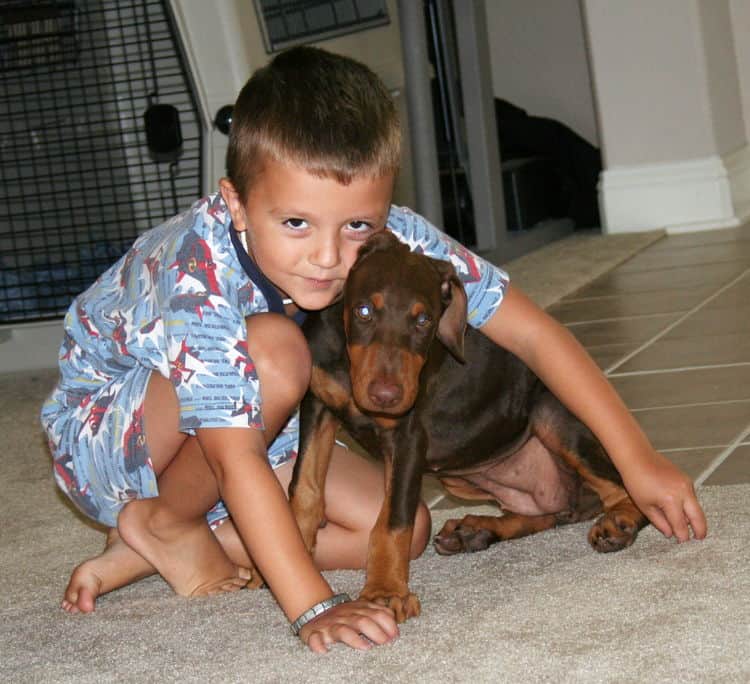 ---
Pictures taken at 9 weeks ..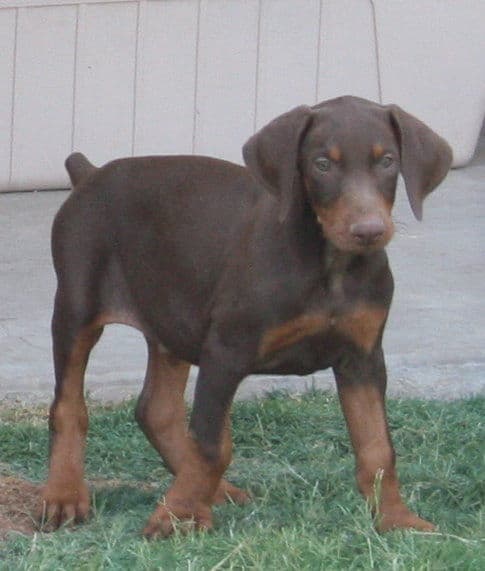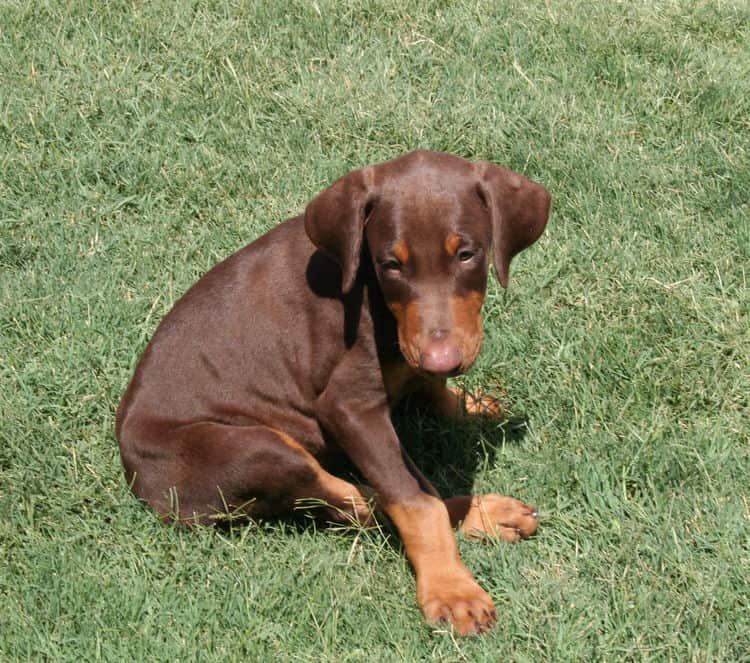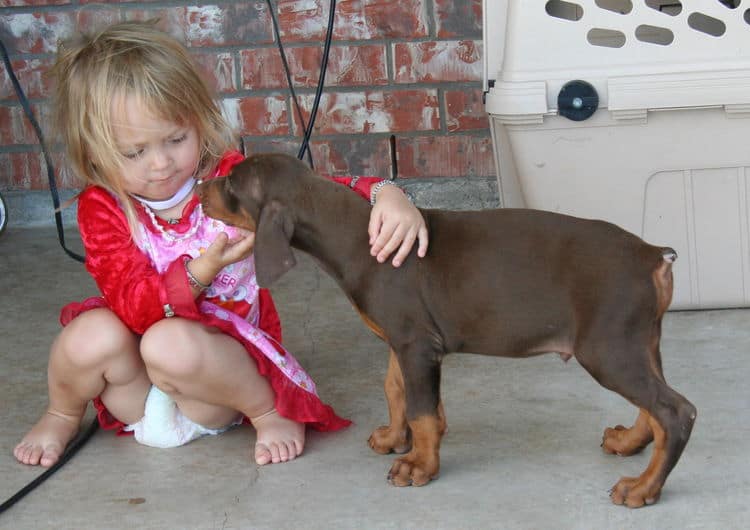 ---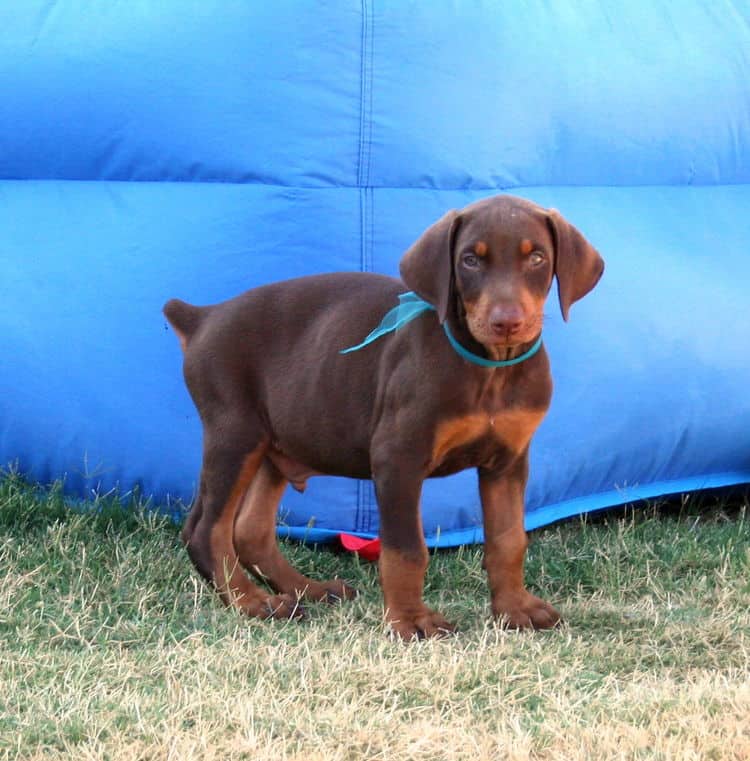 Pictures taken at 7 weeks old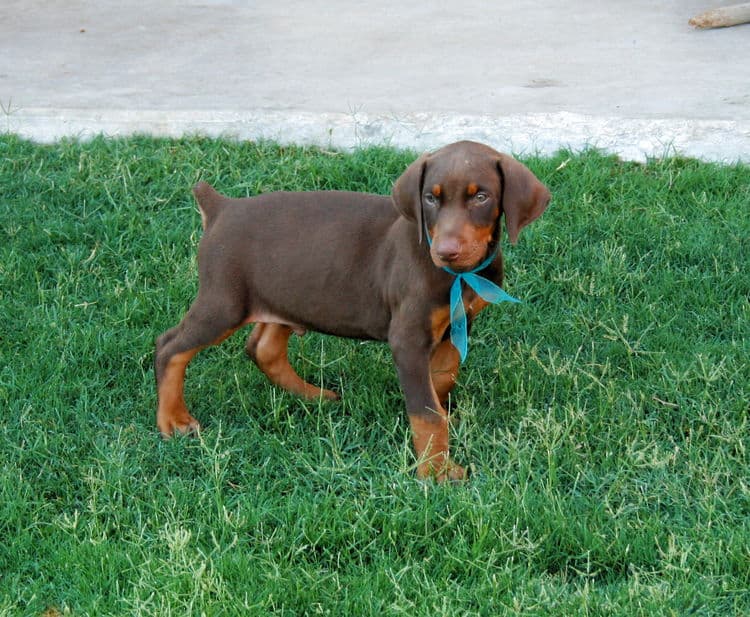 ---
The following pictures were taken at 4 weeks old..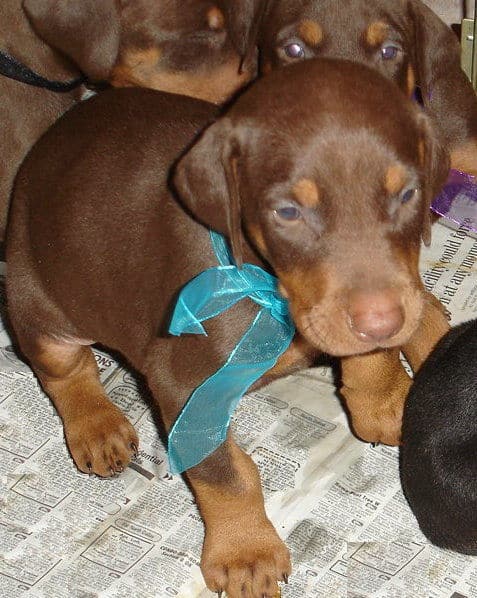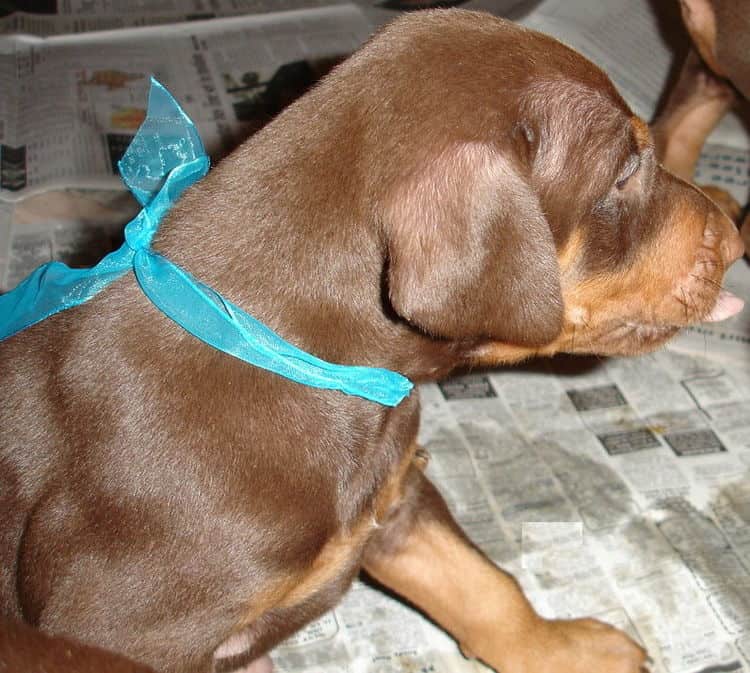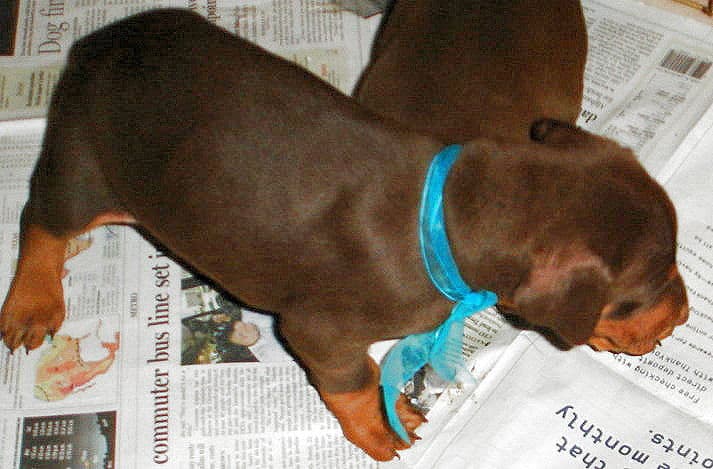 July 27. 2006 -

"Hi Laura,

I apologize for just now getting back to you. We took the pup on Monday for his due shots. You had asked how much he weighed: 27 pounds! He's a big guy. The vet said he looks great & we have an appointment for ear cropping on next Tuesday morning. Everything is going fine. I will have to buy stock in chew toys...he loves to chew, but is good to leave everything except his toys alone. I would love a copy of our family photo that you took the day we picked him up.

THANKS!
Heather"
July 18, 2006 -
"Laura,
I am interested in one of the 10 week old puppies. I think this may be a good option for our family. We lost the two 6 wk old puppies the 2nd week of January to the Parvo Virus. Our vet seems to think that it will be safe now to bring in another pup. Just 2 factors that he wants to consider/know about: 1. The name of the Parvo Vaccination that was used on the pups & 2. The age the first vaccination was given. He said as long as they were vaccinated at the right age with the right vaccine, they will be fine/protected. Also, we lost our 11-1/2 Doberman, Stein, 6 weeks ago to Bone Cancer. It was in it's last stages & it has been a very lonely place in our home since he has passed. Our boys miss him so much & James & I are just plain sad! :( A home without a Dobe is just not a home!!! Anyway, let me know what you think & about the Parvo Vaccines & we'll talk. Right now, I don't have a preference as to which pup. Thanks in advance. Heather (Flint, Tx.) "

RESPONSE:

"Heather,

I am so sorry!! It sounds like you were expecting it but that is still hard to accept. As for the shots, I gave them myself. The brand is Duramune Max 5. They have had 2 rounds -- on 6/18 and 7/4. I could give another shot before the pup goes home. And, I started the pups on heartworm prevention on 7/7. The black male has even been started on advantage flea control. He went into a home .. son turned out to be allergic to dogs! They are the ones that started the flea control.

Let me know if your vet thinks it will work out.

Again, sorry for your loss -
Laura"

July 20, 2006 -

"Laura,
My vet called & seems to think it will be fine. As long as there is no Parvo in the history of the litters...I forgot to ask that. Right now I am leaning towards the reds/male or female. Thanks, Heather"
May 30, 2006 - [In response to available black female ..]
"Thank you for contacting me & keeping me in mind. I have contacted my vet & am waiting on a return call. If you can remember everyone's crazy situations, I'm the one who had two female doberman pups who passed 4 days after I got them from parvo (1st week in January of this year). I am trying to see if it is safe yet to bring another pup into my home/yard. It has been a full 5 months, but I do not want to take any chances. If he says it's ok, & if you think it's ok, I'll email you immediately. Otherwise, please keep me on your list....when it's ok, I definitely want a puppy from Scarlett...she could be twins with our 11 yr. old doberman Stein.

Thanks again,
Heather"

RESPONSE:

"I definitely remember you. Your story alone makes you stand out. Let me know what your vet says. I have no idea what to think! She has had two rounds of puppy shots (including the parvo vaccine). I can make sure she gets a third at 9 weeks old if your vet thinks that would be a good idea. The shots were given at 5 weeks old and 7 weeks old. She is also on heartworm prevention and tested negative for worms. Anyway, I do hope it works out BUT COMPLETELY understand being on the cautious side. Thanks for getting back to me! Laura "

June 1, 2006 -
"Laura,
After talking to my vet & three others, not one recommends that I bring a new puppy in yet. They all say that it is probably ok, but still risky after just 5 months. I am going to go with caution & wait until Scarlett's litter in the Spring of '07 so please keep me on your list. I wish circumstances were different, but I just couldn't bear to lose another pup because I was in a hurry. Thank You & I hope you find a wonderful home for her quickly.

Best,
Heather"

RESPONSE:

"Heather,

I hate to hear the news but definitely appreciate your responsible decision. I promise not to forget you next spring!

And, you are on the waiting list's mailing list. That will keep you updated with any developments that come up.

I wish you all the best!!

Laura"
---
Find a New Home for Your Dobe
Doberman Rescue Organizations
All Content Copyright © 2000-2010 GarrettsDobermans.com.
All rights reserved.