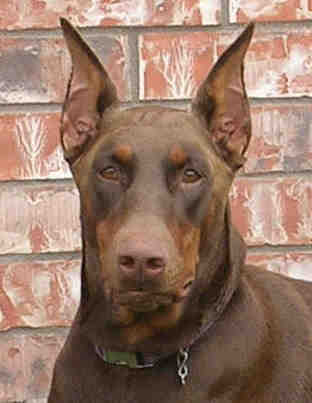 Garretts' Dobermans .com
Welcome to Garretts' Doberman Puppy Site!

Peppy's 1st Litter - Development Diary
August 3, 2006 -
The puppies have began eating solid puppy food this week. They love to play in their water bowl. They all love to be held and play with the children.

July 22, 2006 -
"Austin (my son) came home last night from Boy Scout camp and could not believe how much they changed in just a few days. He said "Hey! They're growling and so mobile". They have began that adorable little playful growl. They are wrestling with and chewing on each other.

There are some really blue eyes. Some of the boys are really laid back and one of the girls is very boisterous. I plan to get colored collars to keep up with the personalities that are developing so quickly.

They are a lot of fun. They are getting lots of hands on loving and care.
Wendy"

Monday, July 17, 2006 -
All eyes are open. They are all getting quite mobile and have begun to play with each other. Ears of brothers and sisters seem to be a favorite attraction today.

Wendy told me today that one of the females will be kept for their daughter Ashley.

Sunday, July 16, 2006 -
Austin left for Boy Scout Camp this morning. Peppy seemed to say "OK! If my boy's not here, I'm done with 100% clean up in the potty department. I demand some help here." She has been just incredible to have done all that she has for this long. Peppy is happy to be getting all the help she needs keeping up the clean up of her brood. The puppies have had their first baths today and they were mixed on their approval ratings. Several relaxed and slept in the warm water; some fought like they were 40 pound pups; and the rest were noisy, but cooperative.

Saturday, July 15, 2006 -
They began to get the legs today; wobbling around and sitting up so pretty.

Friday, July 14, 2006 -
The puppies began opening their eyes today. They are just precious, curious about all the sights around them.

Another one of the females was spoken for today by Jeff from Texas.

July 13, 2006 -
Roger from Texas spoke for one of the females for him and his family.

July 3, 2006 -
Pups got their tails docked today.

July 1, 2006 -
"Final number: 8 - 4 boys, 4 girls - all black/rust. Last one was born at 2:30 a.m. Peppy did great. What a momma! She is keeping herself and those puppies the cleanest I've seen. She loves those puppies and is literally beaming with joy.

Wendy"


June 30, 2006 -
"Peppy has had puppy #1 - Black and Rust boy @ 4:32 pm. Still waiting for more..........

Wendy"
---
Find a New Home for Your Dobe
Doberman Rescue Organizations
All Content Copyright © 2000-2010 GarrettsDobermans.com.
All rights reserved.