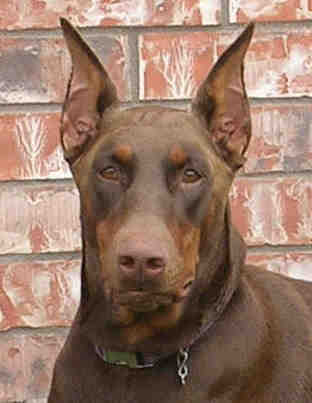 Garretts' Dobermans .com
Welcome to Garretts' Doberman Puppy Site!

Black Male tagged Purple [SOLD]
This black and tan male is now living
with Ann and family in Springs, Texas.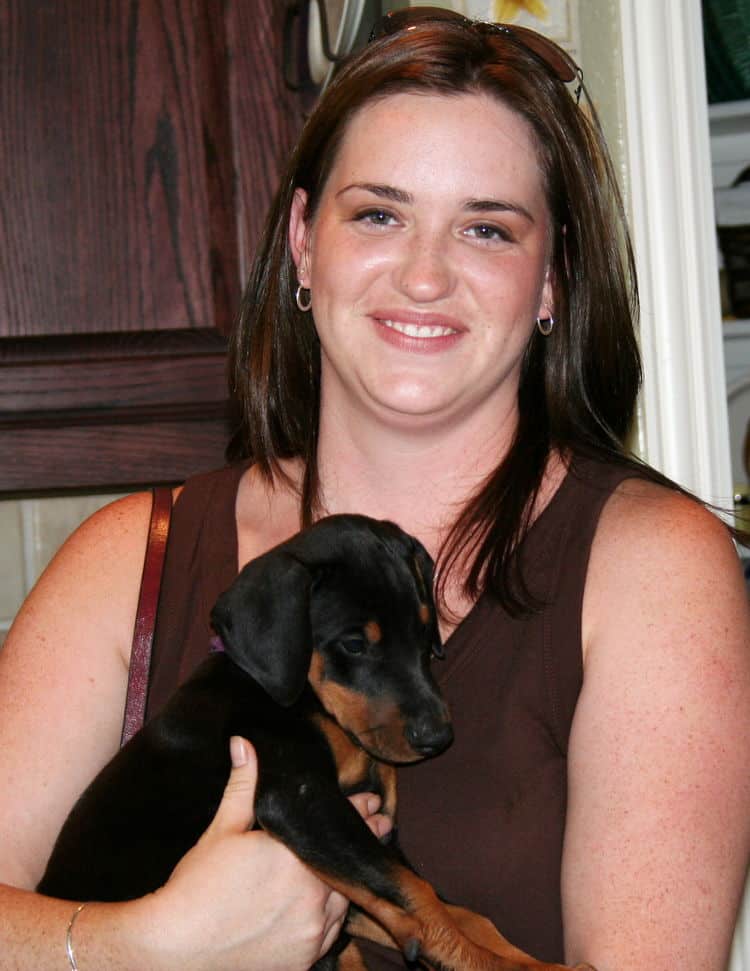 August 25, 2006 -
Ann and her sister, Tasha, drove from Springs, Texas (about 3 hours 45 minutes) to pick up their pups. The two live just 10 minutes from each other. These two pups will get to be regular playmates.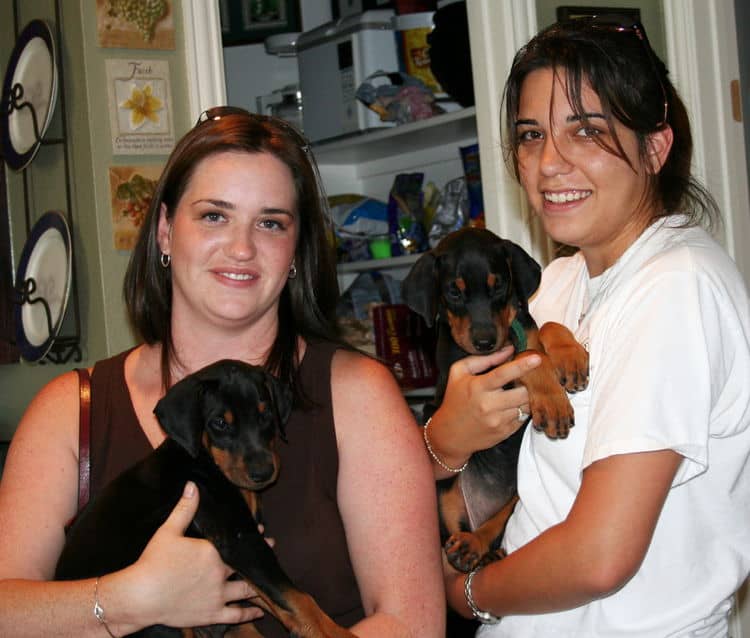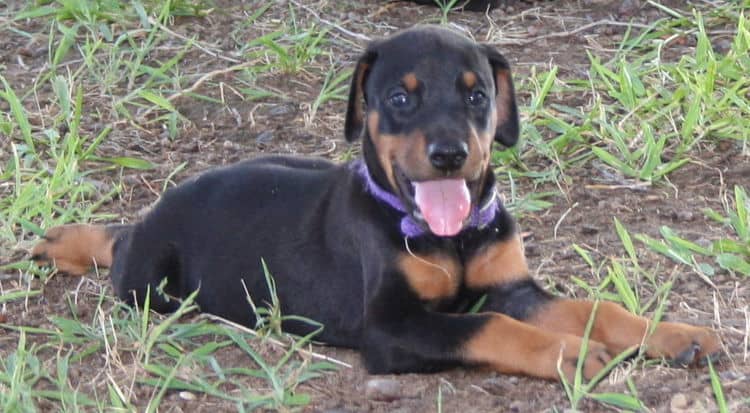 5 Weeks Old

The following pictures taken at 4 weeks old ..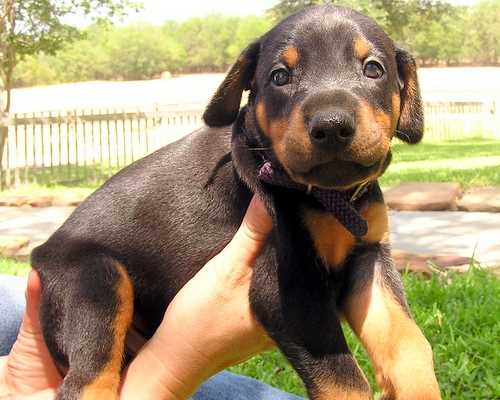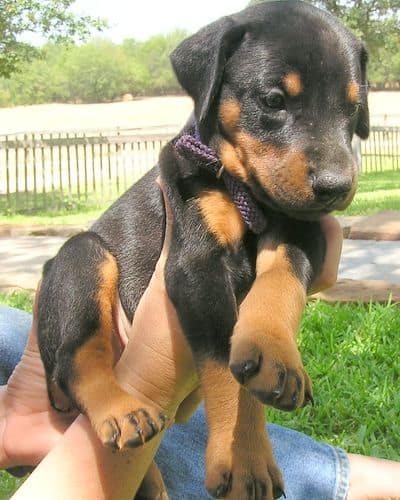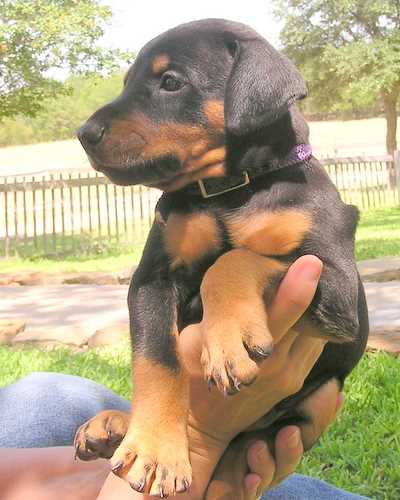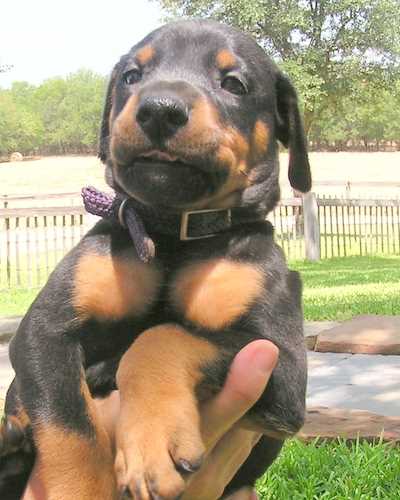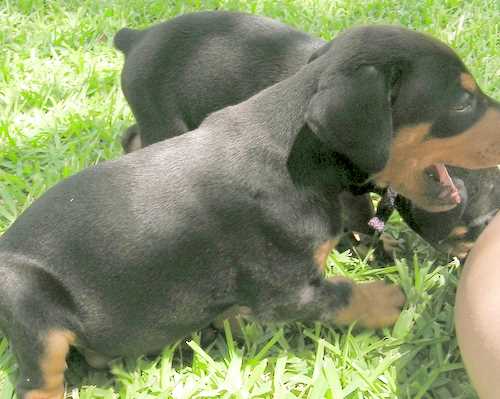 August 24, 2006 --
To Breeder:
"Just wanted to let you know that two more of your babies sold - purple tag male and green tag girl. Two sisters are buying them, separate households. They said they will get to visit each other often. --Laura"

RESPONSE:
"Great. Glad to see that the purple male is placed. He has a very sweet, laid back personality. --Thanks, Wendy"

REPLY BACK:
"I have noticed that the male has a gentler side than the two remaining females. He is going into a home that has a 1-1/2 year old. So, he is perfect! --Laura"

August 23, 2006 --
"My sister would like to know if there is a contract to be signed and if she can get a copy. To tell you a little about us:
My sister, Tasha, and her husband have a house with a fenced backyard. She will be an inside dog. My sister only works 2 days a week so she will have lots of time to spend with her pup.

My husband and I have a 1-1/2 yr. old son. I have the pleasure of staying home and I'm looking forward to the new addition. We also have a fenced backyard and he will be an inside dog.

We are both located in Spring, which is NW of Houston. We have had Dobermans in the family for many years. We are both every excited about having these pups as part of the family. Even our parents who live in Cat Spring are excited - LOL.

Thanks, Ann"
---
Find a New Home for Your Dobe
Doberman Rescue Organizations
All Content Copyright © 2000-2010 GarrettsDobermans.com.
All rights reserved.