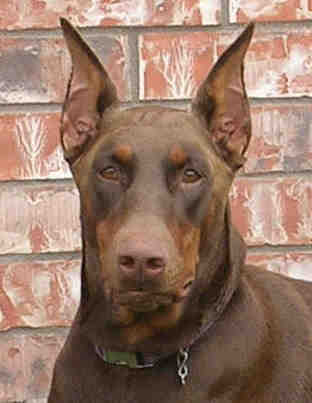 Garretts' Dobermans .com
Welcome to Garretts' Doberman Puppy Site!

Pepe
This black/tan male is now living with
Marco and family in McKinney, Texas.
August 25, 2006 -
"Hi Laura!

Everything has been going awesome. He is such a smart pup. I am very impressed. My boy and I simply adore him. The potty training has been going pretty good so far. Having a baby in the past made it easy for me to understand getting up in the night to let him potty and he has been very good about letting me know that he needs to go. Thanks again for everything and I will send you updates here and there.

Thanks!
Marco"
Pictures taken at 7 weeks old ..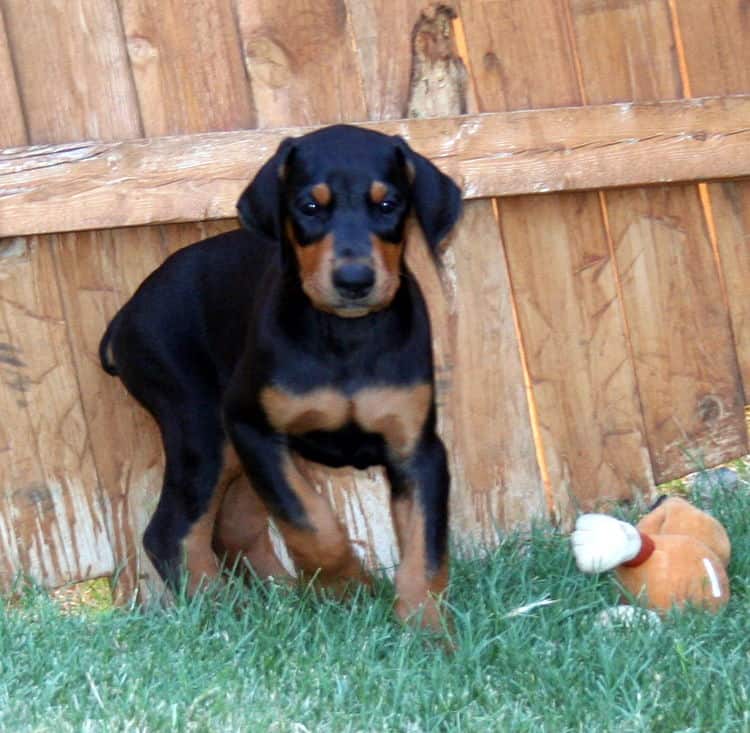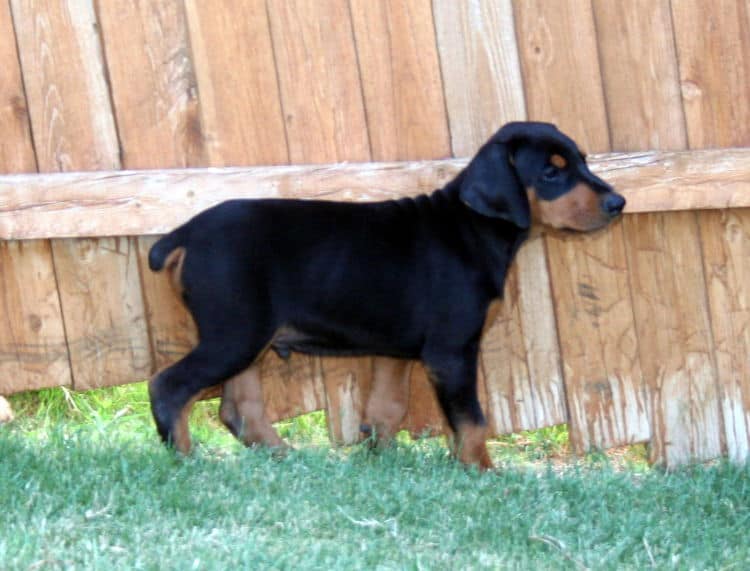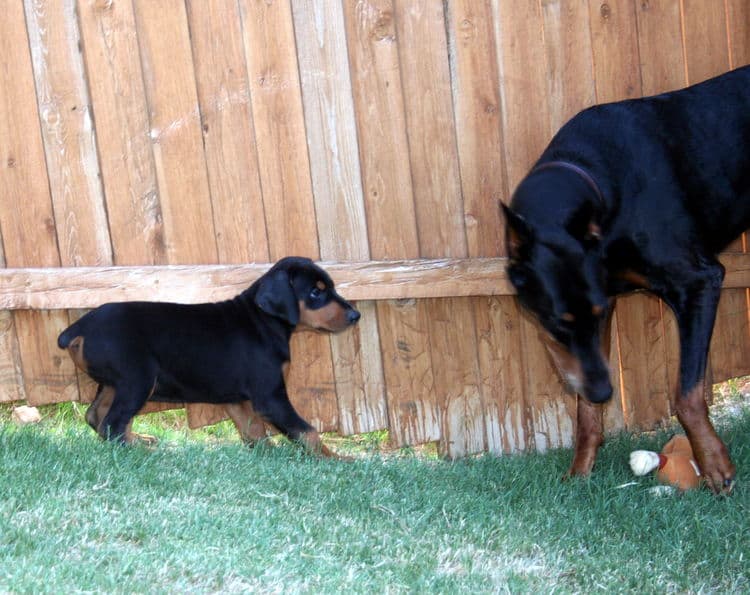 Getting his nerve up to approach his grandmother, Aggie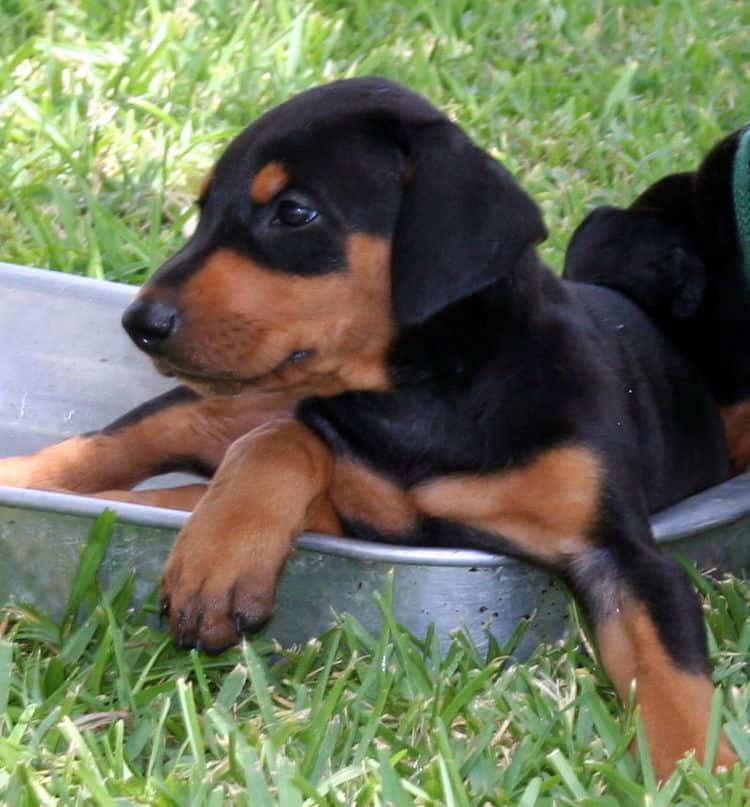 Hanging out in the water bowl!
(5 Weeks Old)


The following pictures taken at 4 weeks old ..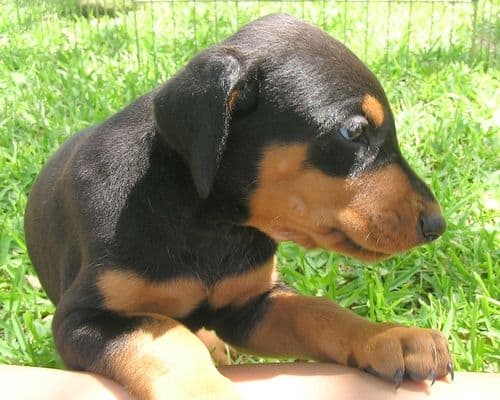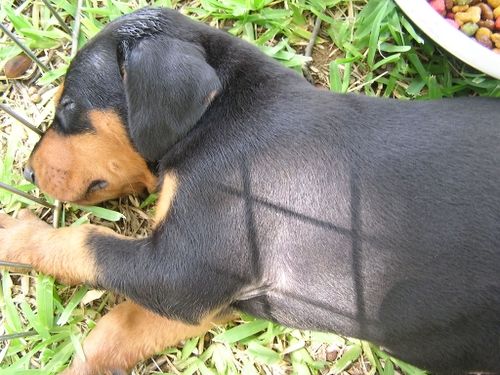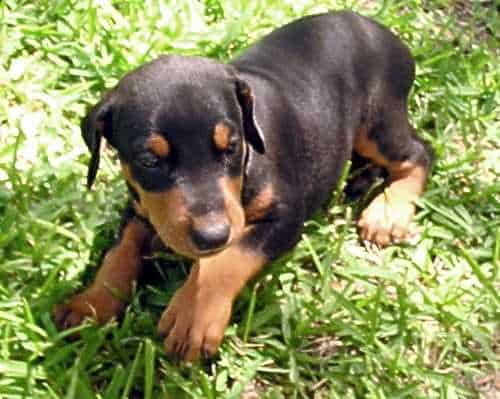 August 22, 2006 -
"His chosen name is Pepe (named after my Grandpa). I definitely will update you his progress. My son still doesn't know about it. I will be surprising him today after school!

Thanks Laura!"

RESPONSE:

"Awesome!! I love it when the pups are a surprise! Did you say your son was six? I wish you could capture his facial expression when he sees the pup and finds out it is his! Have fun with all that today!
Laura"
August 18, 2006 -
"I am very excited and feel as if I am having another baby or something. I will definitely have a lot of toys ready for him and will take your advice regarding the food.

Thanks for everything Laura!"

RESPONSE:

"Marco,
I am glad to hear that you are so excited. That is the feeling that most people express to me -- like they are expected a child!
Laura"
August 15, 2006 -

Marco notified me today of his pick -
Male with No Tag.

Wendy:
"The male without the collar has really grown this week. He is now as big as the black collar male."
August 14, 2006 -
"Hello Laura,

We spoke yesterday, Sunday August 13th regarding purchasing a black male Doberman, preferably the alpha male. I am very excited and have always wanted a Doberman since I was a kid. My 6 year old son is going to be so excited. Please let me know if I am able to pick him up at the vet when Roger goes and picks up his pup. I would like the ear's cropped the way that Roger is doing his pup's ears.

Thank you,
Marco"
---
Find a New Home for Your Dobe
Doberman Rescue Organizations
All Content Copyright © 2000-2010 GarrettsDobermans.com.
All rights reserved.