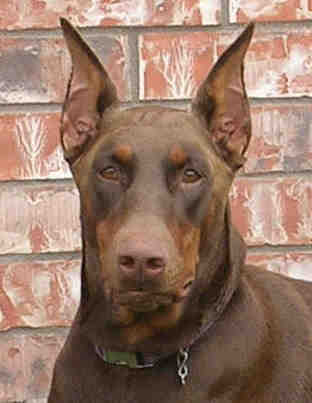 Garretts' Dobermans .com
Welcome to Garretts' Doberman Puppy Site!

Reba
This black and tan female is now living
in the Houston, Texas area.
Pictures emailed to us September 22, 2006 --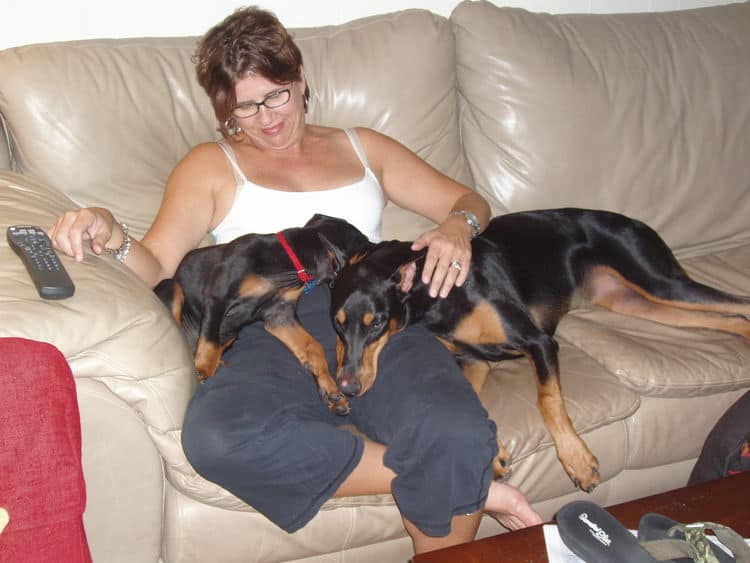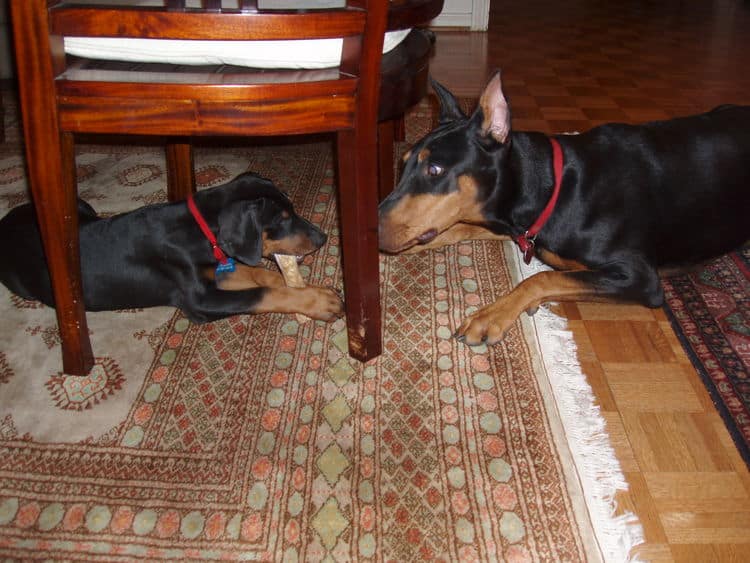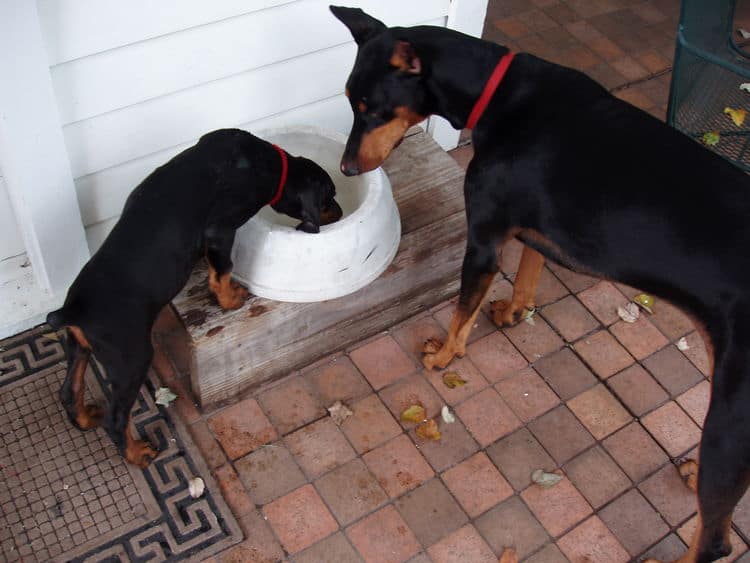 September 22, 2006 --
"Hi Laura and Todd,
Decided to call the little dear REBA. She's fitting in great and just had the ears done. Hope all is well with you.

Regards,
Jay"

RESPONSE:
"Jay,
Thanks for the update and pictures. It looks like the two are becoming pals. Good name! Hope she is doing good with the newly cropped ears. We love updates so don't ever hesitate to keep us posted!
Have a great weekend!
Laura"
September 10, 2006 --
"Hey!
Just wanted to check and see how the drive home was! Sorry we were in a bit of a rush due to the kids' games. How'd she do last night? It was nice getting to meet you!
Take care,
Laura"

RESPONSE:
"Hi Laura – Nice meeting ya'll too. She did great on the ride home. I think our Sadie was thinking to herself that this was the worst trip she's ever had! But, they are actually getting along very well considering. We've decided to name the puppy Reba, and she is just adorable. They sort of take turns driving each other crazy, which is good. We just got back from a long walk, and she's having a wonderful time – meeting lots of other dogs and people. She is very social. We'll get the ears done tomorrow. She slept through the night last night, after about 10 minutes of crying. So I think that part is going great.
I'll talk to you soon.
Susan"


- Pictures taken August 25, 2006 (8 weeks old today)-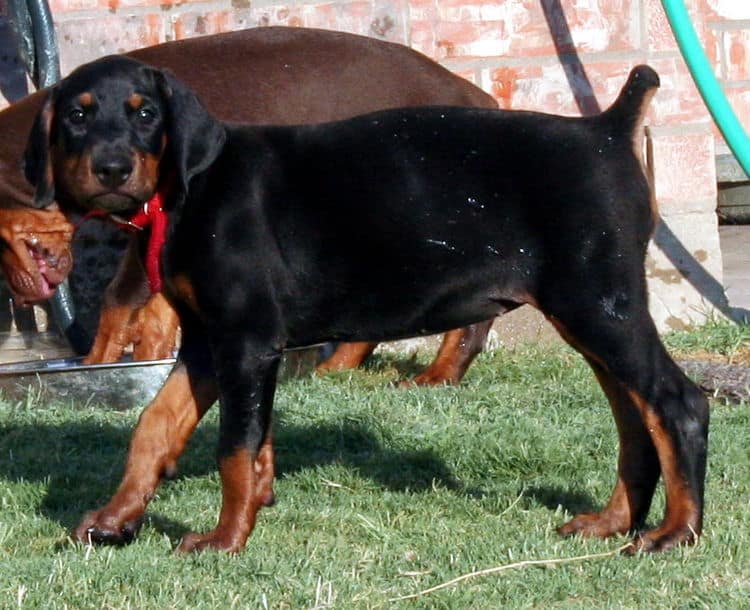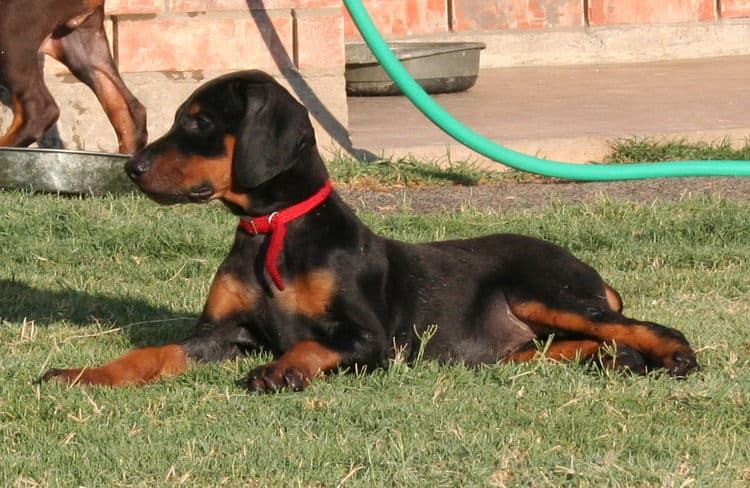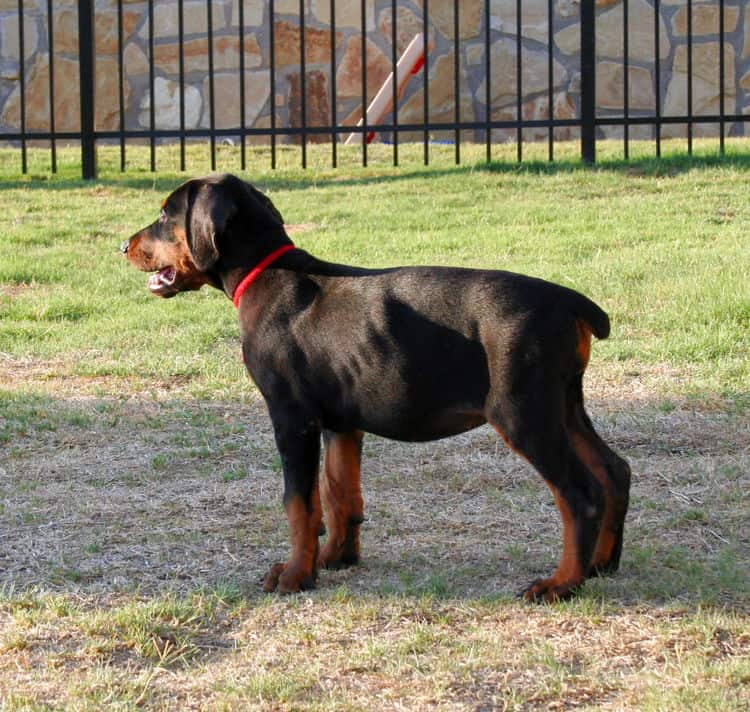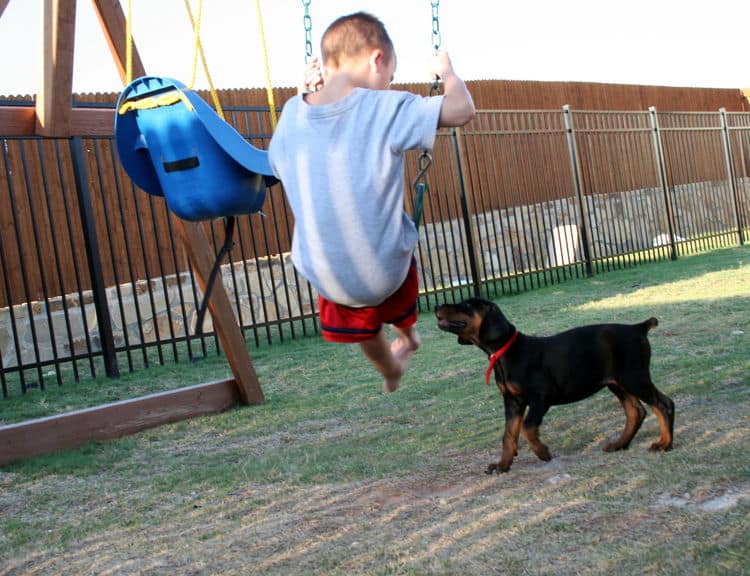 Curious, but surprisingly, no knocks in the head!
Smart girl and my careful son kept her collision-free!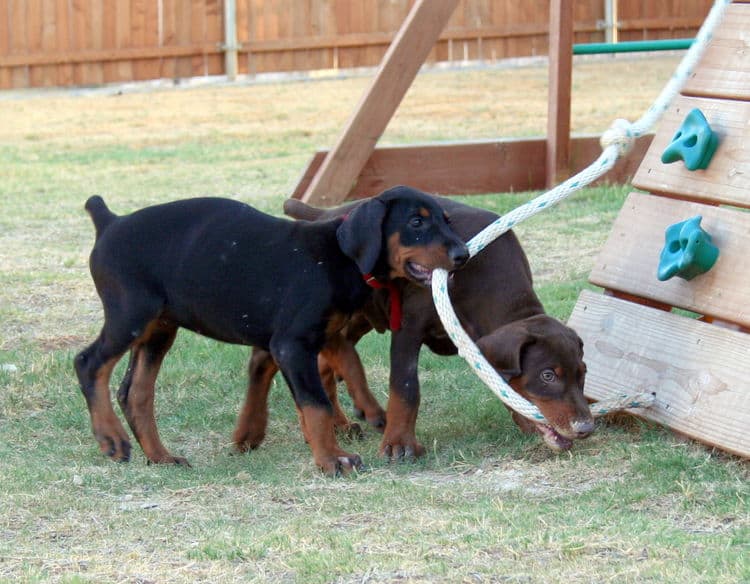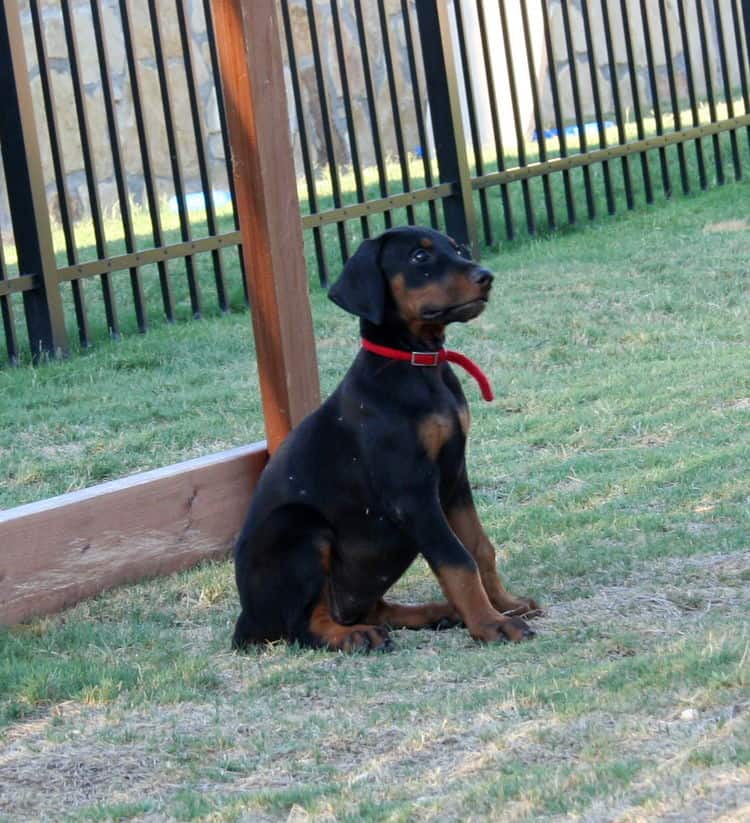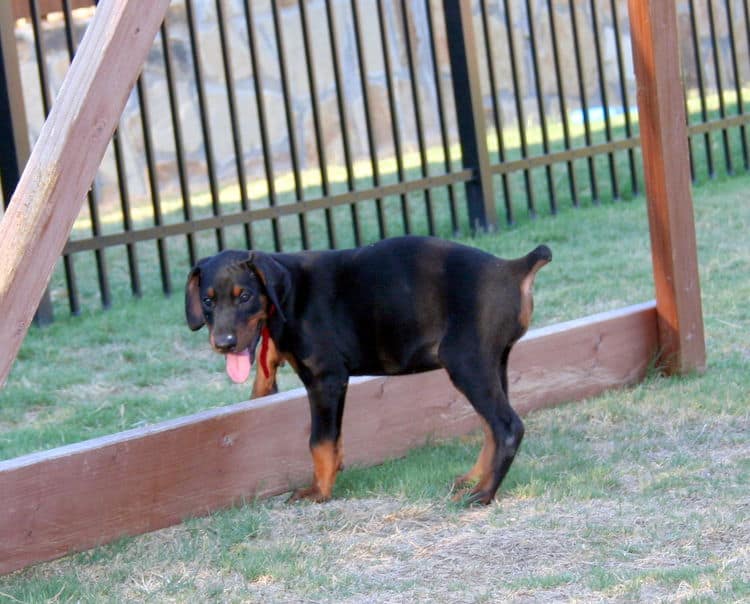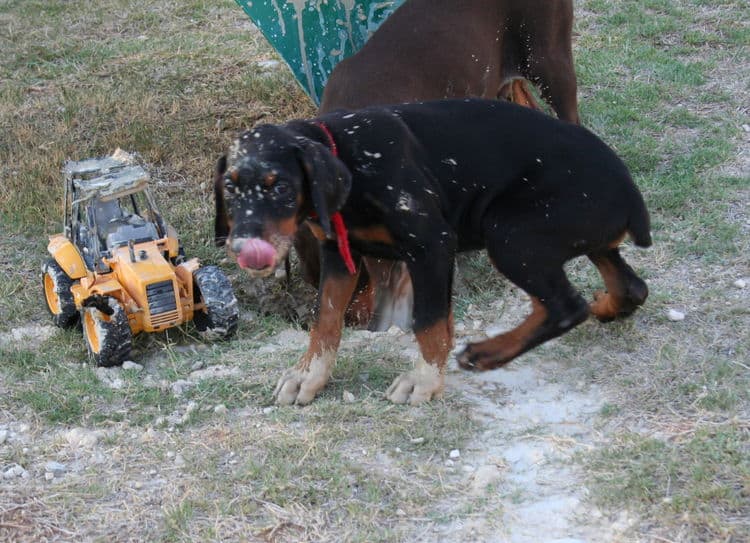 Getting messy isn't something they do often,
but today, well, they just couldn't resist!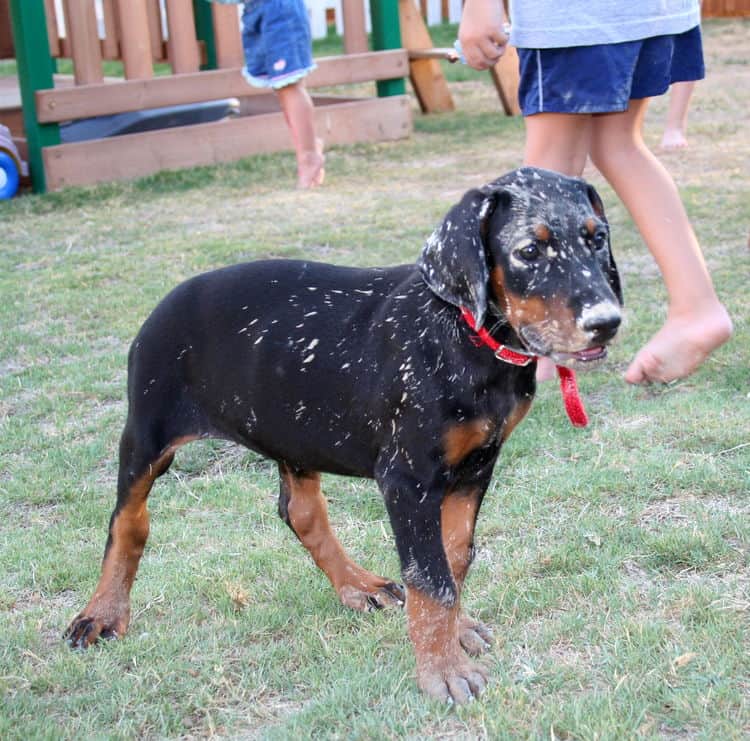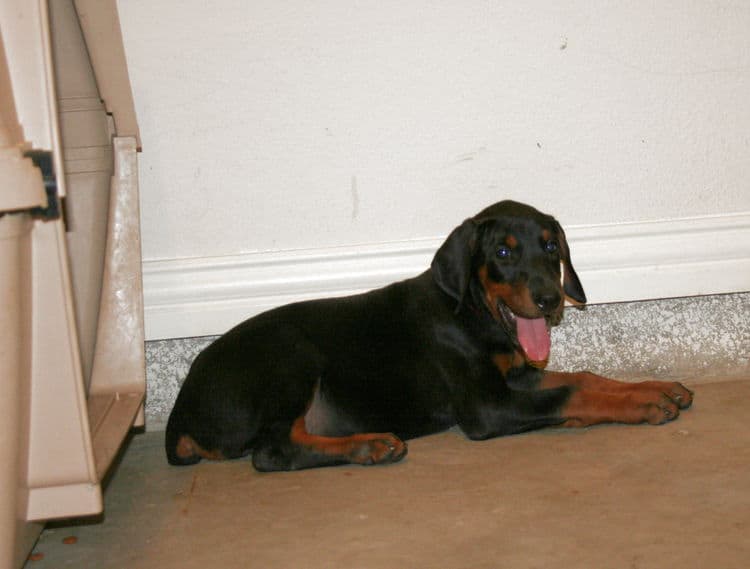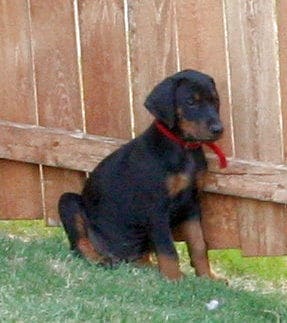 7 Weeks old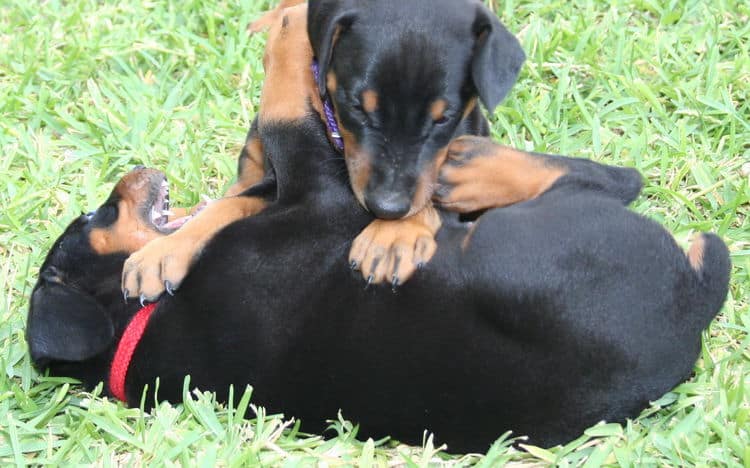 Playing at 5 weeks old

The following pictures taken at 4 weeks old ..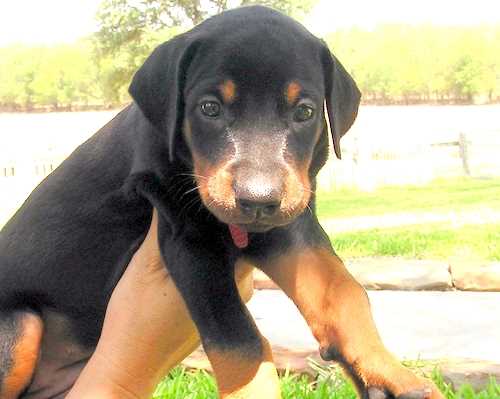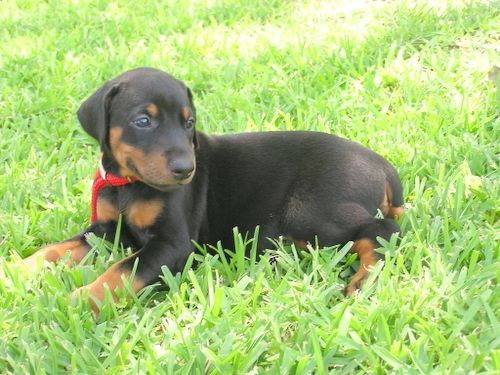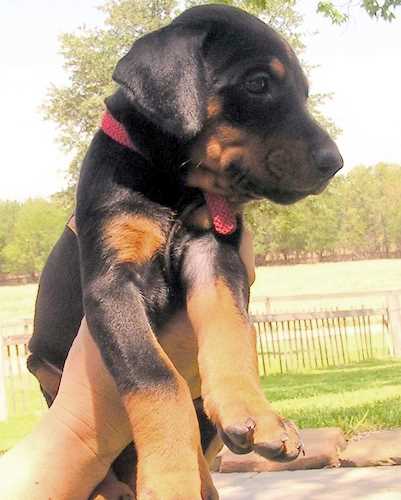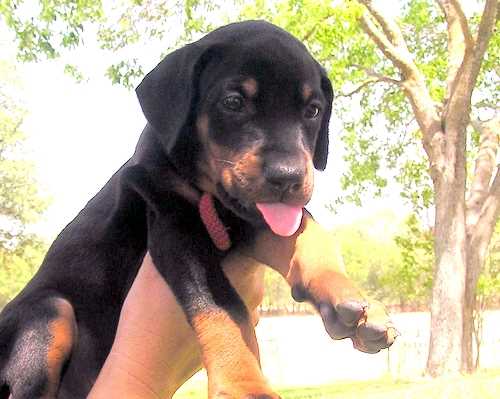 September 9, 2006 --
To Breeder:
"The couple from Houston drove down last night and picked up the red tagged female this morning. --Laura"

September 6, 2006 --
"Hi Laura –
What shots has our new little puppy had? We're going to have her ears done next Tuesday, September 12th. The vet's office said they do 6, 9, and 12 week shots. Will she have had her 9 week shots, or do we need to have that done next week also?

Thank you, Susan"

RESPONSE:
"I will go ahead and give her the 9 week shots today. She had her first round at 7 weeks. I will also start her on the heartworm prevention. --Laura"

September 5, 2006 -- This pup is now sold.
---
Find a New Home for Your Dobe
Doberman Rescue Organizations
All Content Copyright © 2000-2010 GarrettsDobermans.com.
All rights reserved.