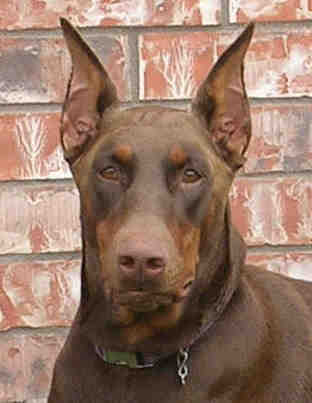 Garretts' Dobermans .com
Welcome to Garretts' Doberman Puppy Site!

Harley Jr.
This black and tan male is now living in Italy, Texas with Cathy and Mike .. and his full blood older sister by 2 years, Zoe.

Pictures taken August 13, 2006 -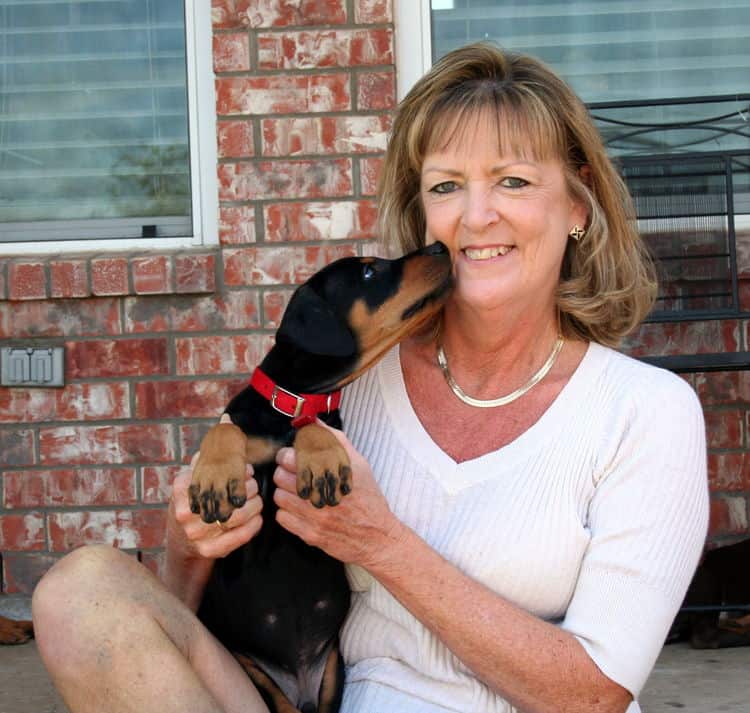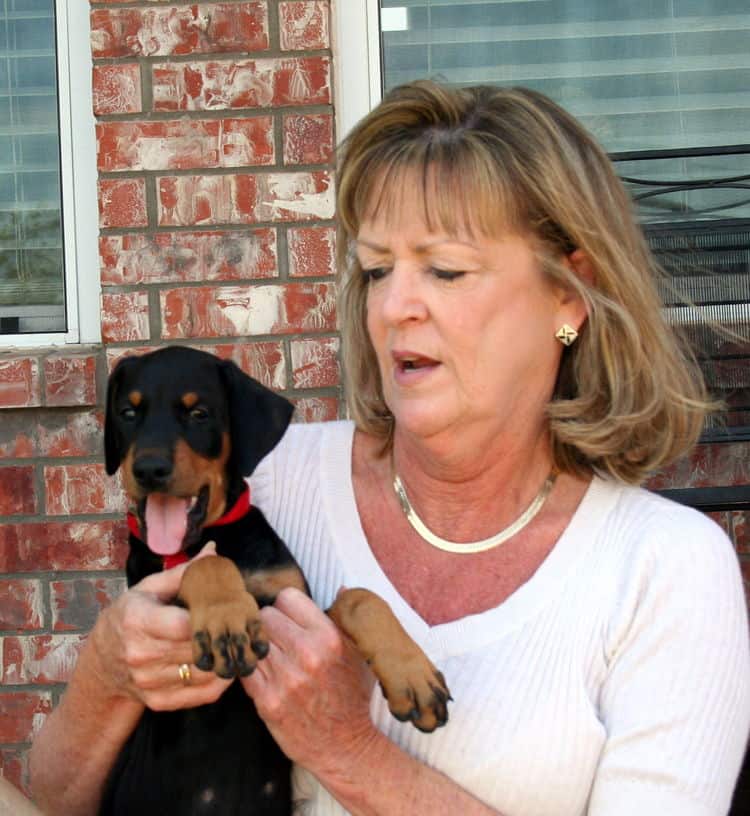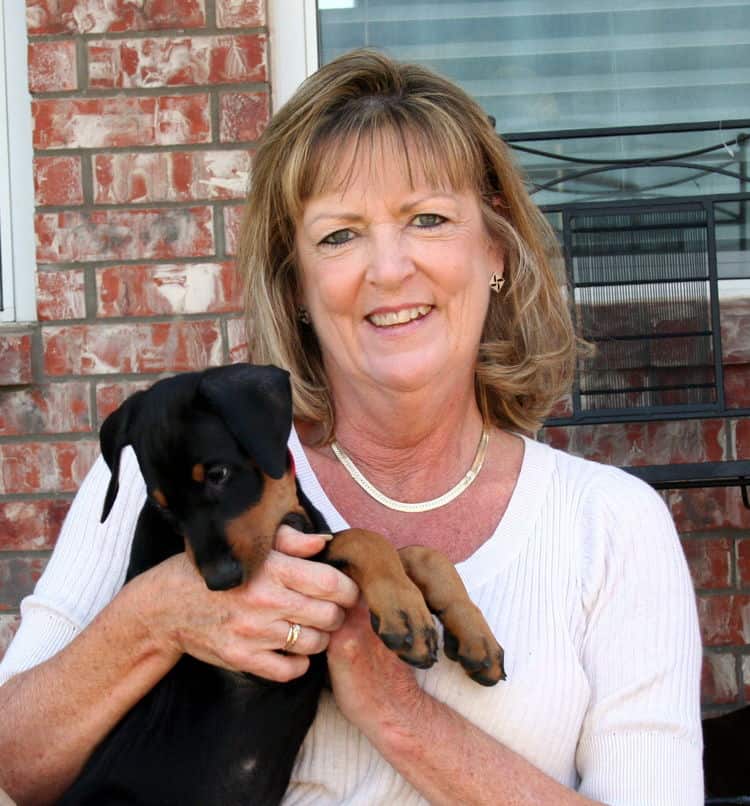 August 8, 2006 -
"Hi, Laura!!

We are getting pretty excited about "Harley, Jr."!! I have read all of the information on your web site. Our Zoe is so sweet. We love her so much!! When I walk her each evening, she just loves the children that run up to her along the way to "shake a paw" & get kisses from her. Her temperament is amazing!! I don't want to take much of your time, but just wanted you to know that, as far as dog lovers are concerned, we are in the top of the class!!

Thanks for everything!!
Cathy"
August 5, 2006 -
"Hi, Laura!! I am Cathy Boyd who is purchasing a black male from you (one of Pat Georges' puppies).

I have tears in my eyes reading some of the emails from people who have purchased Dobermans from you in the past. We are just dog lovers who would never (EVER) let one of our dogs (FAMILY MEMBERS) go to a shelter or another owner of any sort. I love dogs (and have seen my husband of 34 years become just, or more so, as bad as I am about loving our animals) & will love each and every animal that I take into my home as one of my children.

I have just been talking to Pat George for about 15 minutes & have assured her that if any problems arise due to our purchase of "LITTLE HARLEY", she will be the 1st to know!! Thanks & I appreciate the opportunity of owning another wonderful Doberman to love!! -- Cathy"

RESPONSE:

"Thanks for your letter, Cathy. Over the years, it has been fun getting to know the owners. You are getting to "join" a neat group. While none of the owners ever really communicate directly, many seem to keep up with how the others are doing. It is really something special and I think that is what Pat likes about the site.

Take care!
Laura"
August 1, 2006 -

Last evening, we (Cathy & Mike) pulled a voice message from our phone that came from Pat.

She said:

"Hello, Mom & Dad!! Harley sends his love!!"
July 29, 2006 -
"I am interest in "Little Harley" as we already own on of Guen's & Harley's pups from an August, 2004, litter. I have spoken with Pat. Pat is also going to contact you to let you know that we are interested in "Little Harley".

My husband & I love Zoe with all of our hearts & want to have another one of the pups from her parents. As I understand from Pat, Guen will not be having another litter. Thank you very much for your consideration & time!! --Cathy"

RESPONSE:

"Pat did call me. I am going to mark him sold to you on the site in a few minutes. To "secure" that pick, deposit money of $200 is due. I am going to pay Pat all at once and it will just be easier to keep track of things if we keep it consistent.

You are getting a great pup! I visited with them last week. I am very impressed with this litter .. Pat is proud, too!

Thanks!
Laura"
---
Find a New Home for Your Dobe
Doberman Rescue Organizations
All Content Copyright © 2000-2010 GarrettsDobermans.com.
All rights reserved.