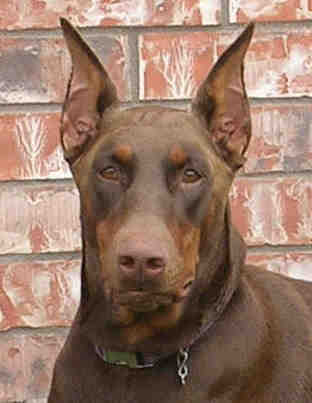 Garretts' Dobermans .com
Welcome to Garretts' Doberman Puppy Site!

Luna

This black/rust female is now living with Deanna and Will in Panama City Beach, Florida.
September 12, 2007 -
"Laura,

THANK YOU for the updated pictures! They are so wonderful! You're daughter's too cute!

My husband and I decided to change her name already. We are now going to call her Luna.

Can't wait!
Thanks again!
Deanna"
---

Picture taken at 5 weeks ..


---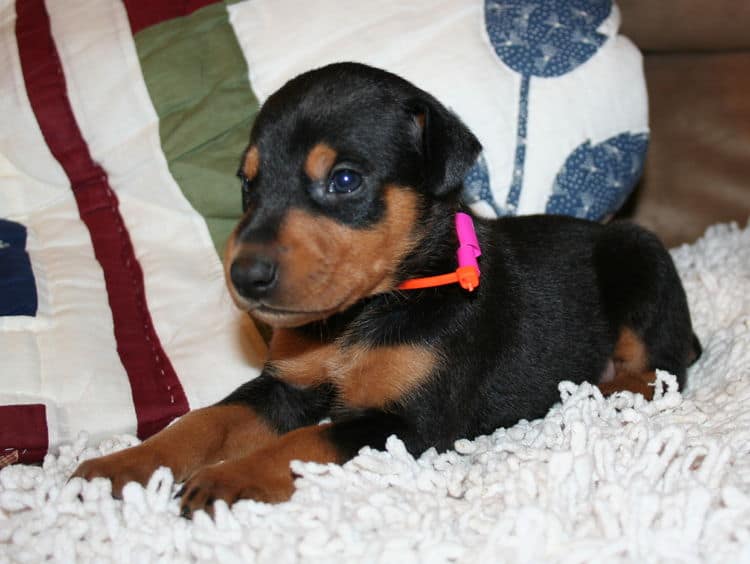 Picture taken August 7, 2007



August 8, 2007 -
"Laura,
THE PUPPIES ARE SOOO CUTE!!!! Thank you for the updated pics! The girls look great!
When do we get to make our choices?
Thanks again!
Deanna"

August 1, 2007 -
"Mrs. Garrett,
How are the puppies doing? They are what, 2.5 weeks old now? I'm so excited. We have decided to name the puppy "Shea".
Have the George's taken any more pics?
Look forward to hearing from you,
Deanna"

RESPONSE:
"LOVE the Name - thanks for sharing!!"

July 22, 2007 -
"Mrs. Garrett,

Thank you for responding to my email. I'll tell you more about my husband and I and what we are looking for.

Will and I have been together for 8 years. We have a 1.5 year old Pomeranian. He is definitely just like having a little boy. We adopted him as a puppy knowing that he was born with a heart condition. Recently, the vet informed us that it is getting worse. This is hard to face, but we knew it would come some day. Will and I would like him to have a playmate while he's still with us. We love him as if he really is our child. Will and I both love the Doberman breed. Our research shows that a Doberman would fit well in our home and lifestyle. I know that some may have an issue with the fact that we do not have a house with property. We plan on buying our first house within the next two years. For now, we do live in a very large ground floor condominium. Our complex is very dog friendly and the property has spacious grassy lawns for the pets to run and play. Others have large dogs and they seem to love the lawns. We live a block from the Gulf of Mexico in Panama City Beach, Florida.

Will and I would like a Doberman that is a loving companion yet a family protector. I would like to have a companion with me when Will is away. I do not feel comfortable by myself. Our Pomeranian barks at every little noise, not just potential dangers. He is very talkative. We would like a female because of reading an article that said females protect their families more and males protect their property more. I'm not sure if this is exactly true or not, but I would think that females would be more loving than males. I would be the one taking care of her. I understand that she will need lots of care and attention her first year. I would like her to be kind of laid back, yet inquisitive and ready to run on the beach at any time. On weekends she would get to run at the state park and play with our friends' children. I know that spending time with children is critical in the socialization process. She would get to be around people and I would socialize her with my neighbors so they aren't afraid of her. I would also, frequently, send you pictures and updates because I know you must be excited with her being one of Amber's first litter. I have looked through much of your web site and enjoy the information about your family and all of the pictures.

I hope to be hearing from you soon!

Thanks again!
Deanna"

RESPONSE:
"Wow! I would feel honored to have you as an owner to one of our pups!

I have loved having females and understand wanting to have that sense of security when your husband is away. I am never afraid because I have my girls at my side. If the kids are outside, the dogs are out.
It's awesome!

I am sorry to hear about your Pomeranian. It is never easy to lose one, mentally "prepared" or not.

Let me know if you have any questions or need anything at anytime!

Best regards,
Laura"

July 19, 2007 -
"Dear Mrs. Garrett,
I have filled out and submitted the puppy application. Please take your time to review it and get back to me when you can.
I would love for you to consider my husband and I as potential owners. Thank you for your time and consideration.
Looking forward to hearing from you!
Deanna"

RESPONSE:
"Deanna,
Thank you for taking time to fill out the application. I am interested to hear what you are looking for in a pup and a little about you and your husband. If you have questions, let me know!
Laura"
---
Find a New Home for Your Dobe
Doberman Rescue Organizations
All Content Copyright © 2000-2010 GarrettsDobermans.com.
All rights reserved.