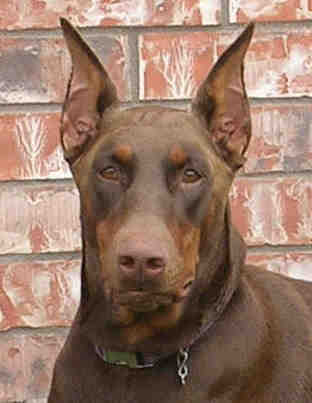 Garretts' Dobermans .com
Welcome to Garretts' Doberman Puppy Site!

Black Male "Axle" -- SOLD
This black and rust male is now living in
Houston, TX with Chris and his two daughters.

8 Week Old Pics ...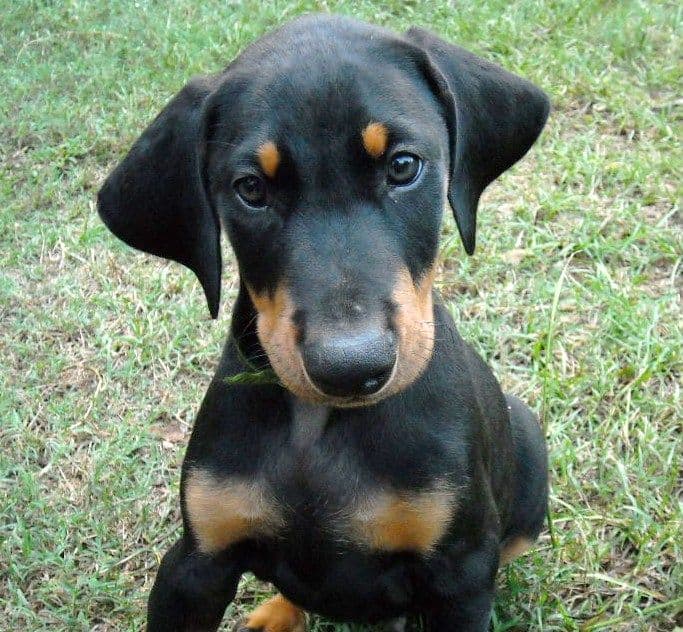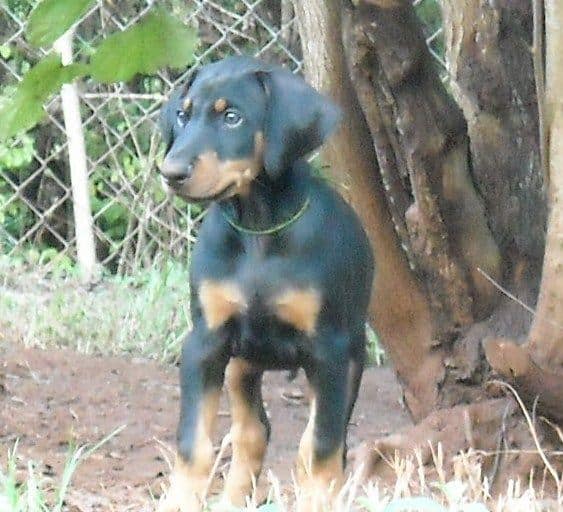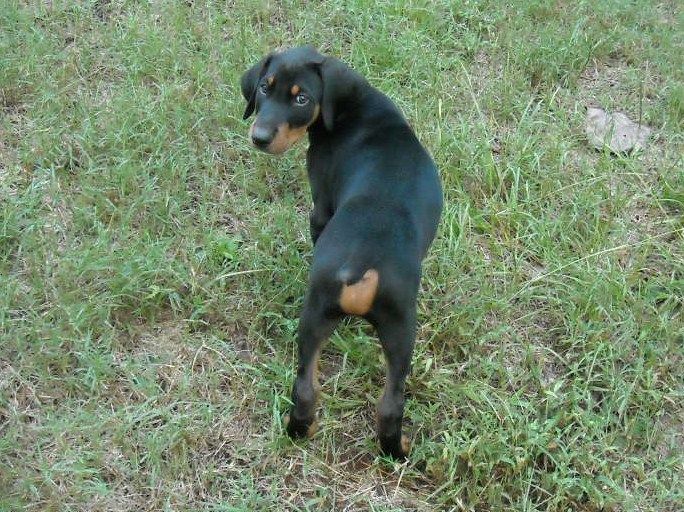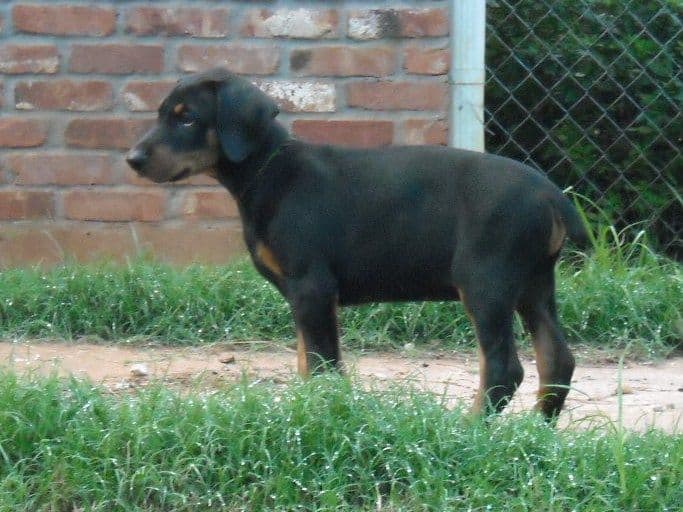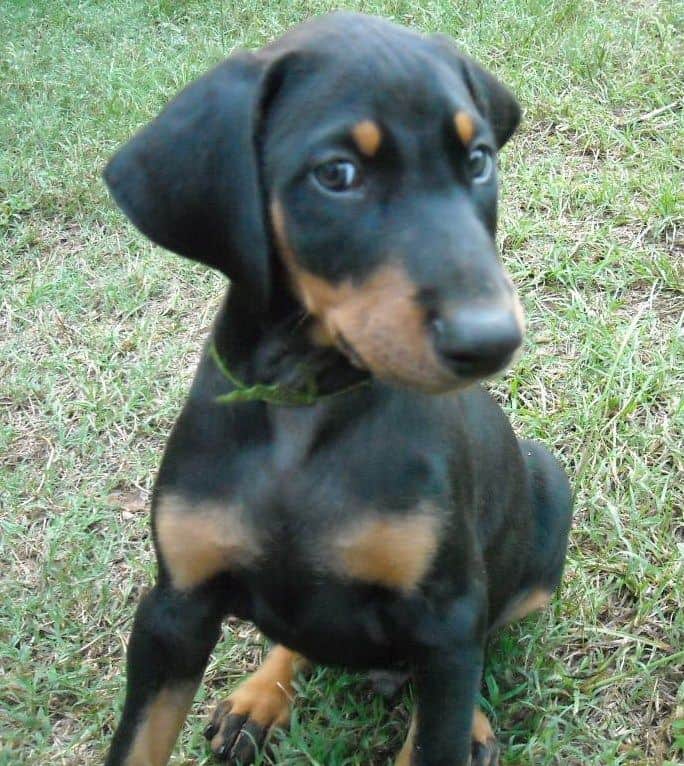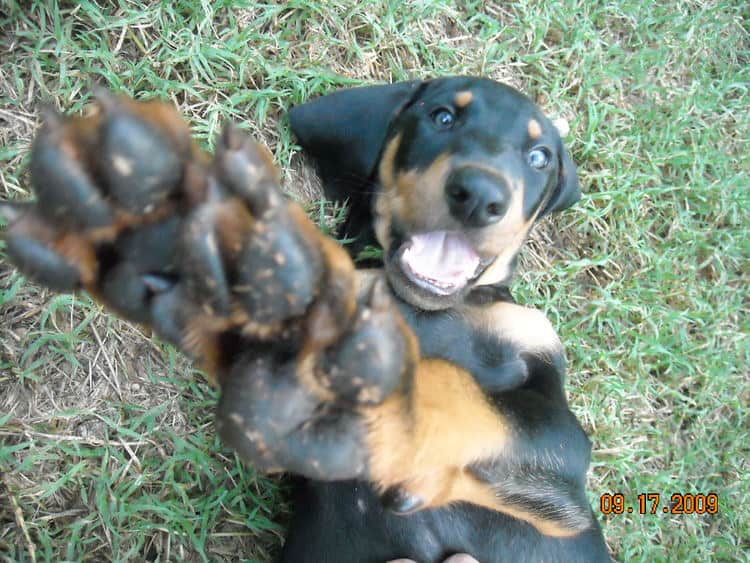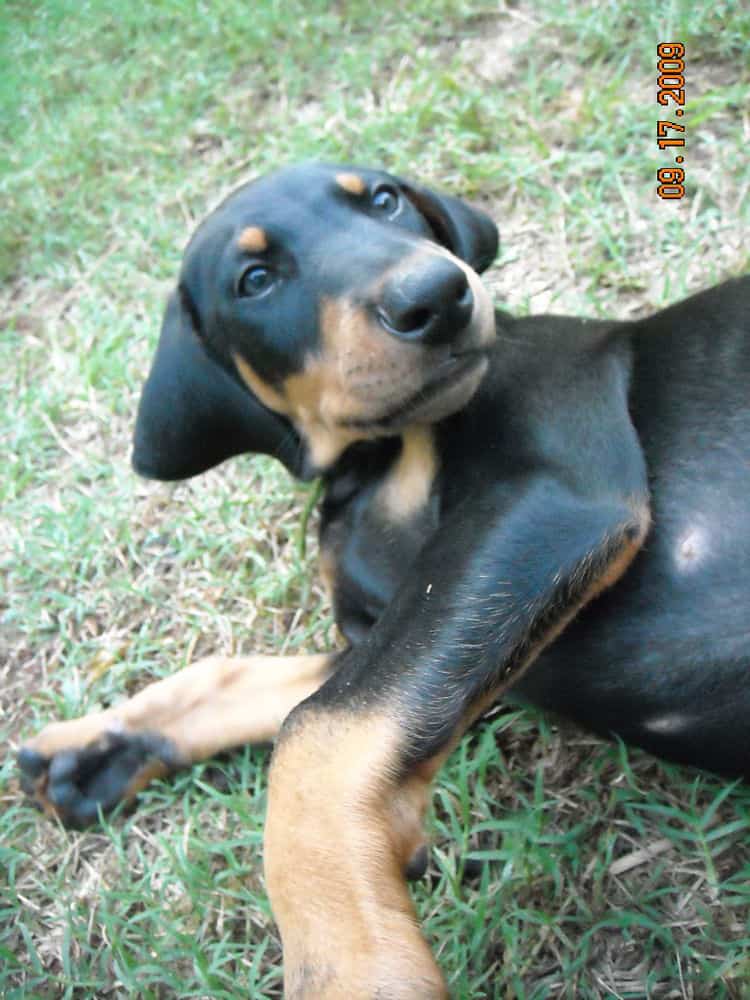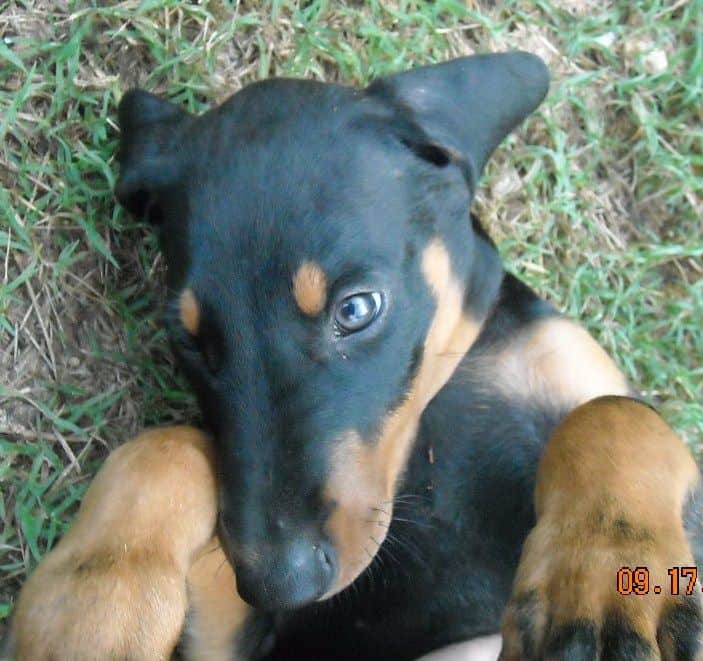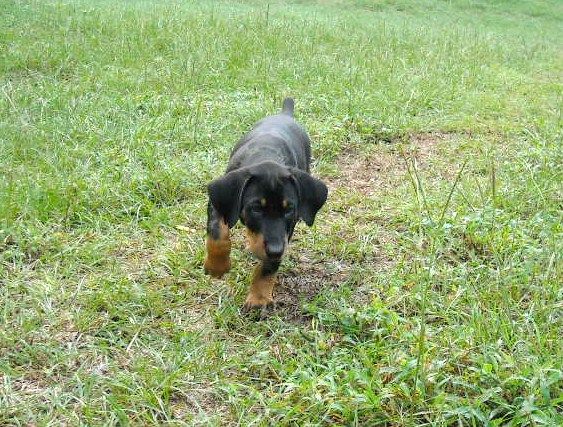 6 Week Old Pics ...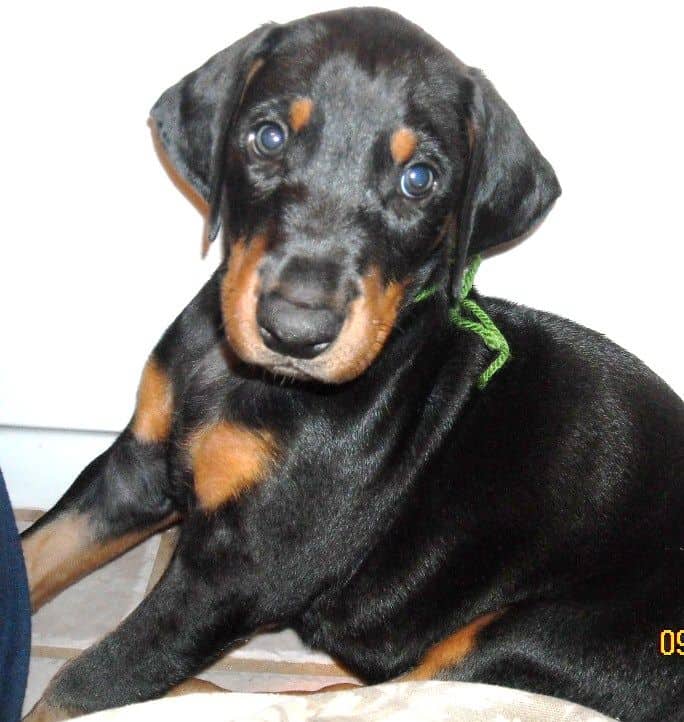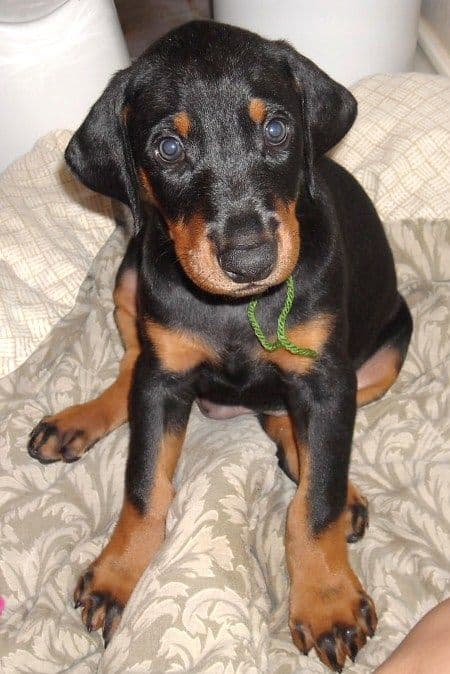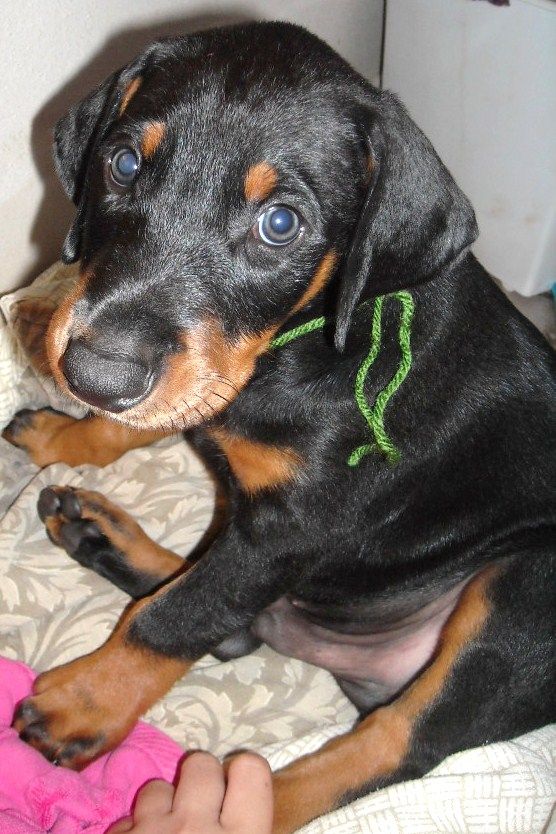 5 Week Old Pics ...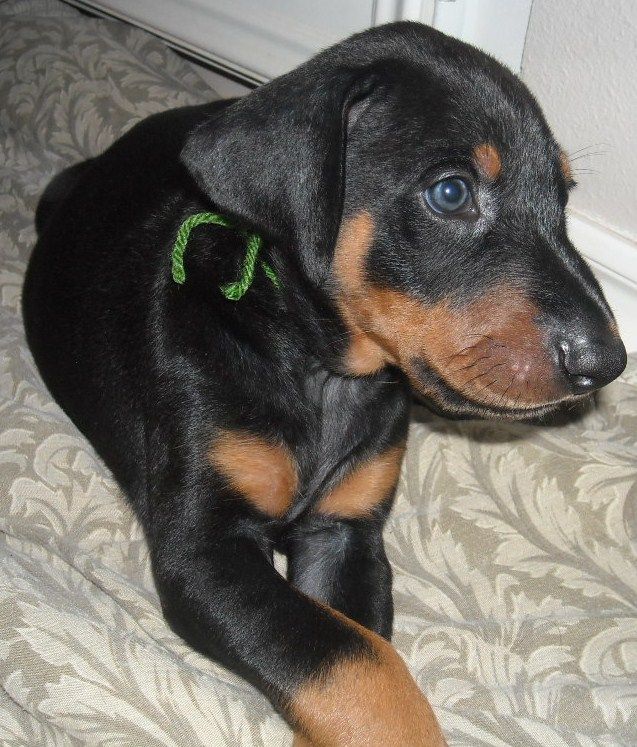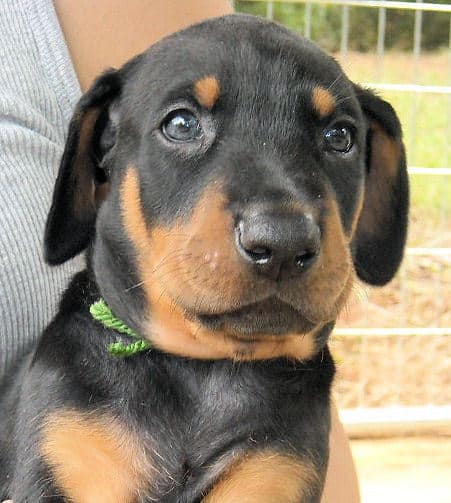 4 Week Old Pics ...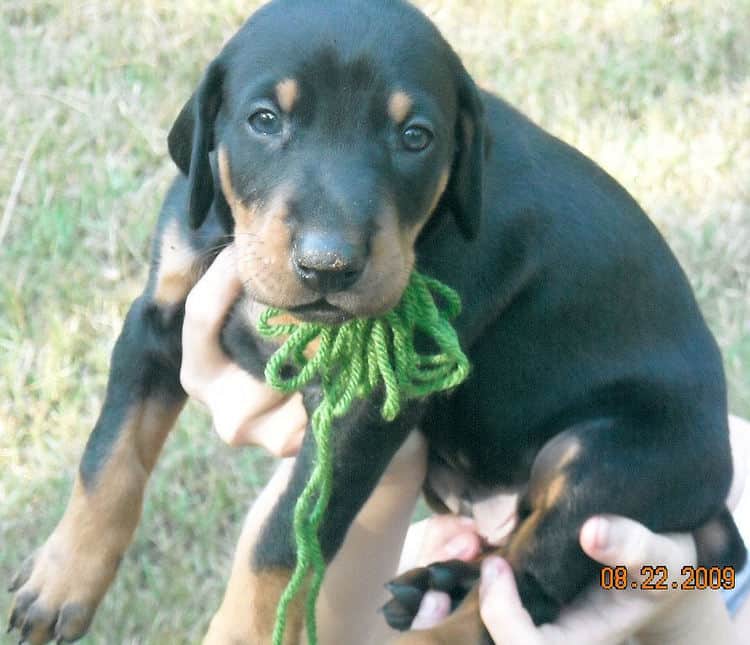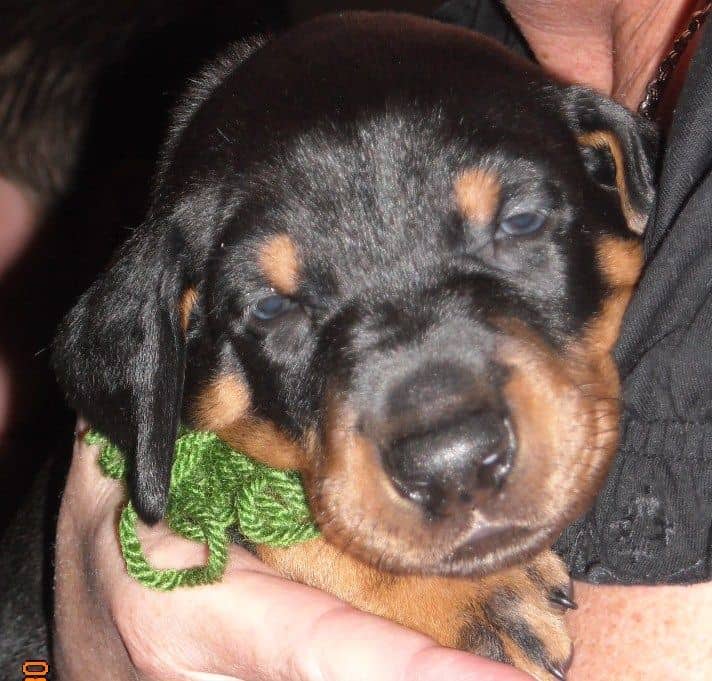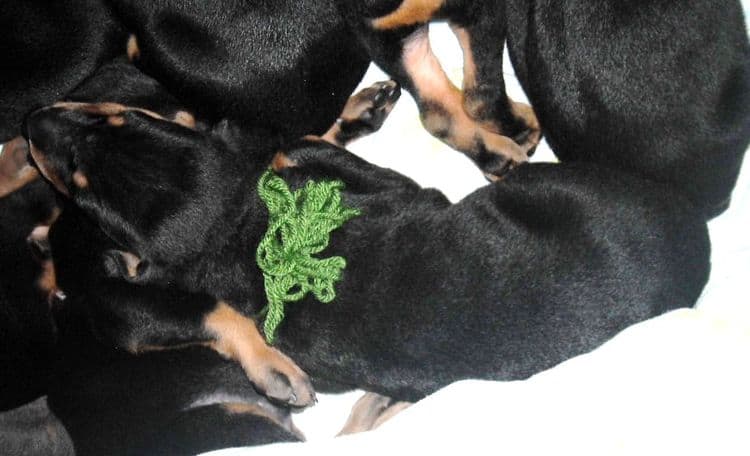 3 Week Old Pics ...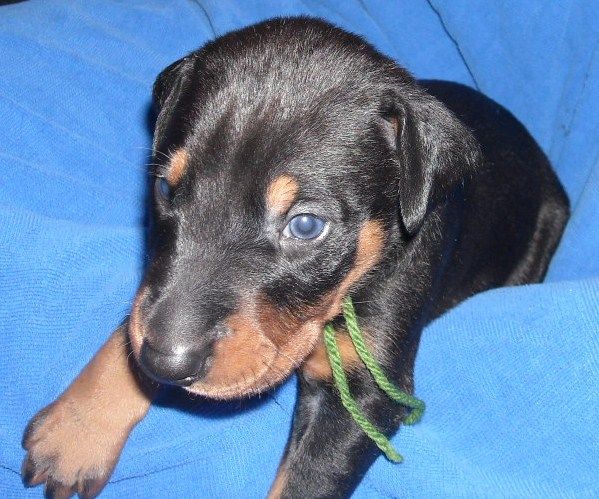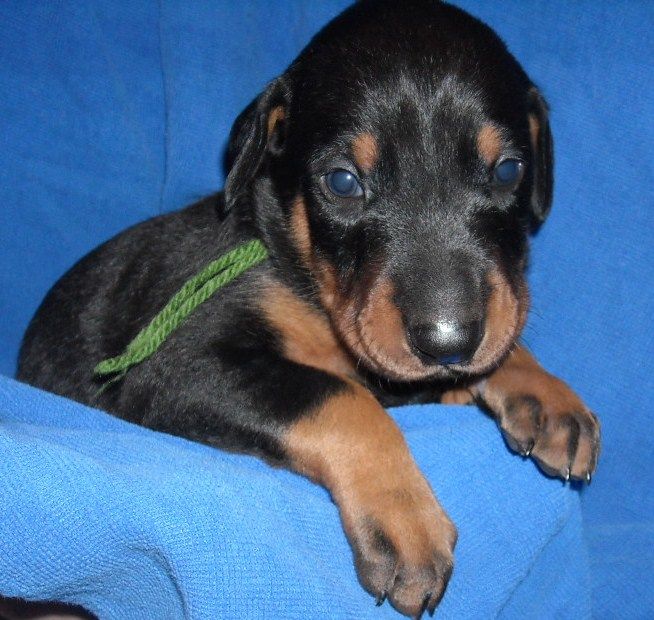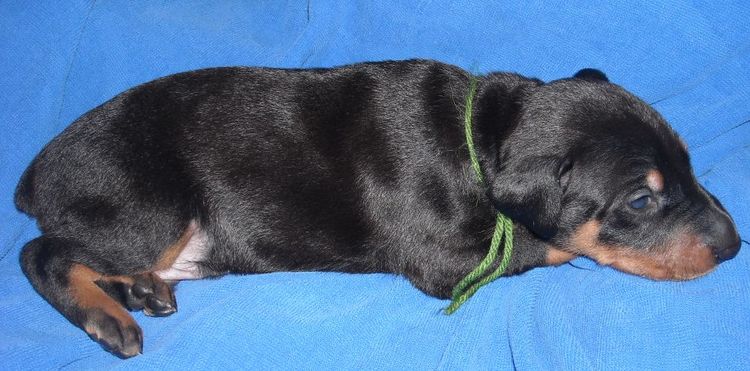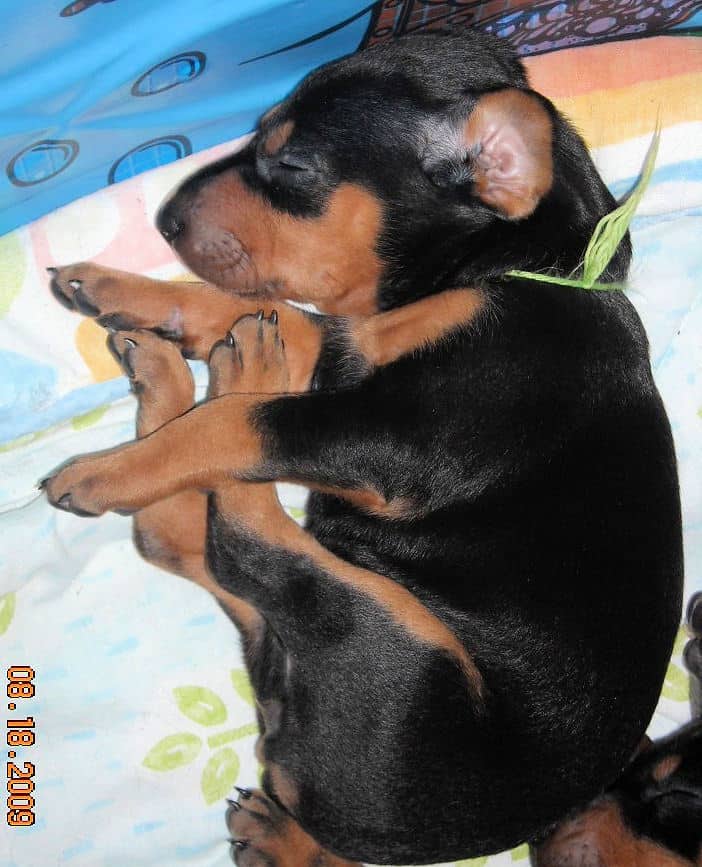 2 Week Old Pics ...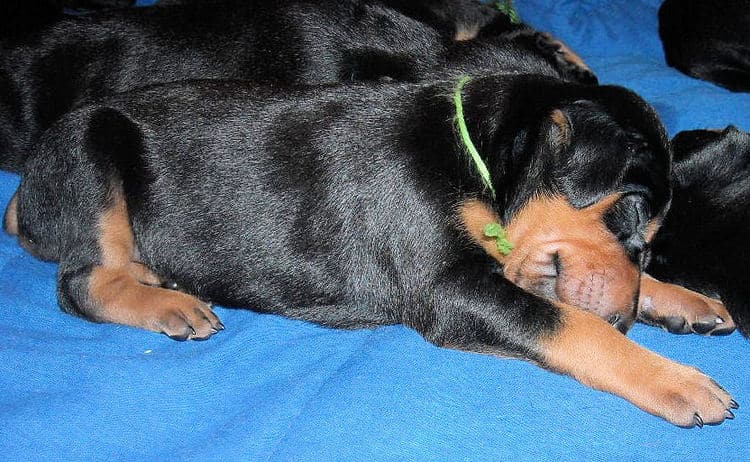 September 10, 2009 -

"I noticed dark markings on the top of his paws. I've never noticed that before. Is that normal? Does it fade with age?

Is 7 weeks a little early to take him from his mother? I don't want to rush things.

Does the Doberman have any hypo-allergenic qualities? My oldest has eczema and sometime has sneezing fits. I think it's related to the weather, but if she's couped up with Hendrix (chocolate lab) it can really trigger it." --Chris

RESPONSE:

"Dark markings are very normal, I copied a picture (via email) of a beautiful doberman with the same markings at the bottom of this page. Markings are kind of like thumbprints - some have light tan, some dark rust, some black markings on paws, some even have a small white spot on their chest or toes. Axle has the dark rust with black markings on paws.

Most pups are ready to leave their mom at 6 weeks, we keep ours until 7 just to help with socialization and to watch them a week after 1st shots. They are definitely ready for "individual" attention and love from new owners.

As far as allergies, or skin problems: Mine have had no problems, nor has Laura's. Black & Rust dobies usually aren't known to have problems, the diluted colors - Blues and Fawns - sometimes have skin problems & hair loss. Our blues - so far - have not had any problems. Ellie had 4 blues in the first litter and 2 in this litter. I have kept up with the 4 from first litter and their coats are good. Some people breed for the blues and fawns and that is where the problem usually arises. Pyro and Ellie have blues in their pedigree, so when a red and black throw blues it is know as "true blues" and usually have less problems.

The food you feed them has everthing to do with coats and allergies. I LOVE the brand I have discovered. I did extensive research on dog food. You don't want anything with any kind of meat by-product , corn, soy or wheat. The food I found that is the most reasonably priced is Diamond NATURALS large breed puppyfood/lamb&rice formula. I have my adults on the Daimond Naturals large breed which comes in chicken & rice and lamb & rice flavors. I noticed their coats were shinier and smoother after the first week. I love it and they love it!!

Feel free to ask anymore questions you might have - I love owners who care!!!" -- Debbie

September 9, 2009 -- This pup sold to Chris from Houston as a gift for his daughters' who have birthdays this month :)

From Chris: "Here are some pictures for you. I'm the one on the little train. I always seem be the one taking the pictures. I threw one in there of us walking to school. Axle will be expected to join us. The others are examples of the type of attention and love the girls will shower him with. The little puppy is Hendrix. The old buy is Naji, our chocolate from 4 years ago. That's Sydney taking a nap on him! ha, ha! She still tries to do that."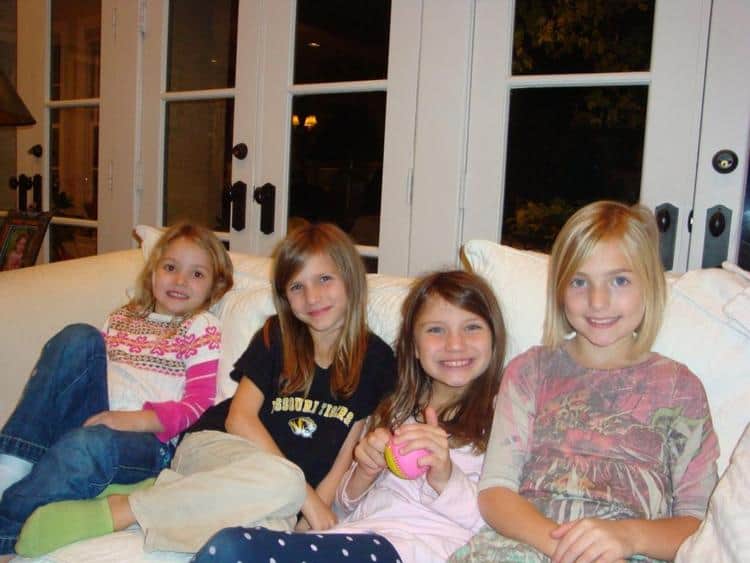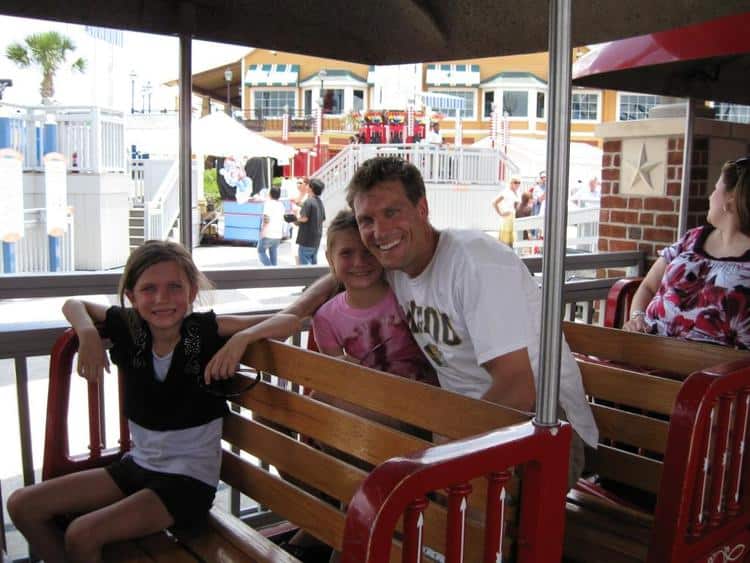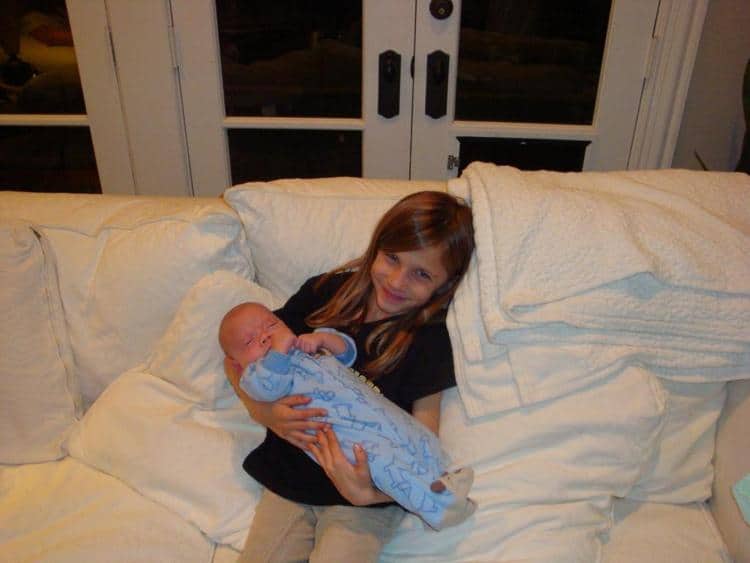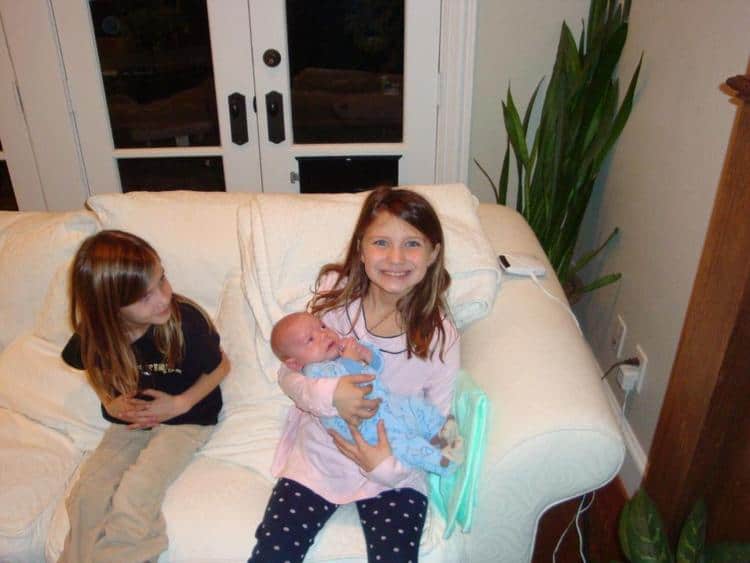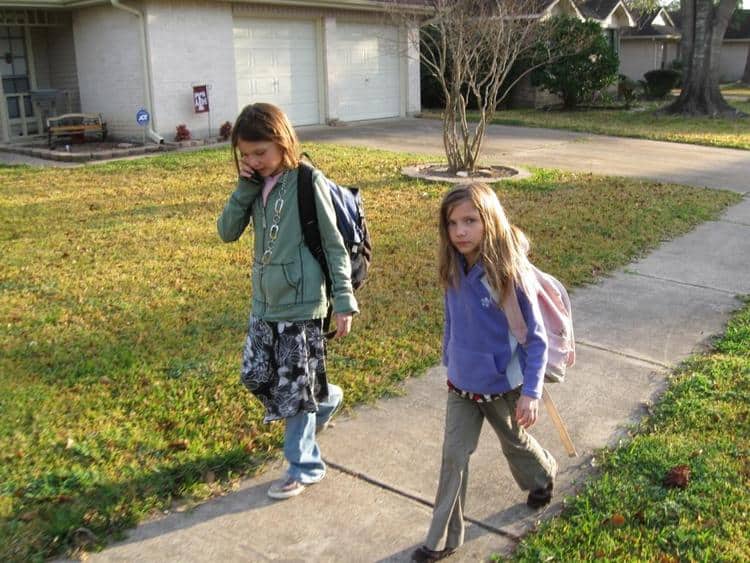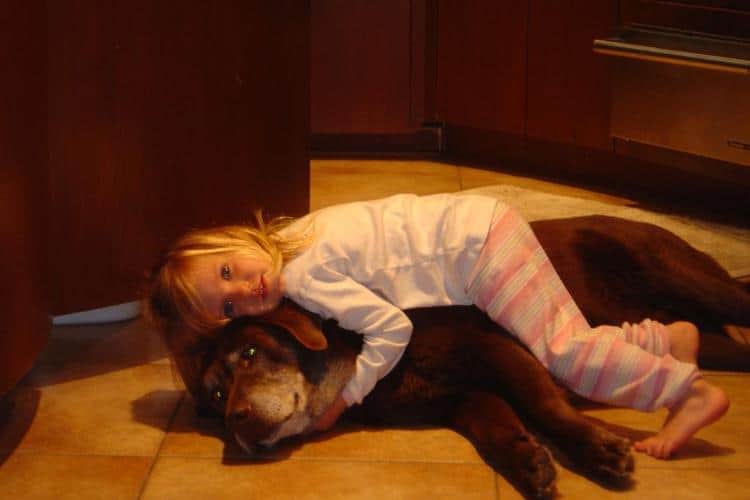 "Ok! It's done. Thanks for the email that started all this. I kid you not. Last week I was really depressed. I was thinking how I should have taken one of these puppies.

I don't know about the others, but Axle is a very special looking puppy. Not sure why. It looks like he would look you right in the eyes. I had heard once this means they're intelligent.

So, what shots will he need and when? I know you'll tell me everything the 20th, but give me an idea now so I can start setting money aside and planning. There is breeder here that I have had lengthy conversations about Dobes with. She told me of a vet here that she swears by for Dobes." --Chris

RESPONSE:
"Glad this all worked out for you. This will be your best buddy ever! As for the ears, I would go with someone you trust and are able to drive to. Ear wrapping is not a big deal once the ears are healed. The first two weeks, it's nice having a vet do it. Ask a lot of questions & try to learn how to do them yourself. You'll be wrapping for about 4 months. The ideal age to have them done is 10 to 13 weeks old." --Laura

September 8, 2009 -
"I'm really excited! Please call me when you get this and we can finalize. I have been praying there would be cancellations and just the other day I was thinking how much I am the one that needs this dog! I'm so excited. If Axle is mine, I would be so happy! Thank you -- Chris"

RESPONSE:
"I forwarded your messages to Debbie. She is holding Axle for you. A little background (because I am not sure if I shared with you previously) -- Debbie is my cousin and she owns Pyro and Ellie. Pyro is the son of our Scarlett (the head shot pictured at top of garrettsdobermans.com). So, there is family connection both human and canine. These pups have been well cared for and handled from the moment of birth. Axle will be very quick to bond with you.

If you have any questions, please don't hesitate to ask. It would be nice if you could email Debbie and let her know what kind of home you would provide Axle. As of right now, he is on hold for you. You need to confirm by Weds. that you are committing. The method of payment will depend on pick up vs. flying home. Also, at this point, deposit is due only if you would not be getting him this weekend. In other words, if you could pick him up this weekend, odds are you would beat your mailed check to the pup - make sense? I can't think of anything else right now!" --Laura
---
Find a New Home for Your Dobe
Doberman Rescue Organizations
All Content Copyright © 2000-2010 GarrettsDobermans.com.
All rights reserved.