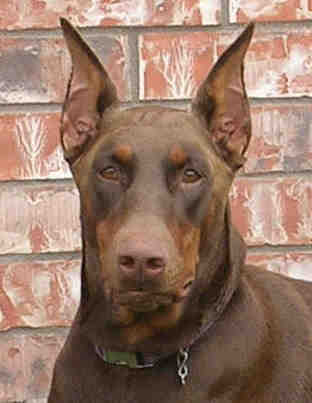 Garretts' Dobermans .com
Welcome to Garretts' Doberman Puppy Site!

Bismark
---
Third Litter Links: [3rd litter home page]


First Day
Tail Dock
Food Intro
1st Grass Play
1st Week
2nd Week
3rd Week
4th Week
5th Week
6th Week
7th Week
8th Week
10th Week
Development Diary
Litter's Sire
Litter's Mom
---
June 24, 2003 -

"Hey guys, I just wanted to let you know how Bismark and I are doing. I hope that Aggie and Scarlett are doing great as well. Bismark has been doing great. He has done really well at the vet's office and as of last Friday weighs in at 30 lbs even which was a 13 lb increase over our last visit. He has pretty much mastered both sit and down with both voice and hand commands."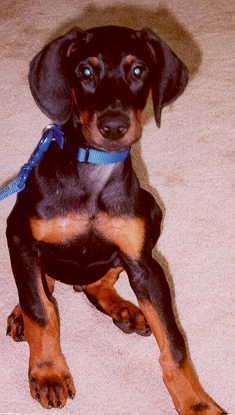 "He has been kind of skittish around new things but he is constantly getting better and better to adjusting. The doctor I had all set up to do his ears had to cancel on me because he was having hip replacement surgery so I found another one but in the end I have fallen for his floppy ears so they are going to stay."
"Here are some pictures that were taken over Memorial Day while I was in Florida for they weekend. They were taken by some friends dog sitting for me. "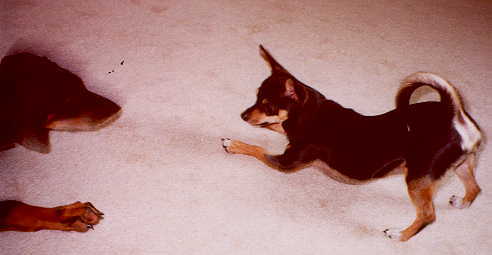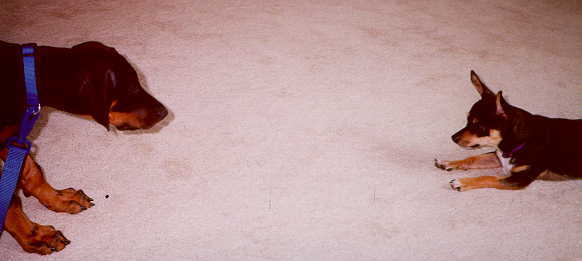 "In two of the pictures you will see Bismark's buddy Toby. They are great friends and Bismark has learned how not to be too rough on the little guy. I hope you guys are all doing well. I was hoping to have the pictures that I took last week but they didn't turn out too well but hopefully I will have some more for you guys soon."

Wes and Bismark in SA
May 22, 2003 -

"Me and Bismark just got back from the vet's
office and got our heartworm and flea control medication he did really well with the vet and she was very impressed with
how he looked and behaved although he was smelling everything in sight while she was trying to check to see if he had a heart murmur which he doesn't. :) I hope that the rest of the litter is doing great as well and the same goes for Aggie. I just wanted to thank you for having such great pups and
to let you know that the vet asked if I was going to show him because he looked like he had show markings. :)

Hope that ya'll are doing well.
Wes and Bismark"
May 21, 2003 -

"Just wanted to let you guys know that Bismark is doing very well. He just about has the potty training down and he has already learned sit and does it on his own when we come back inside. He also has been doing very well with the leash and being outside. Still doesn't like the bright sunshine but I think that is understandable. :) I hope that you guys are
doing well. Like I said just wanted to drop you a line and let you know how we are doing. He will get his ears cropped the
first week of June hopefully I'll have some pictures for you before and after it happens. Wes"
May 3, 2003 -

"Well, let's just say that 5 am was very early this morning that is for sure. :) We have been working on potty training today and not doing too bad. Everything is going well and I will keep you informed that is for sure. Hope you guys have a great weekend.
--- Wes"
May 2, 2003 -

"Just wanted to let you guys know that we made it safe and sound. Bismark did very well in the truck. He slept the whole way here and got experience a thunderstorm as well. :) I'll let you guys know more later on, but for right now we are going to bed. Needless to say I'm pooped that for sure.

Thanks,
Wes"
---

May 2, 2003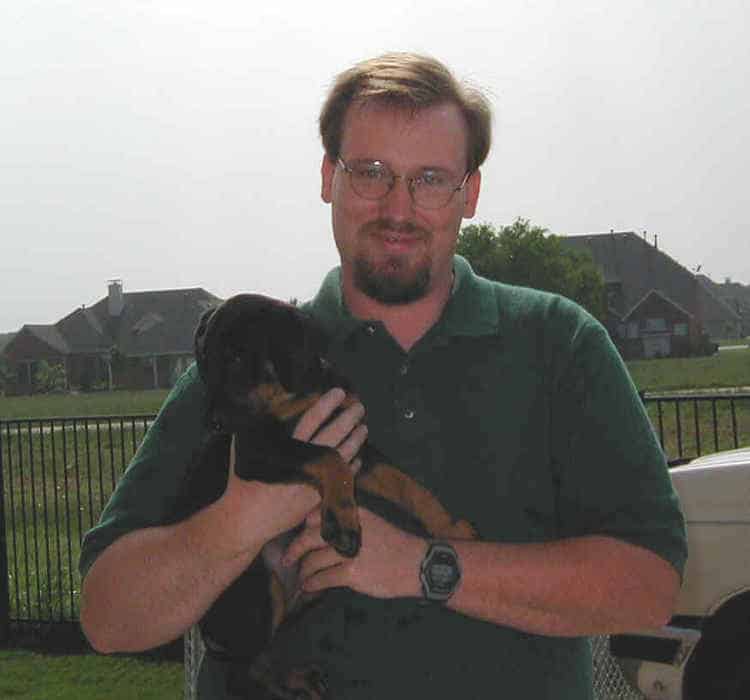 Wes left San Antonio in the morning and arrived to pick Bismark up around 4:00 p.m. - a few hours earlier than Wes had originally planned as he couldn't wait!! As you can see, the bond began forming almost immediately. Wes chatted with us for a little while but then hit the road again to take Bismark to his new home in San Antonio (about a 5 to 6 hour trip). That is a lot of driving time!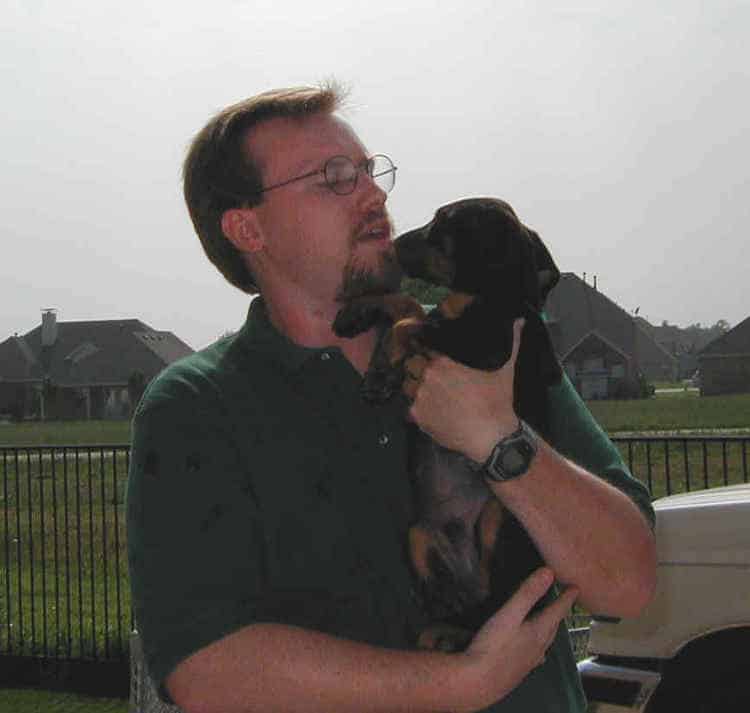 ---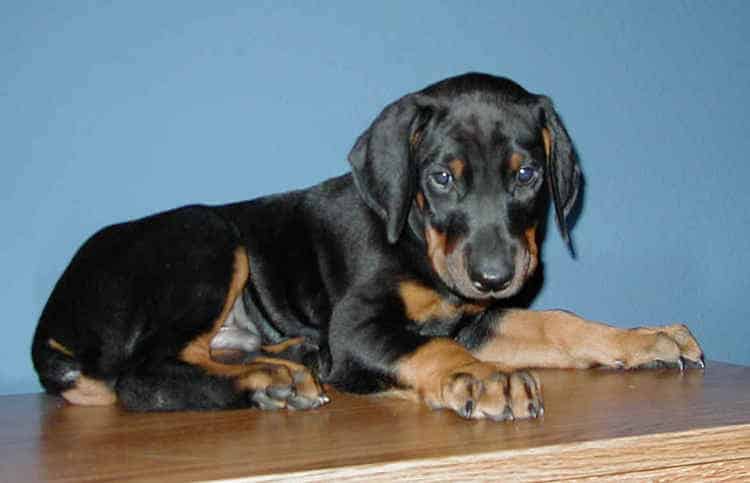 Picture taken at 6 weeks


---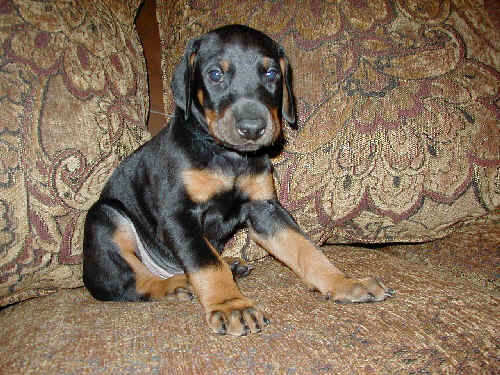 Pictures at 5 weeks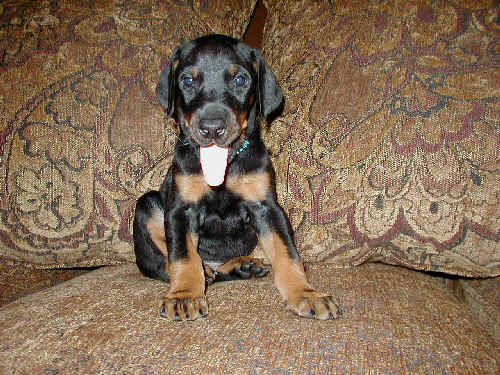 I love it!
---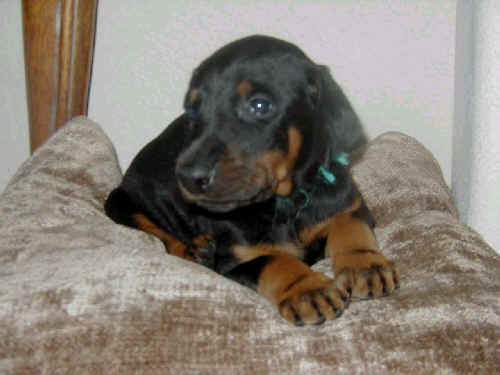 4 Week picture
---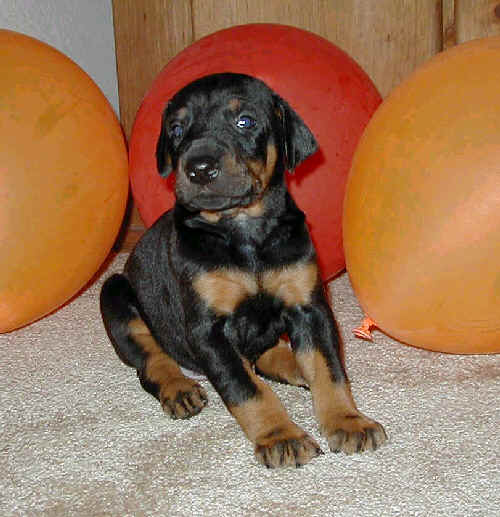 Bismark at 3 weeks
---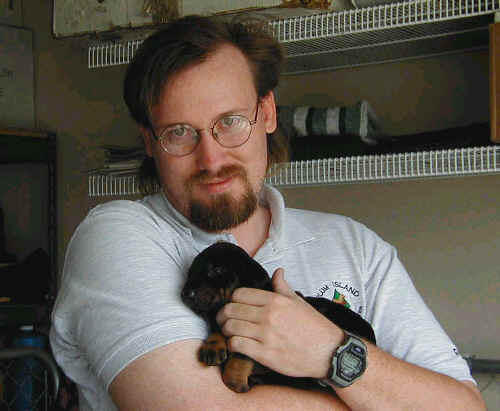 Wes meets Bismark - April 5, 2003.
It was love at first sight for both of them!
---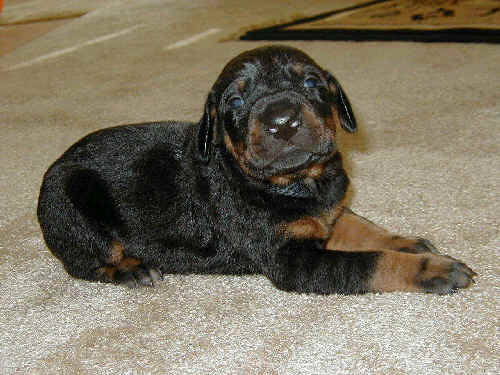 This pup sold to Wes Hunt from San Antonio, TX.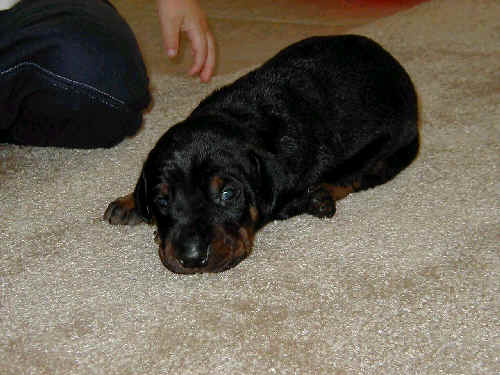 Wes met his pup Saturday, April 5, 2003.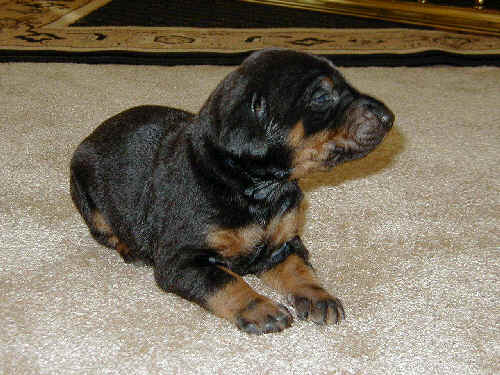 He had already picked a name - Bismark!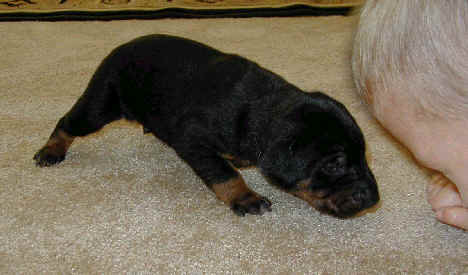 ---
Find a New Home for Your Dobe
Doberman Rescue Organizations
All Content Copyright © 2000-2010 GarrettsDobermans.com.
All rights reserved.