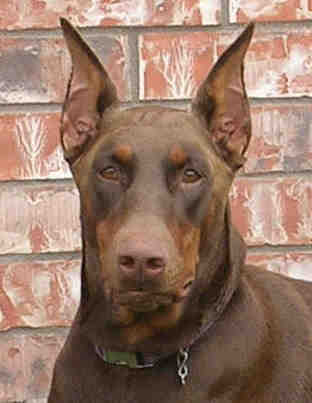 Garretts' Dobermans .com
Welcome to Garretts' Doberman Puppy Site!

Bruno

This red male is now living with Jeff and family in California.
May 21, 2007 -
Bruno flies home today!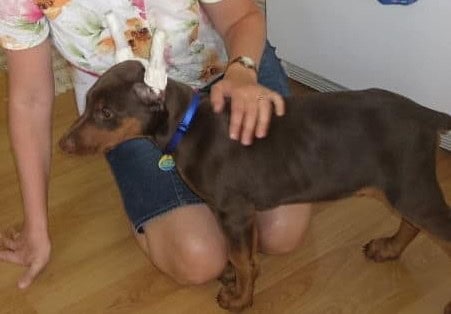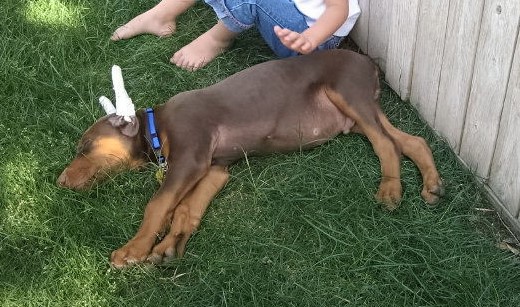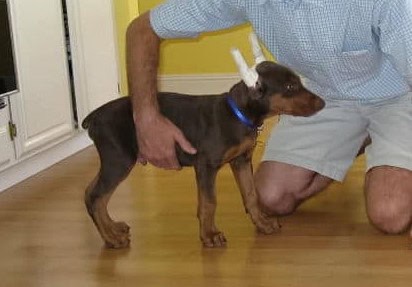 "Hi Laura,

Thanks so much for taking such good care of Bruno! He arrived safe and sound today in Bakersfield and wanted to send you some pictures.

Question re. feeding, did I read correctly that you were feeding him 2X per day? Just want to make sure. Also, do you happen to know about how many cups of food he'd go through at a time? Ate about 1-1/2 today is all and left the rest.

Also, could you please let me know the type of weather stripping you're using for ear wrapping and if you switch to a different type of wrap as the ears heal?

Thanks for your help! Will continue to keep you posted with pictures.

Jeff"

REPLY BACK:

"Thanks for being so prompt with pics!! Awesome! Love putting faces to the owners.

He has been eating about three times per day (morning, afternoon, evening -- no set times). He is a growing boy (obviously!!) and I just recommend putting down a full bowl at feeding time. Let him eat until he walks away. Pups do a good job of regulating themselves on the amount. Don't worry about measuring it.

I don't know if the material used to post the ears is actually weather stripping, but that is typically where you find it at Home Depot or Lowes. It is sold in a coil, is a cylinder/round shape, and is kind of spongy in texture. I think the diameter is 1". Since you will be letting his ears air out for two days, just take some of the tape off the post to expose what it looks like then take it with you to the store so you can show someone that works there exactly what you are looking for. I wish I knew exactly what to call it, but I don't! (Not sure what was said here was all that helpful?!) As for switching -- nope, the way his ears are wrapped now is how Dr. Schaffer would wrap them until he is done with wrapping. Make sure that it is a paper tape that is used to cover the ear. Allows more air to the ear and helps prevent them from getting gooey. The base is wrapped with Zonus by Johnson & Johnson. That is the thicker white tape. I can't ever find it, but that is what my vet uses. The main thing is to try and find a similar tape -- not waterproof or too thick.

I look forward to hearing how his first week goes!!

Take care,
Laura"

May 22, 2007 -

"Hi Laura,

Took Bruno to the vet this AM. he rec'd a clean bill of health. The vet noted his growth rate and said he's going to be (is!) one gangly puppy and a handsome adult.

One of the ears looked a little oozy and she told us to put some Neosporin on it.

Bruno is doing GREAT with his crate. Slept through the night without a peep.

We'll continue to keep you posted.

Jeff"
---
Pictures taken at 8 weeks old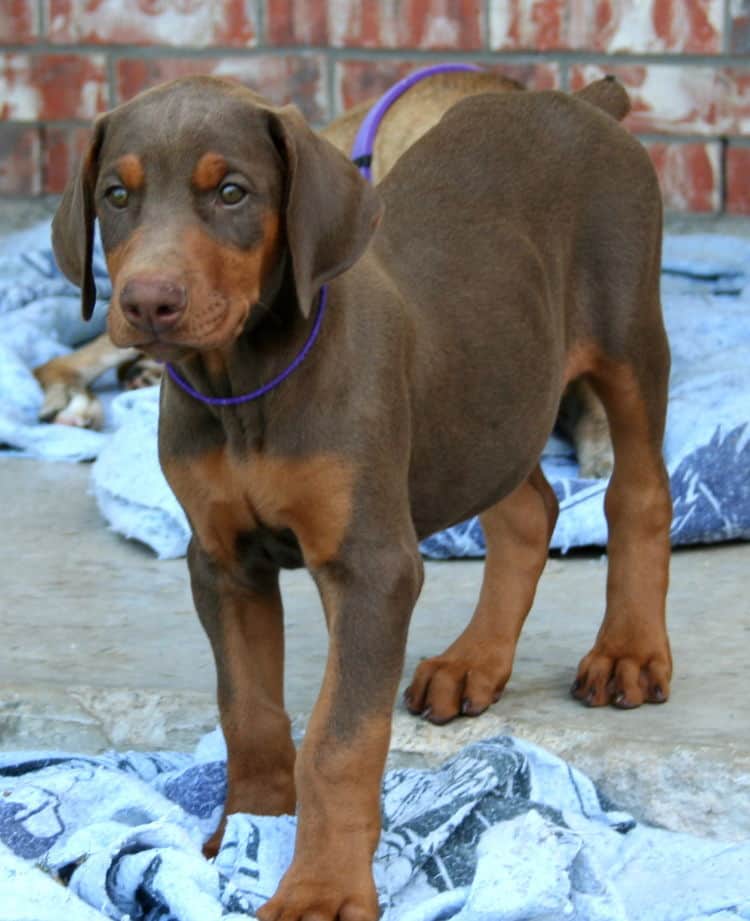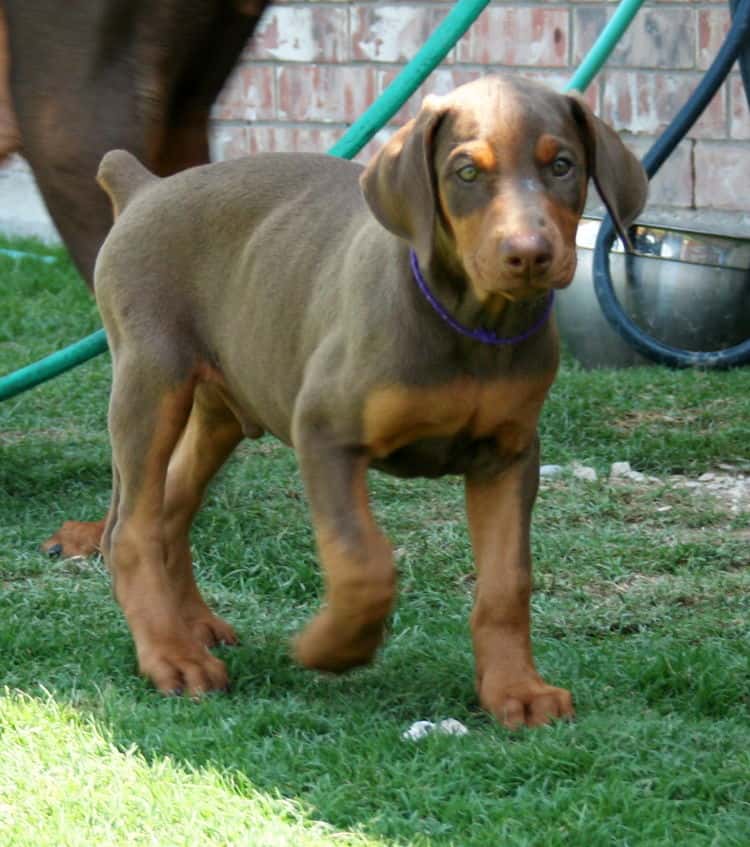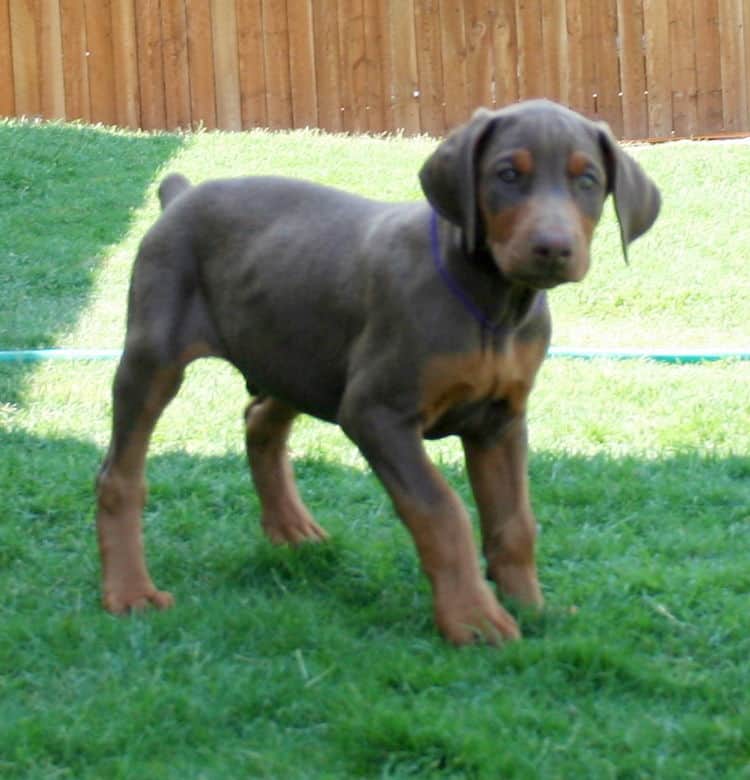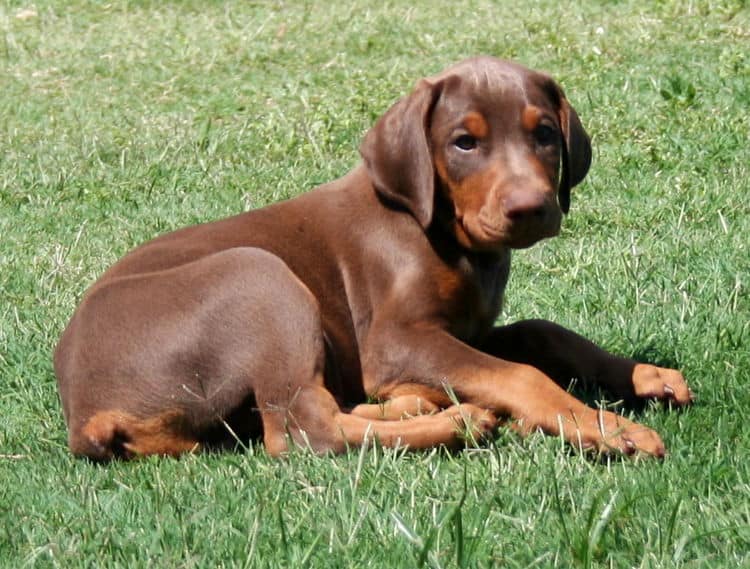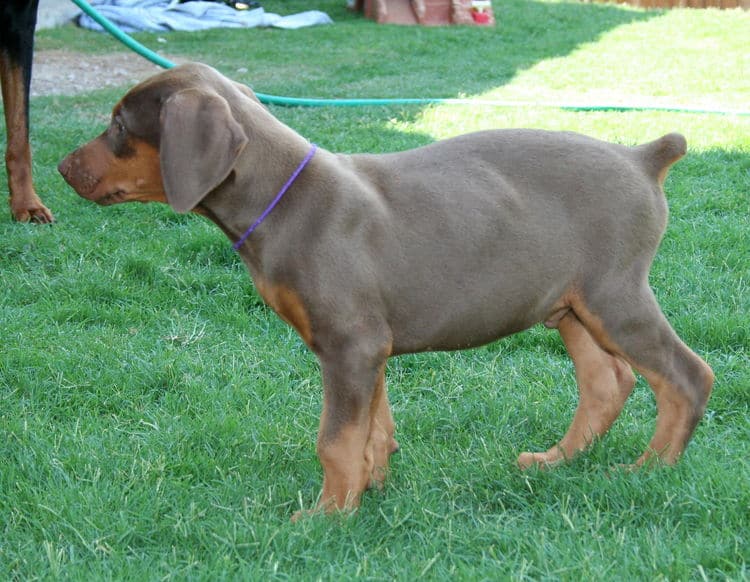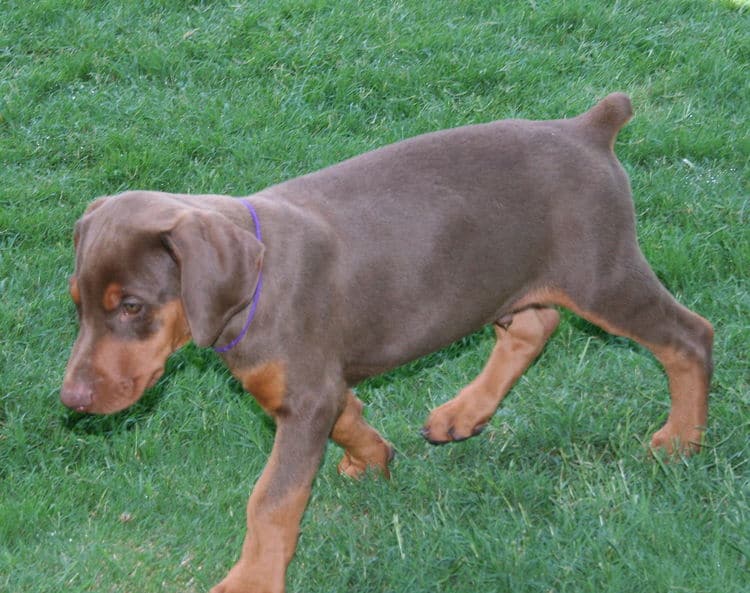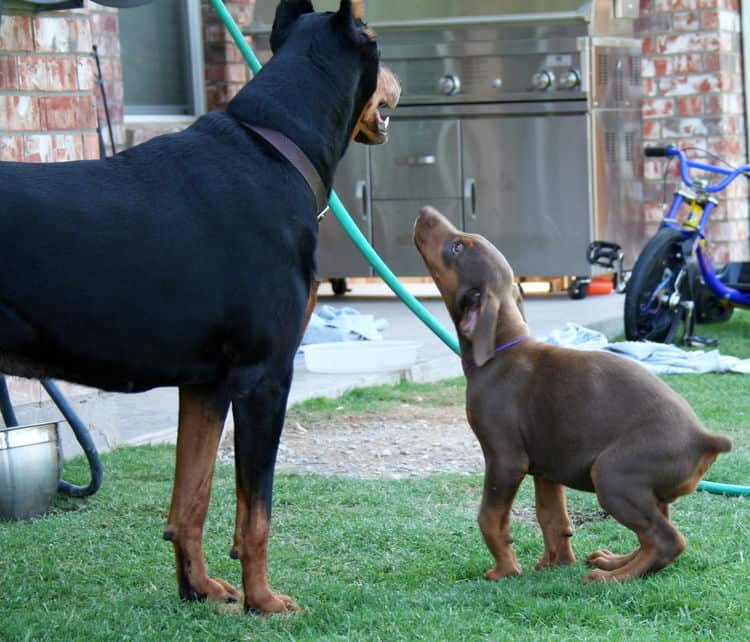 "Hey .. Grandma, Down Here!"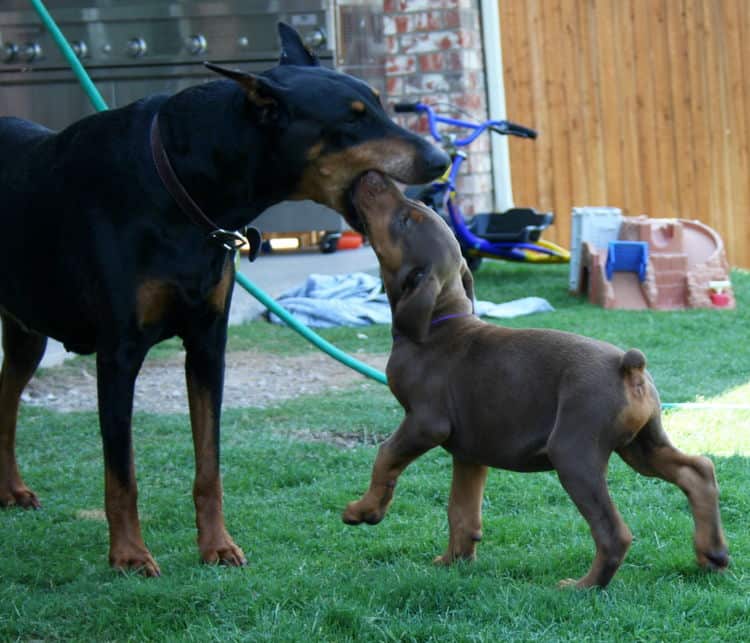 Aggie still loves playing with her babies!



Showing Mom he knows who's boss!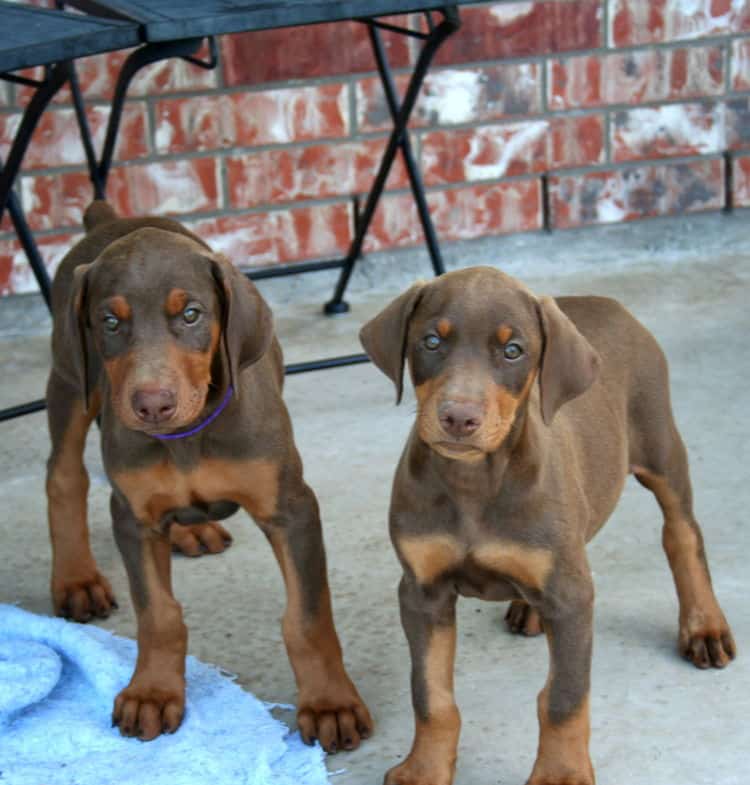 Bruno (left) and brother, Angus (right)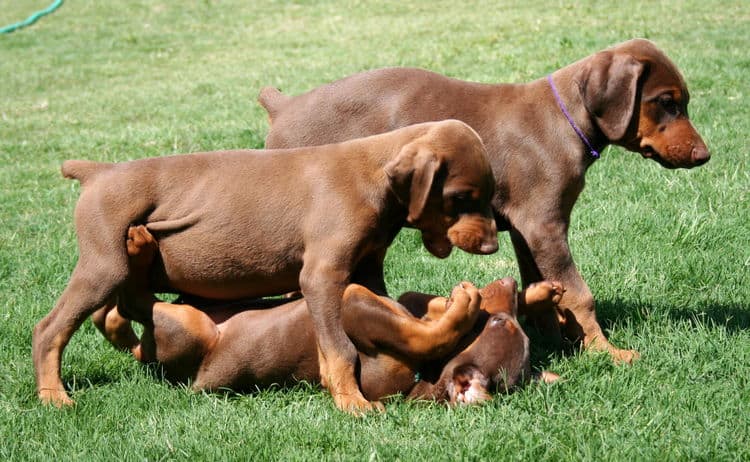 This week we have 6 pups on site.
These are the three that are still getting to be rascally little pups. They rule the backyard!
Top to Bottom: Bruno, Angus, and Isis


---
Pictures taken at 7 weeks old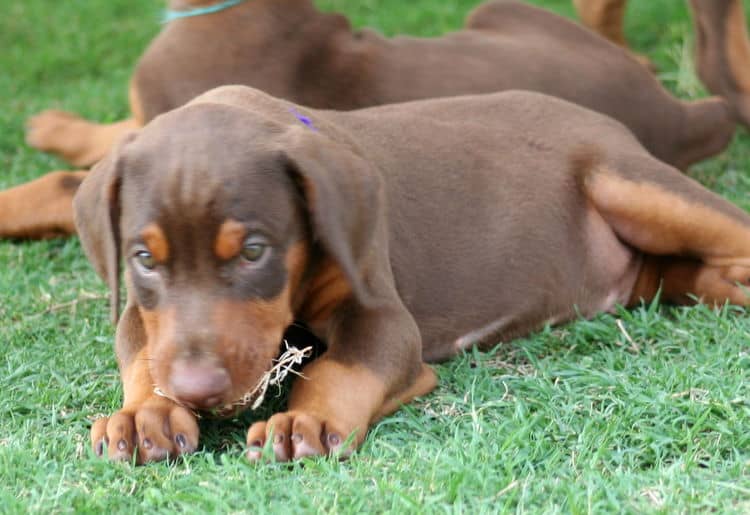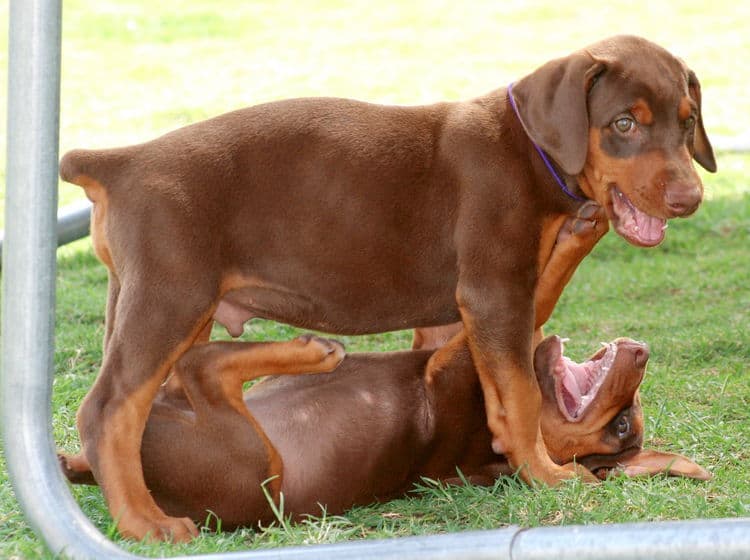 Playing with sister, Cinnamon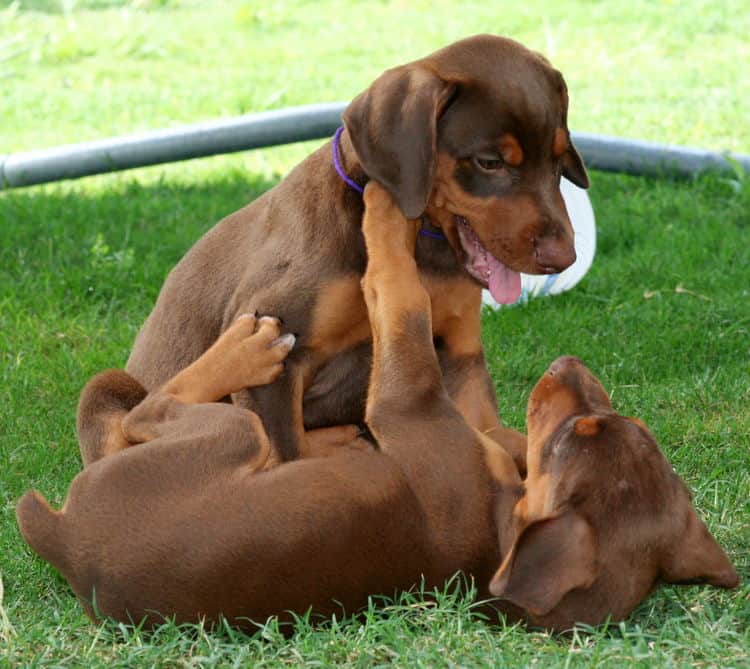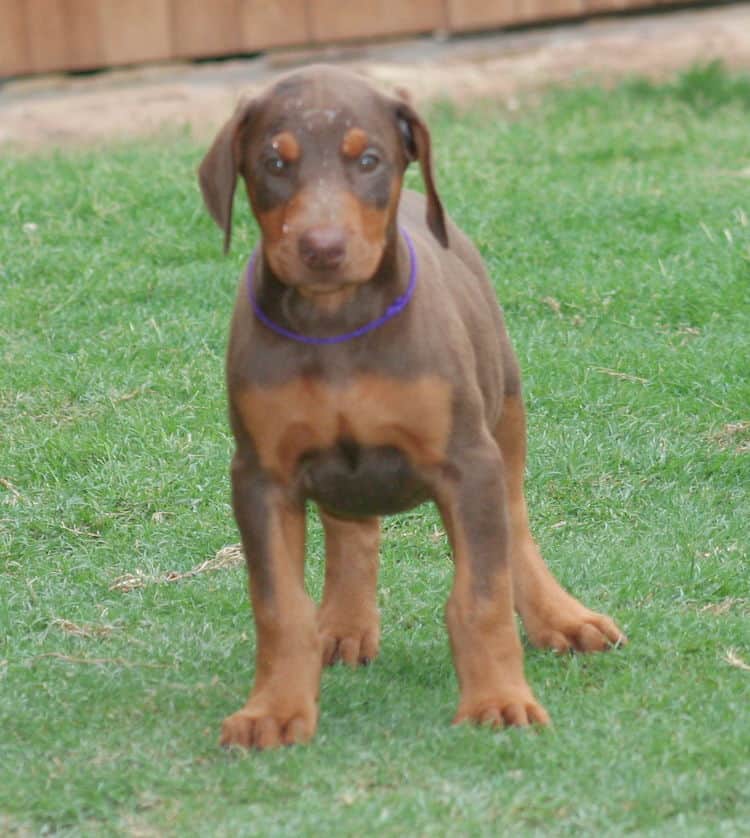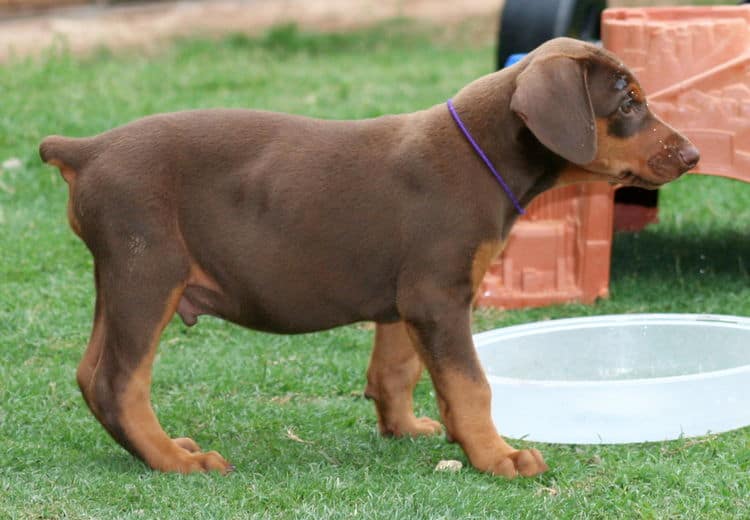 ---
Pictures taken at 6 weeks old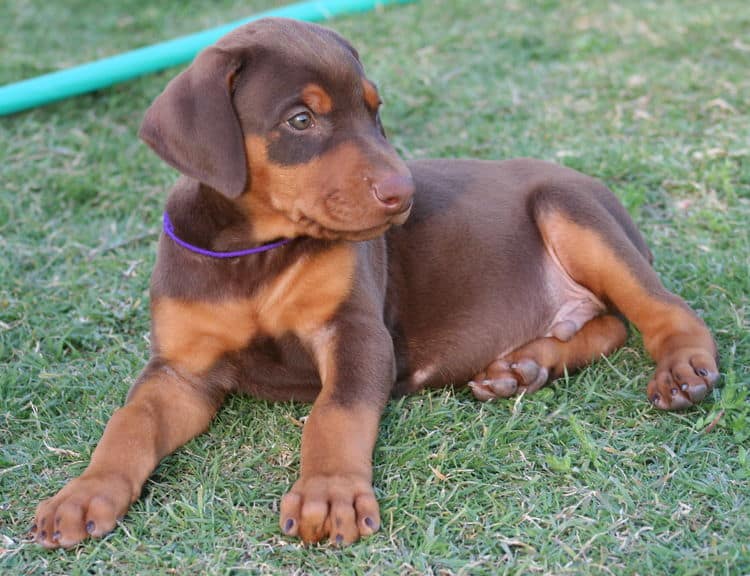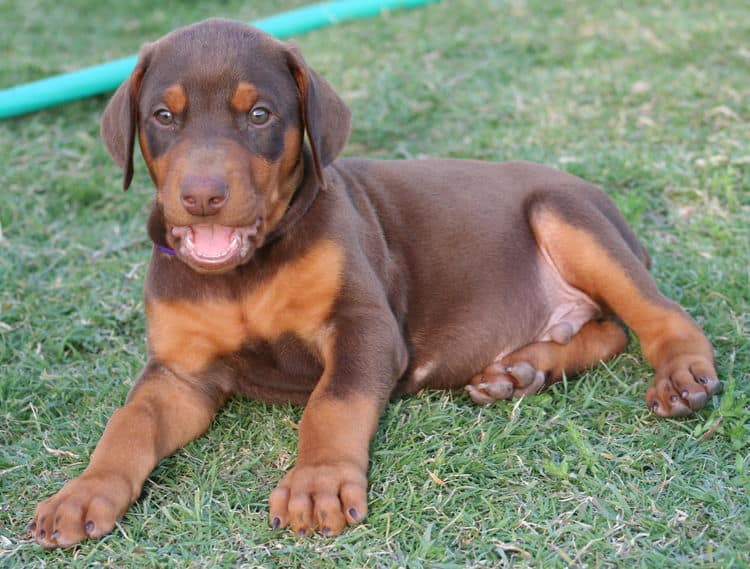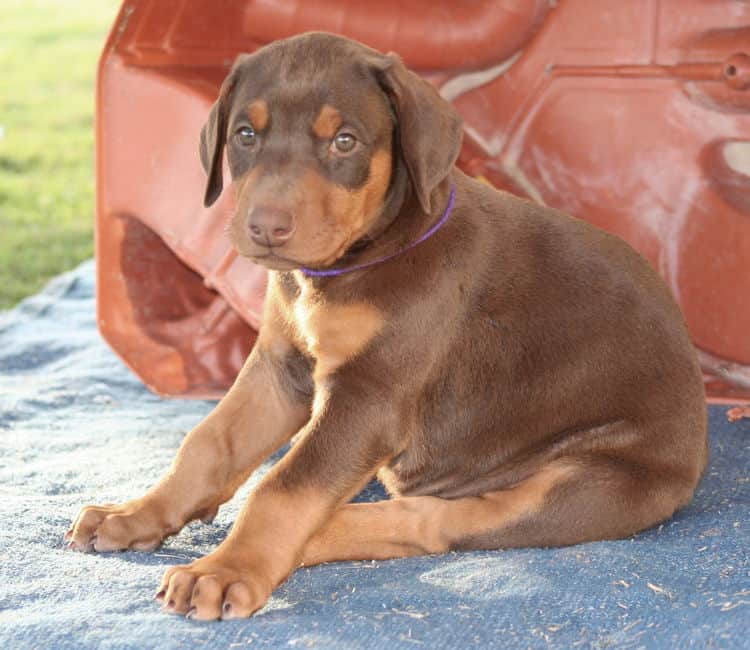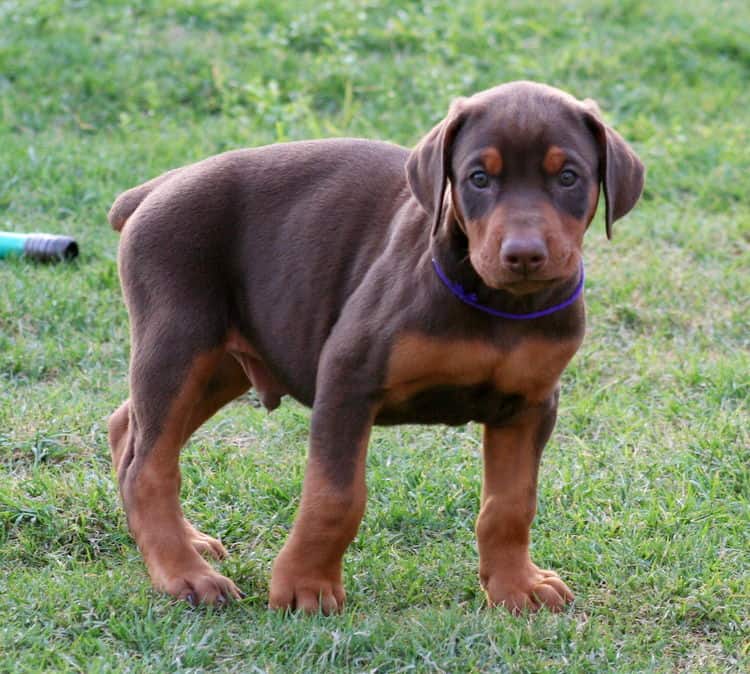 ---
Pictures taken at 5 weeks old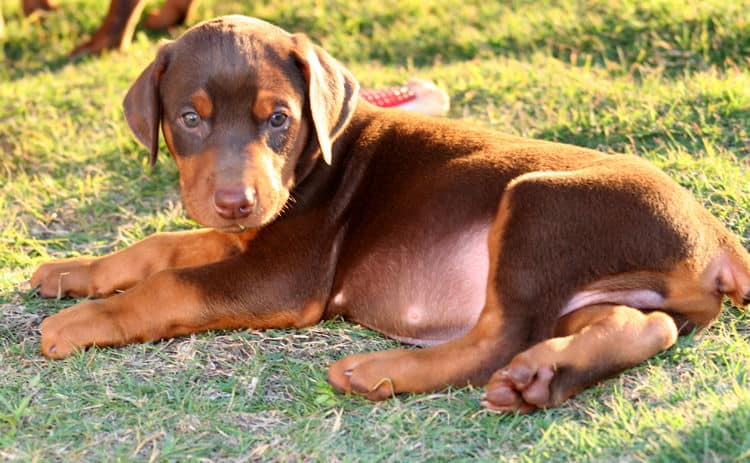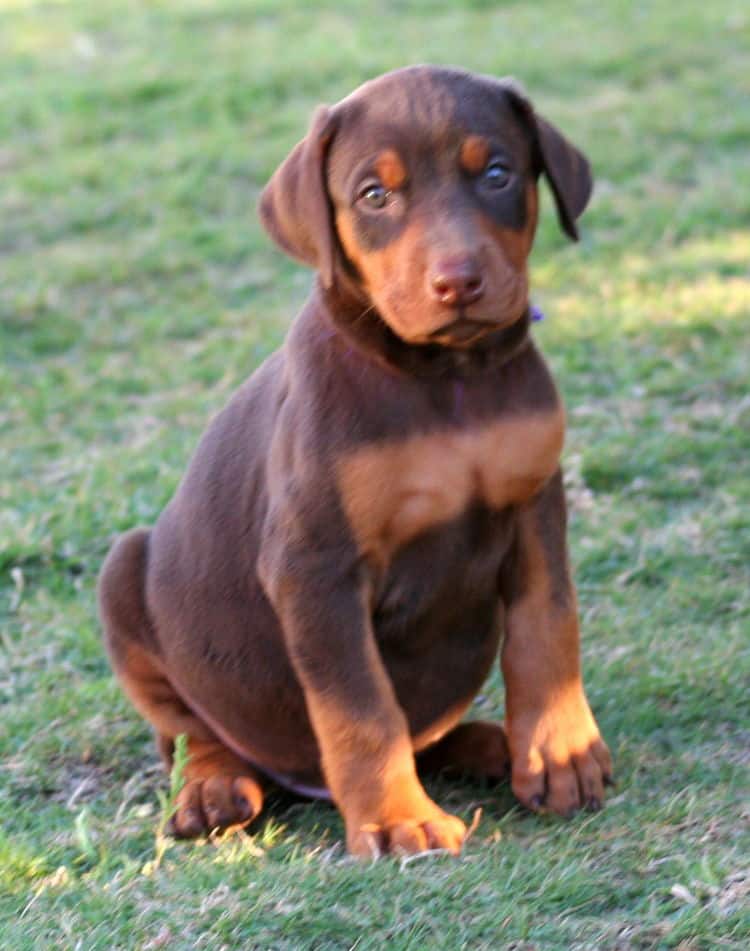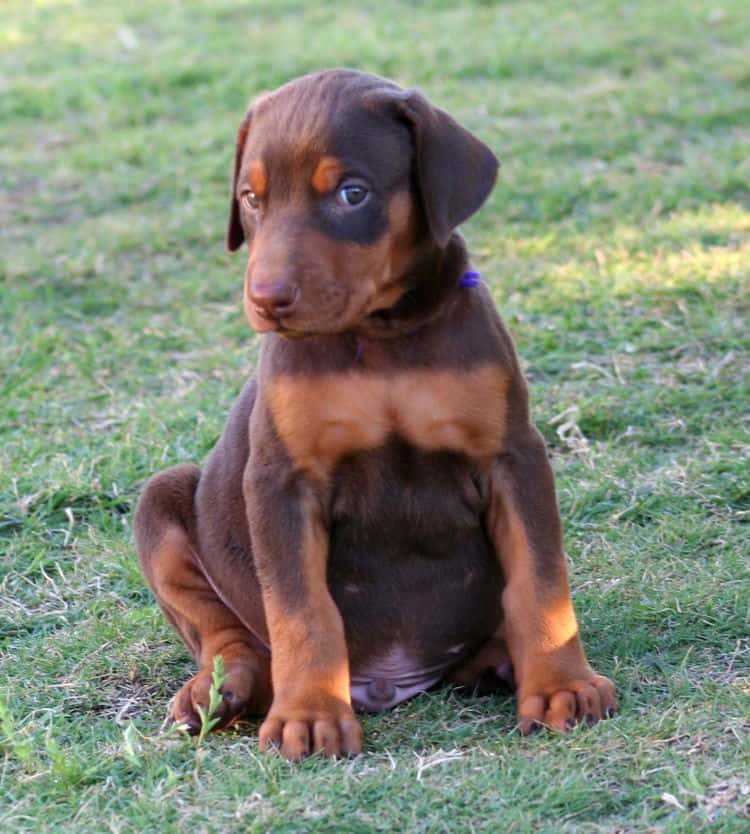 This boy is solid! His bone structure is noticably thicker than the other pups. His personality continues to be very lovable. When playing with a hand, he has a gentler bite than most of the pups. That's nice because sometimes puppies like to bite what they
can get a hold of and it can hurt!
---
Pictures taken at 4 weeks old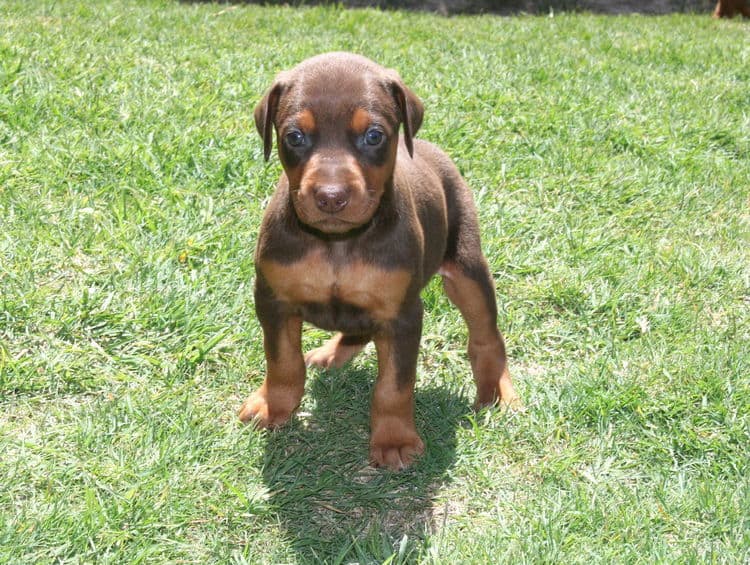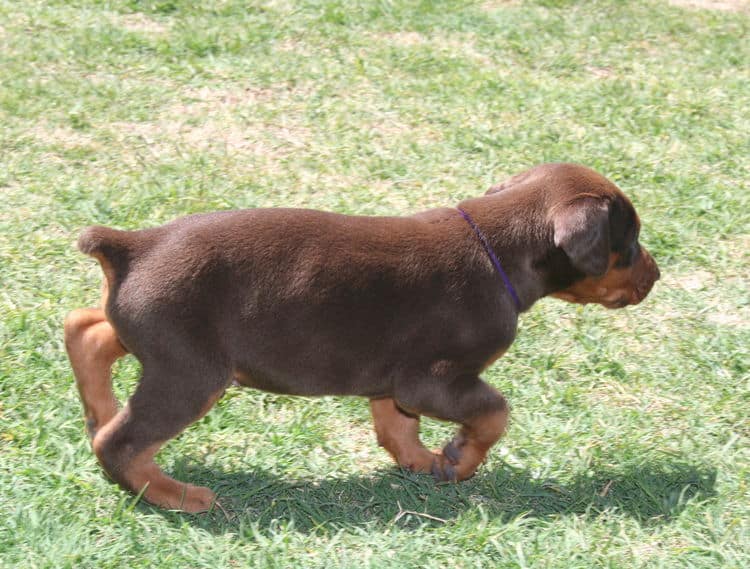 This is the big 'un (little Texas slang!) He and the black female tagged green weighed the same on April 17, but I feel like he is a little bigger. Anytime I witnessed him nursing, he ALWAYS had a hold of the best spot. He has had a need to fill his large hunger since the beginning, and believe me, he has! His personality is super sweet. He is usually among the first few to greet me.
*Weighed 7 pounds on April 17.
March 14, 2007 -

"Jeff,

Scarlett had her pups yesterday - 10 total. I can't promise the 1 black male will be available to you -- too much interest there, people have been on the list a LONG time waiting, and only one little fella to fight over ;-)

But, now that I have my list organized -- there are 3 red males. Of the people on the list for red males, not as many are as set on Scarlett's pups (some just the timing) as you are. I can at the very least guarantee you third pick of these red males. If that is acceptable to you, let me know.

Thanks!
Laura"

REPLY BACK:

"Hi Laura,

Congratulations on the litter! I'm excited you have a pup available. Red would be perfect as it's my wife's preference. My only concern with choice three of three males would be if it is a, pardon the expression, "runt" of the litter.

Ideally, in fact, my preference would be for the breeder to pick the best pup for our family based on what you think is the most appropriate dog for us. I would even be flexible regarding male/female if in your judgement you felt another pup was better suited for our family. I think you're in a great position to observe the individual dogs personalities and it would be difficult/impossible for me to make an informed judgement based on a photo.

If you think all of the males are equally healthy and well-adapted then this is a non-issue. I'm not concerned about variations in color pattern, etc.

Please let me know your thoughts.

Jeff"

RESPONSE:

"Jeff,

You got first pick of the red males as you are my first confirmation on red males. This gives you first pick thus it will be
easier to make your wife happy ;-) LOL!

It's official after you confirm back to me that this is acceptable.

Laura"

REPLY BACK:

"Laura,

Sounds great! Can't beat first choice! What are the next steps regarding deposit, etc? Also, what will the cost be for a red pup out of this litter?

Also, I don't have access to the web right now and don't recall from your web site but I wanted to ask if you're aware of any hip or heart problems in the sire or dam's lineage.

Jeff"

RESPONSE:

"Neither Scarlett nor Harley have been tested. Scarlett's mom, Aggie, is almost 9 and she is not on any kind of medication and has had 1 surgery to remove some cystic lumps a few summers ago that were related to the nursing she had done in the past. She still plays like a pup, too. Harley has had no problems to date. The only long term health problems I have had reported back to me from past litter owners is from Aggie's first litter. I know two of those dogs are on thyroid medication. My guess is that it was on that sire's lineage since it is the only time we used him and they are the only ones I know about with the condition.

Deposit needs to be sent now. Pups have to be 8 weeks before they can be shipped so at that time he will have had two rounds of shots and been dewormed three times as a precautionary measure.

Congrats!
Laura"
March 9, 2007 -

"Hi Laura,

Thanks for the heads up regarding the puppies currently available.

Based on the research we've done, I think we prefer to wait and see how things turn out with the waiting list for Scarlett's litter. We like the fact you have kids in the home to socialize the pups from day one every day. For optimal socialization with the new family I've also read that it's beneficial to pick the pups up as close to the 7 week point as possible. What are your thoughts on this?

Your previous email was helpful in reducing my wife's concerns regarding Dobe temperament. Your have some helpful new owner letters posted on your web site, too. Do you have any referrals you can provide who wouldn't mind speaking to us about their experiences with previous pups out of Scarlett? I think their feedback would be very helpful.

Keep us posted on Scarlett and her waiting list. Best wishes for a large healthy litter!

Jeff"

February 28, 2007 -

"Hi Garrett,

Yesterday I did a google search for "doberman breeder children" and your web site came out on top. My family has been considering bringing a dog in to our home for a couple of years and I've had a preference for a Doberman based on a general affinity for the breed, I grew up with a Border Collie and my wife with a Cocker Spaniel. My wife has been concerned about having a Dobe, though, as we have two young daughters (7 & 3) and she has the image of Dobe as aggressive guard dog.

Hence my google search. It's clear from your web page that your dogs, socialized and bred for temperament vs. breed standards, are great dogs for the family. In general, how do your pups behave with friends of small children and adults that the dog is not familiar with?

Appreciate your thoughts and will be in touch regarding our developing interest.

Jeff"

REPLY BACK:

"Jeff,

Thanks for contacting me. Dobermans are awesome pets for the family. My husband was the one that originally decided to get one and our first child was only 6 months old. I was like your wife and a little worried -- best dog we have ever owned! I highly recommend dobes, even around little ones. Our dobes read us - if we accept someone into our home, they accept them. The one thing in regards to other children, we have always just made it a habit to put them up when other kids are around. My husband has the fear that if another kid were to hurt ours, well, what if. We have never witnessed anything even questionable, though.

Did enough people get back to you as references? A few cc'd me on the emails they sent. Let me know if you need anything else!

Hope this all helps!
Laura"

RESPONSE:

"Yes, thanks. Great references.
Jeff"
---
Find a New Home for Your Dobe
Doberman Rescue Organizations
All Content Copyright © 2000-2010 GarrettsDobermans.com.
All rights reserved.