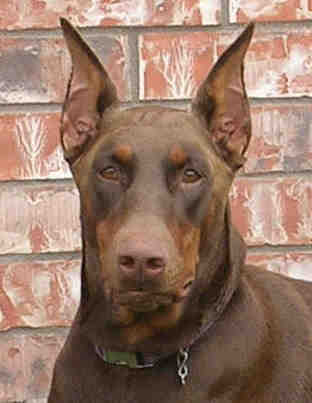 Garretts' Dobermans .com
Welcome to Garretts' Doberman Puppy Site!

Gunther
This black/tan male is now living with
Jennifer and family in Frenchtown, New Jersey.
June 30, 2009 -
"Thank you for the birthday card to Gunther. He is the best dog and we love him to death. He weights about 110 lbs. now and that's without an ounce of fat. He is all muscle. The kids got out of bed this morning and brought him his presents and wished him a happy birthday. Thank you again and thank you for such a great dog. --Jennifer"
August 30, 2006 -
"Hi Laura-- Our puppy is doing great. His name is Gunther and he starts obedience training on Saturday. He is getting his ears done on Tuesday. He is getting along with my other 3 dogs really well. I'll send you some pictures soon. Thank you --Jennifer"

August 22, 2006 -- Gunther Flies Home!

Nose to nose with grandma, Aggie
(7 weeks old)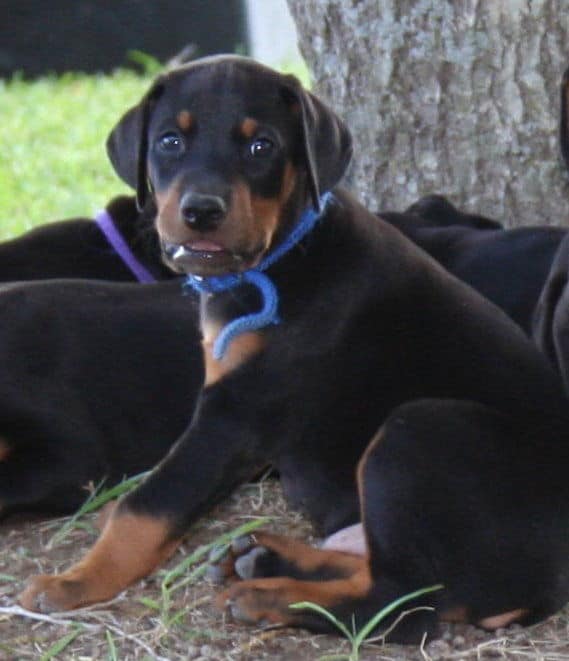 Pictures at 5 Weeks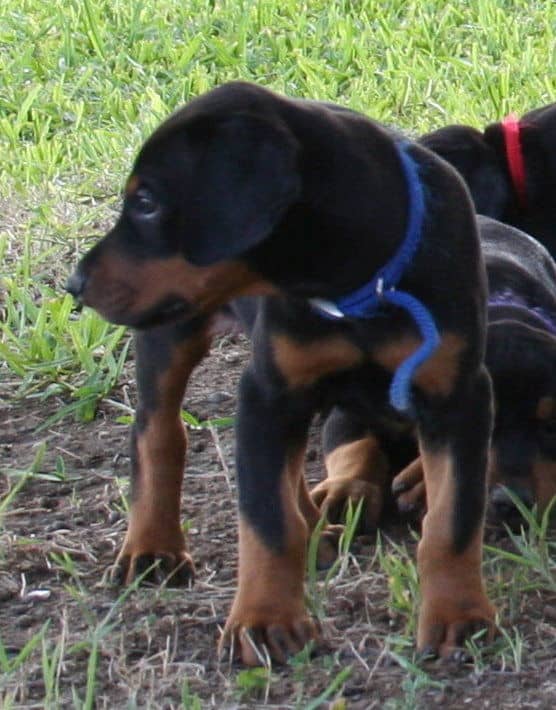 The following pictures taken at 4 weeks old ..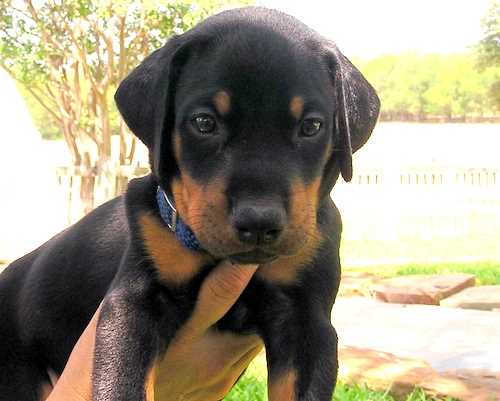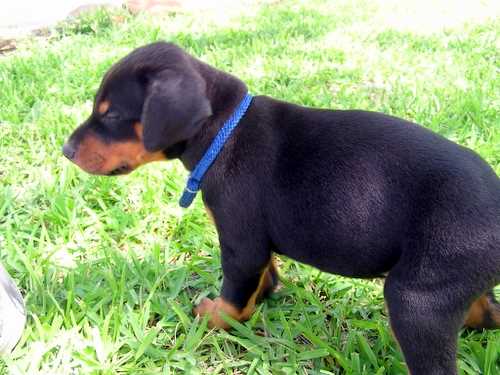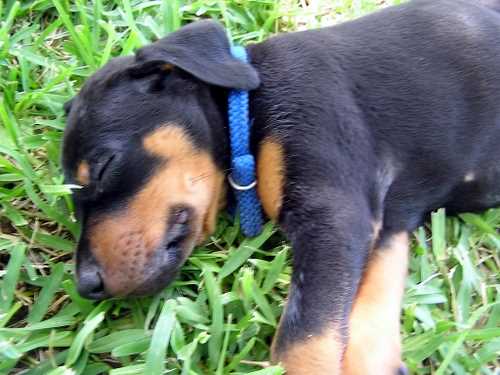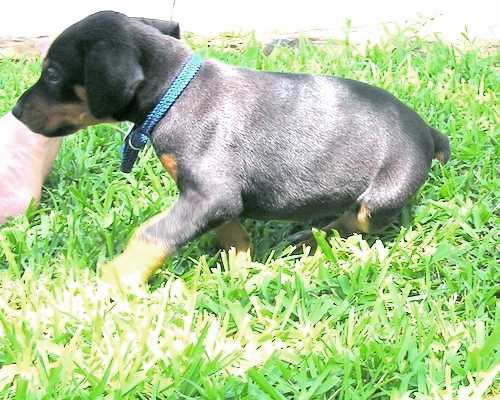 August 15, 2006 --
"The male with the blue collar has really grown this week and is now as big as the black collar male. --Wendy"

August 11, 2006 --
"Hello-- Definitely mark the blue one as ours. And the 22nd would be great. Just let me know where we go at the airport and the time to pick him up. Thanks --Jennifer"

RESPONSE: "I marked him yours on the litter's home page - fun!"

August 10, 2006 --
"Hi Laura -- I saw the individual pictures and I think we would like the puppy with the blue collar. If we can have the blue puppy let us know. Also, my vet said he would do the ears so I don't need you to do it.
Thank You --Jennifer"

RESPONSE:
"Jennifer,
I visited with the pups a couple of days ago. Super nice family!! And, all the pups look good, honest! They are stout pups with only one being a little on the smaller side. I don't think any of them will fall in the standard weight range for the dobe breed -- lots of pet owners prefer larger, so that is good. I took pics myself when I was out there and will have to get those posted.

Glad you got someone for the ears. It will make it easier for you to continue follow up care with the same vet that does the procedure. --Laura"

August 7, 2006 --
"Laura -- I saw the puppies and I really liked the black one and the blue one. I was just worried about picking the black one because it says he's the alpha male. I have
three dogs already 2 females and one male and I didn't know how he would fit in. Please get back to me and let me know what you think. Thank you--Jennifer"
---
Find a New Home for Your Dobe
Doberman Rescue Organizations

All Content Copyright © 2000-2010 GarrettsDobermans.com.
All rights reserved.