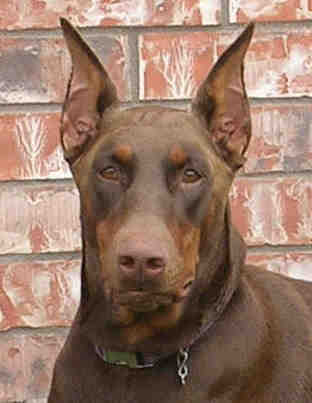 Garretts' Dobermans .com
Welcome to Garretts' Doberman Puppy Site!

Nikita
---
Links for Litter - Born November 11, 2005:
Guen's Litter Home Page
Day 2
2nd Week
4th Week
5th Week
6th Week
7th Week
Development Diary
Sire of this Litter
Dam of this Litter
---
This pup is now living in Idaho Falls, Idaho
with Rebecca and her family.
December 30, 2005 -

"I Just love her! She got an A+ on her vet exam. The first two days she had to pee every five minutes. So I had the vet make sure she did not have an infection but she was fine. I think she was just nervous or excited or something. She is also signed up to start Kindergarten on the 9th. The first two nights she cried. I put her in her crate by where my other dogs sleep and that seemed to help. The next night I put her by my bed. Last night, she slept fine. I woke up at 4 a.m. worried that she had choked on something and was dead because I had slept the whole night to that point without her making any noise. (I tend to worry excessively) She was fine! I took her outside and then put her back in her crate and she went right back to sleep.

My two other dogs do okay with her. Rocky ignores her for the most part and Sampson is a little jealous. She loves to try to get them to play with her. Most of the time she just gets growled at but I can tell they are softening up towards her. She is fascinated by the snow and has a favorite toy. It is a little Post Man dog doll. Anyway, she is doing well. Maybe I'll e-mail you pictures sometime."

Rebecca

---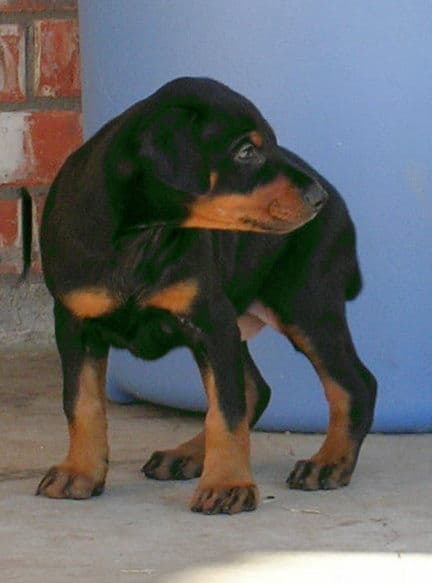 Nikita pictured above at 6 weeks
---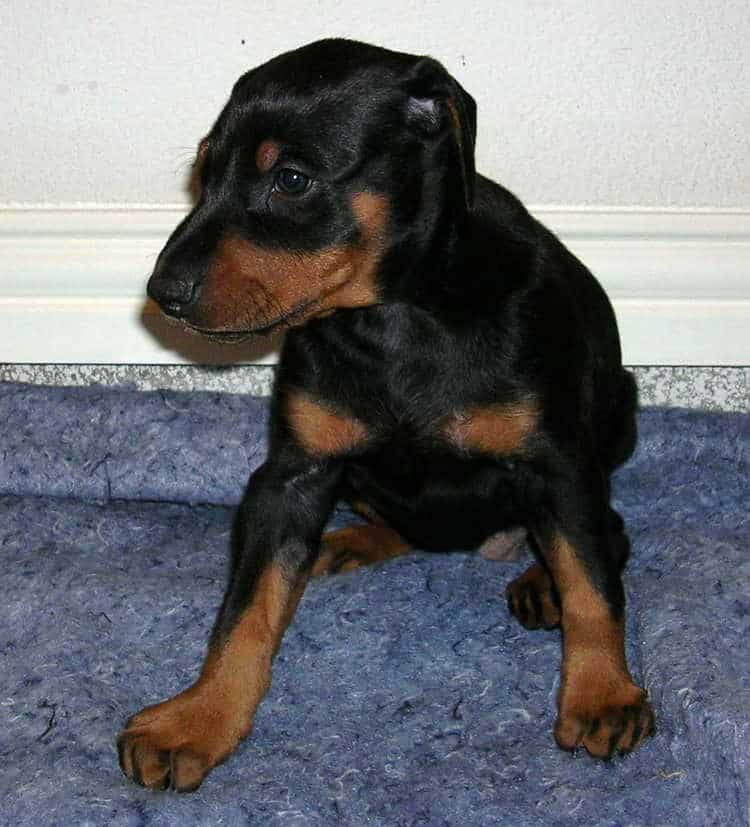 5 week pictures
(Nikita was wanting to play .. not pose!)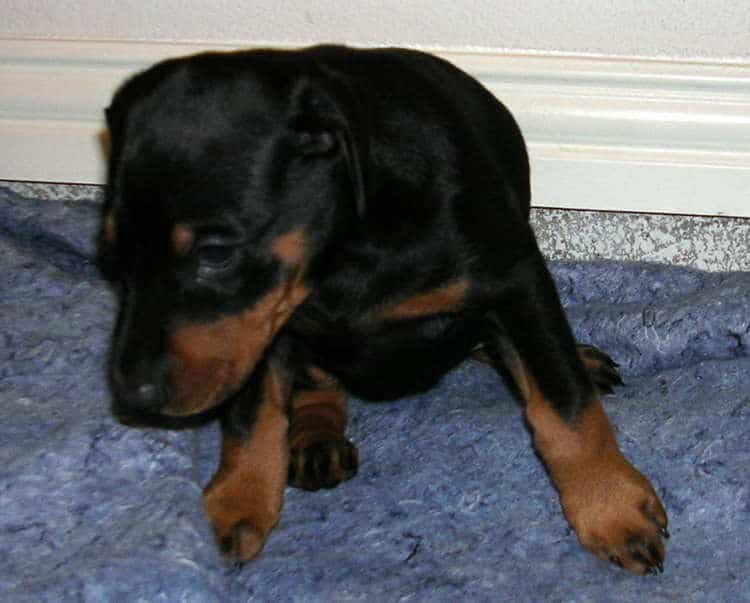 ---
4 week old pictures ...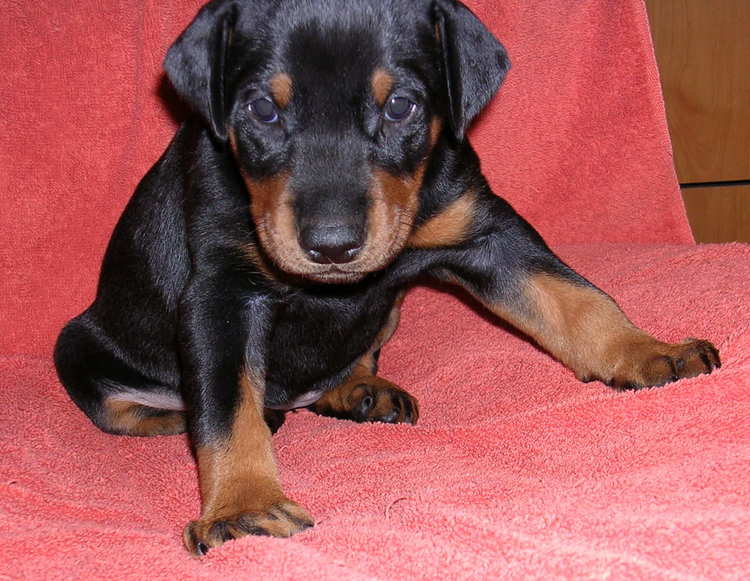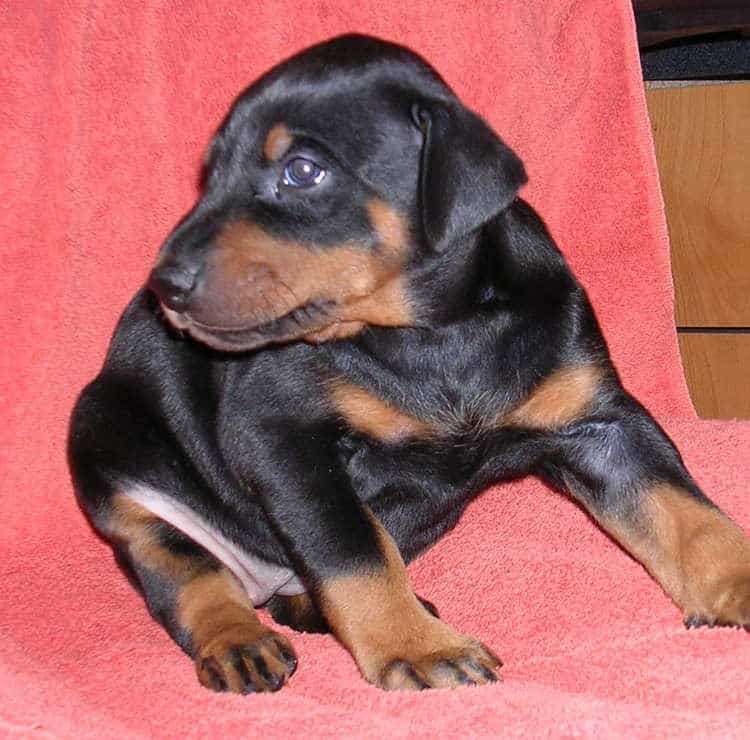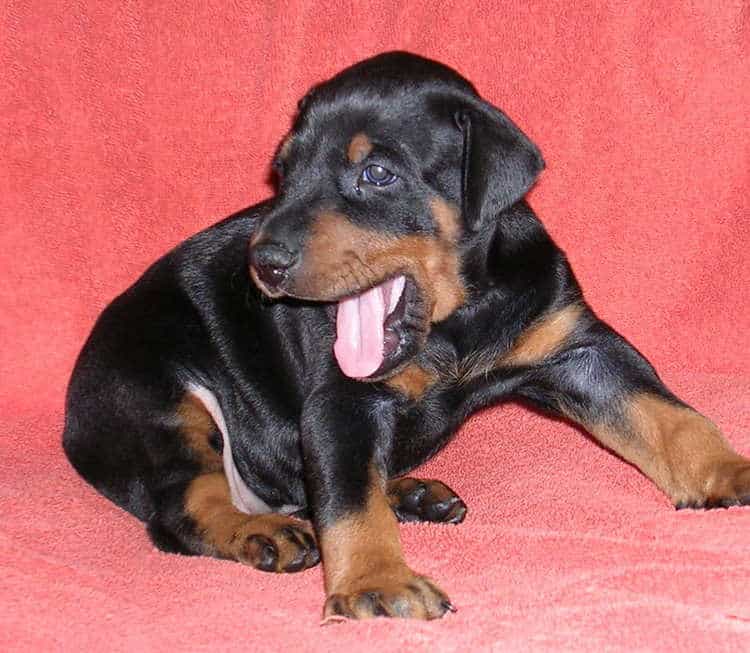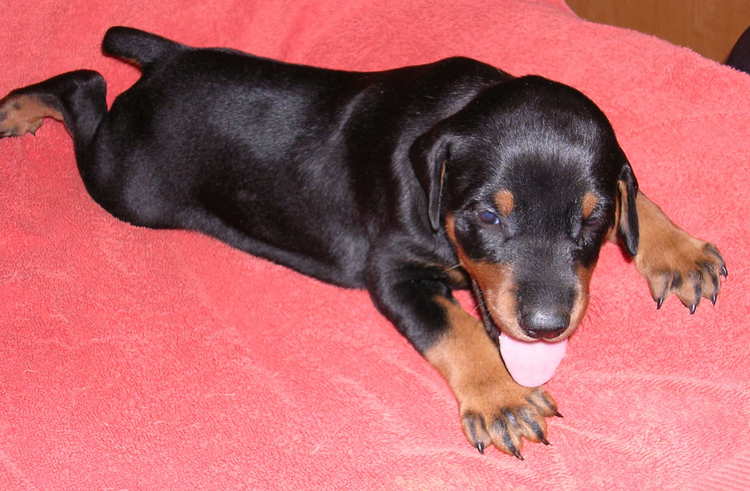 ---
Pictures below taken at 2 weeks ..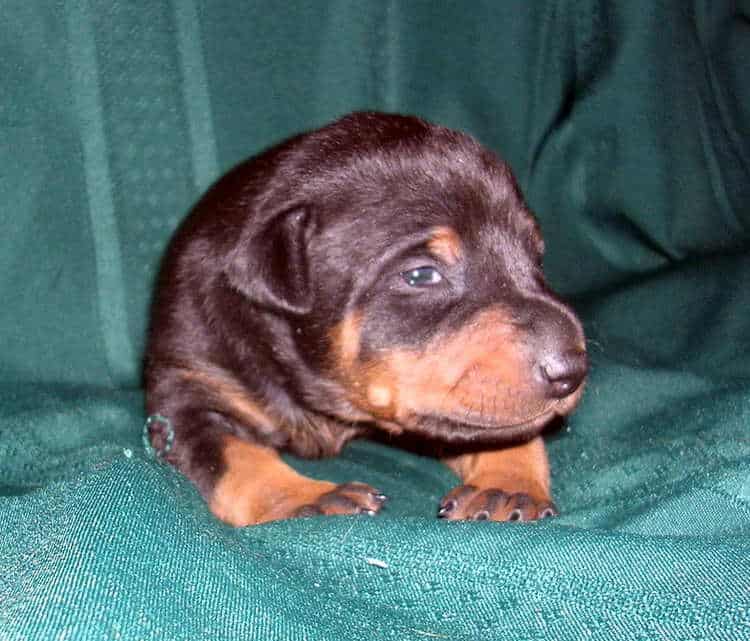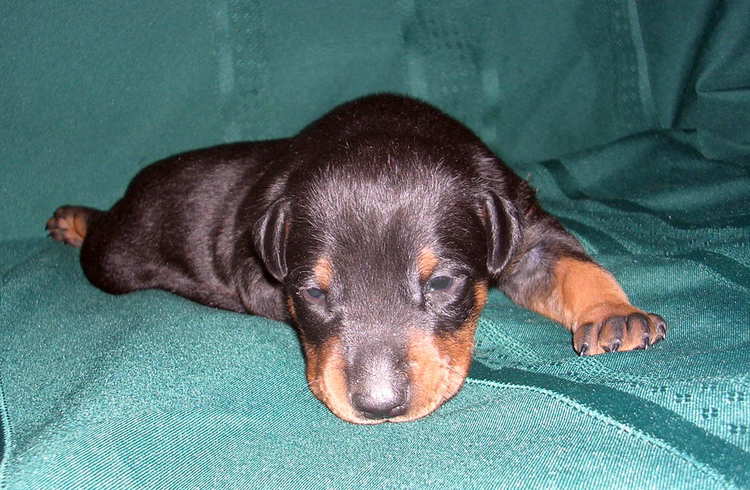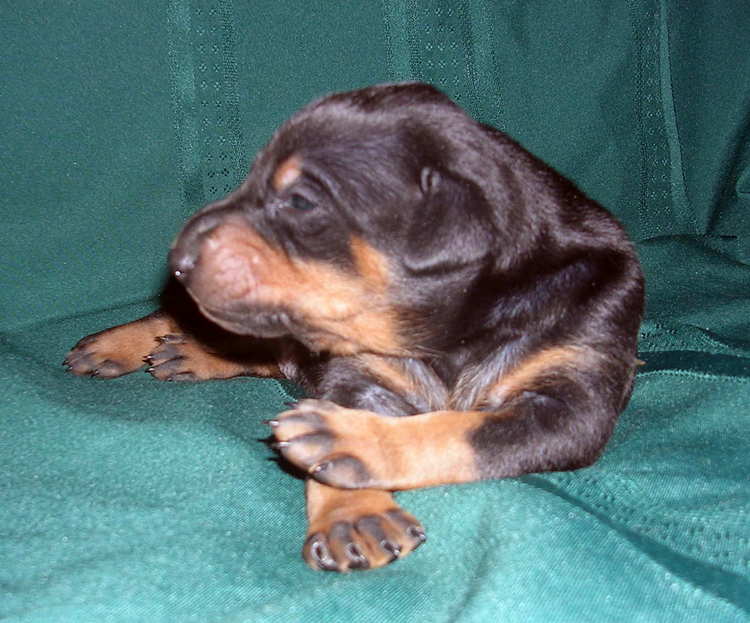 March 4, 2006 -

"Hi Laura,

Nikita is doing great and I really love her. She did great with her puppy class but is not quite old enough to start obideince. I also got another Doberman puppy that I named Sasha. I wanted to ask you about ear care because she came to me with her ears already cropped. It looked like they needed to be wraped again. What is reasonable to be charged for a vet to wrap their ears? How often do you do this? How long do you leave them wrapped and so forth? I am really having a hard time finding a vet to do this and I have no clue on how to do it myself. I did find one and he charged me $90 to do it. Does that seem high to you because I thought it was but I really don't know. He charged me $43 to sedate her (Is that normal to sedate them?) $22 for the bandage material and $25 to check her ears. Also I am finding that I like the croped ear look. Is it to late to crop Nikita's ears? Anyway I would appreciate your feedback.

Thanks,
Rebecca"

RESPONSE:

"Rebecca,

Good to hear from you! I will try to answer your questions the best that I can. Our vet charges $15 per wrap. Each wrap stays on about 7 days or so and then let the ears "air out" for a day or two before wrapping again. This helps keep them from becoming a gooey mess!

I think I would report the idiot you took her to!? Are you saying he sedated her just to wrap the ears!?!?!?! That is insane! I wish you were closer! I would help you wrap them. Nikita will be 17 weeks Friday. I think that is too old but I would get a vet to look at her -- don't use that vet!!!! He obviously doesn't know what he is doing!

Take care!
Laura"

REPLY BACK:

"Laura,

Thanks for getting back to me. I will have to send you some pictures. Nikita is hard to take pictures of because she hardly stays still.

Rebecca"
December 27, 2005 - Nikita goes home today!
December 13, 2005 -

"Hi Laura,
I saw the 4 week pictures just now. They are so cute!!! When do you anticipate being able to them home? As soon as she is ready, I would love to have her. Thanks, Rebecca"

RESPONSE:

"We can let them go home at 7 weeks old."

REPLY BACK:

"I have another question. Are the puppies still with the mother? You mentioned that you would be bringing them to your house. I have read that it is best for the pup to stay with its mother for at least 7 weeks .. but then I have also heard that as long as they are eating well on their own and you have other dogs to help socialize them, then that is fine, too. I know you have dogs but I do, too. So, tell me the situation with my puppy. In some ways, I would love to have her sooner. Also, because I have some time off and would be able to be with her. But I really want to do what is best for her.

Thanks
Rebecca"

RESPONSE:

"Rebecca,

The pups were brought to our house Monday. The mother is no longer with them. We are socializing them, so don't worry about that. I think the most important thing is that they are together as a litter and are learning from each other (i.e., biting hurts!). Since you have other dogs, my recommendation would be to take her during the time you have off. Bonding with you while you have off would be great for her!

Laura"

REPLY BACK:

"Laura,

That sounds great! Then I will get her on my birthday! Just tell me all the details. Are you going to put up anymore pictures on your web site?

Rebecca"

RESPONSE:

"I took pictures Monday but haven't gotten around to gettting them on the site. What a great birthday gift ;-) I will look up flight
options later. Laura"
December 11, 2005 -

"Hi Laura.
How are the puppies doing? I keep checking to see if there are any new pictures of my puppy. Do you have them at your house yet? By the way I am going to name her Nikita."
Thanks,
Rebecca

RESPONSE:

"Rebecca,

My son and I went to visit the pups Sunday evening. They are beautiful and doing great! We will have them here next week. I will get some pictures up for you later. Thanks for sharing her name!

Laura"
December 3, 2005 -

"I am interested in a Black and Rust female. Please let me know if you have any still available."

Thanks,
Rebecca

RESPONSE:

"Yes, we do -- from the litter born November 11. Thanks for contacting us! Laura"

REPLY BACK:

"I would like to have one that does not have her ears cropped. Is that a problem? Also, I live in Idaho so I would have to ship her here. Can that be done in winter?" Rebecca

RESPONSE:

"Thanks for getting back to me. It is your choice whether to crop the ears or not .. I don't have a problem with you choosing not to do it. We are shipping a pup to Canada on Friday. So, I don't think getting a pup to you should be a problem. I will get her acclimated to cooler temperatures before she flies home. Also, the plane is temperature controlled. Let me know what other concerns you have."

Best regards,
Laura

REPLY BACK:

"How do I go about putting down a deposit? Also, I would like to call you and ask you a few question so when would be a good time?" Thanks, Rebecca

RESPONSE:

"Check is fine for deposit. Call anytime today!" Laura

REPLY BACK:

"Hi Laura,

Thanks for talking with me. I did sent off my deposit today for the larger female. You won't sell her to someone else since it will take a few days to get there right? I have even picked out a name for her!"

Thanks,
Rebecca

RESPONSE:

"Don't worry! I allow a week for deposits to get to me. I am a person of my word .. when I aggree that the puppy is yours, it's yours! That is why people like dealing with me.

What is her name going to be? As soon as the deposit comes in, I will put it on her page."

Laura
---
Find a New Home for Your Dobe
Doberman Rescue Organizations
All Content Copyright © 2000-2010 GarrettsDobermans.com.
All rights reserved.