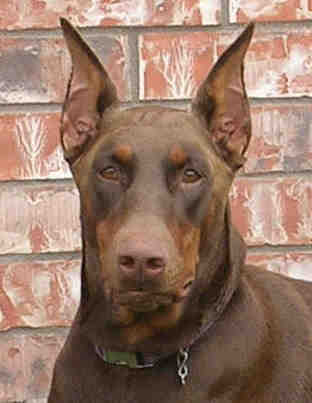 Garretts' Dobermans .com
Welcome to Garretts' Doberman Puppy Site!

Anakin & Louie
Two boys from this litter got to go into the same home! A red/tan male and black/tan male are now living with Valerie and family in Richardson, Texas.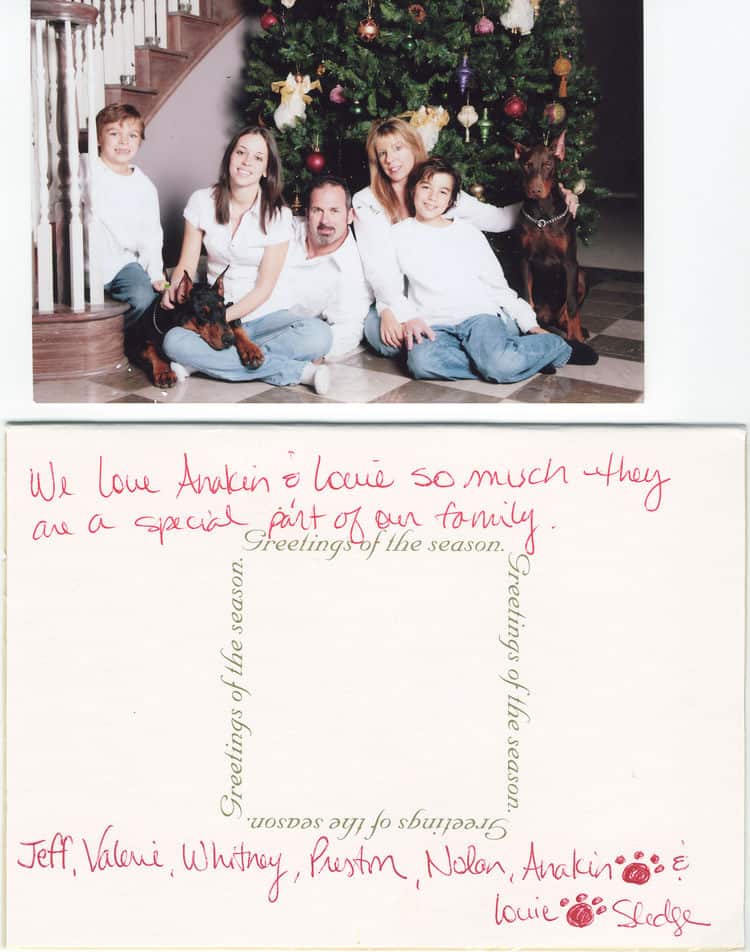 Christmas 2006
---
August 15, 2006 -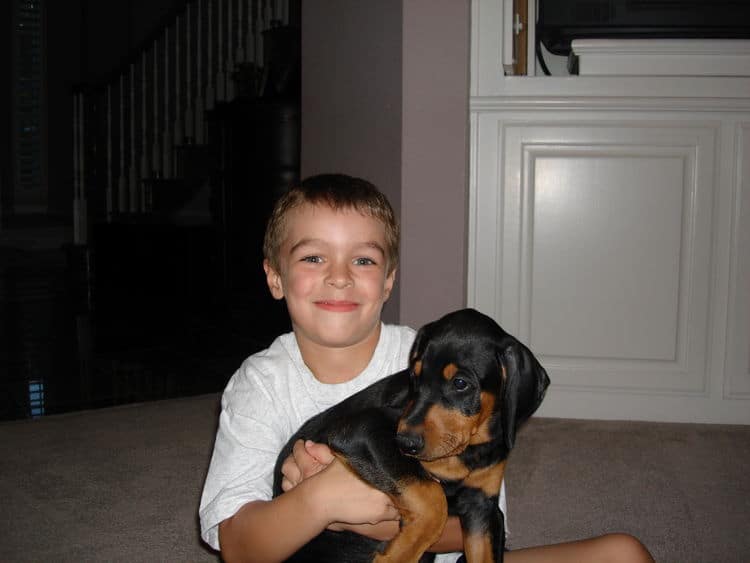 Anakin and his New Master

(named after the dark character from Star Wars)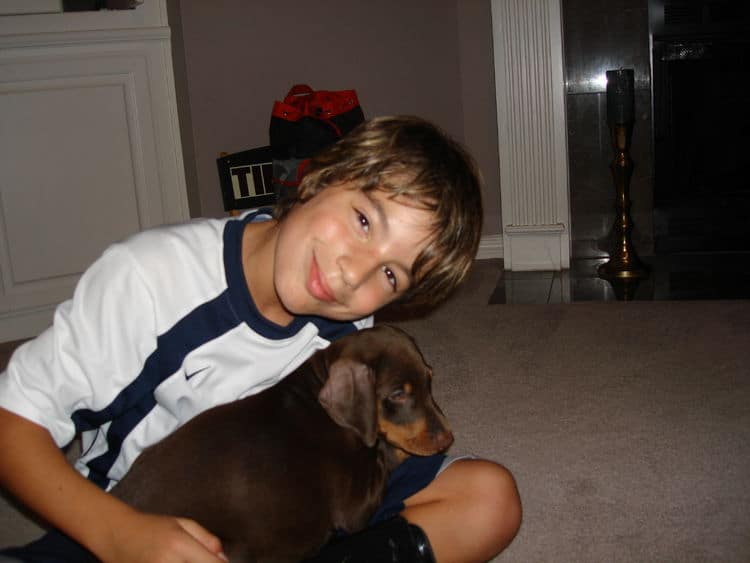 Louie and his New Handler

(named because his coat color is similar to the brown Louis Vuitton handbags)
---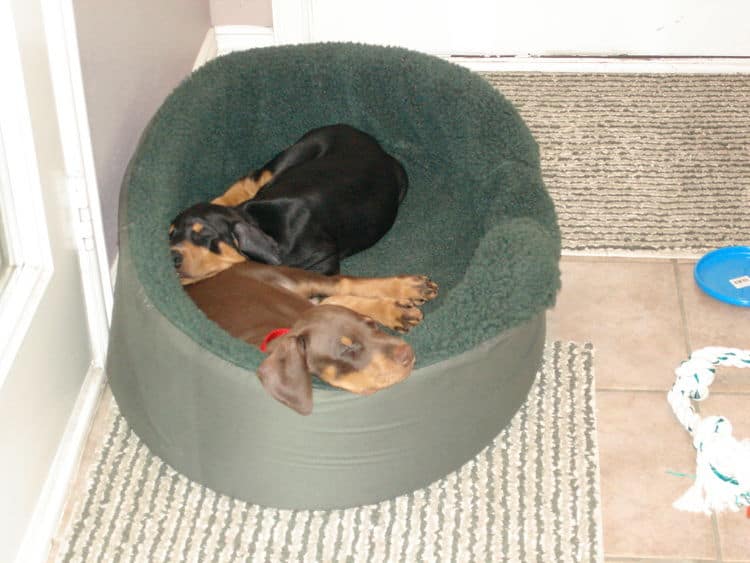 August 13, 2006 -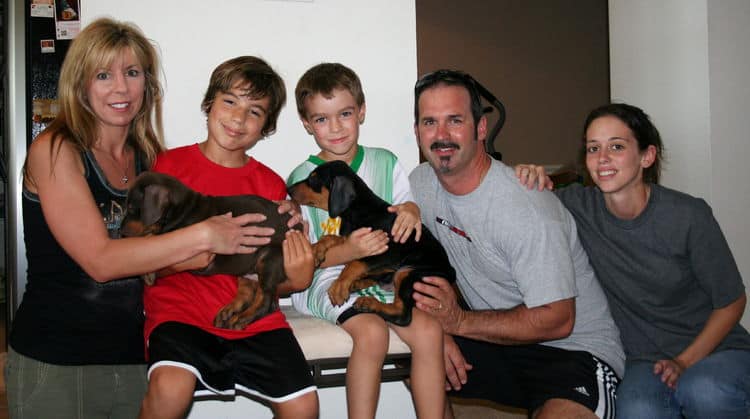 This family came out to meet the pups today and decided to go ahead and take them home!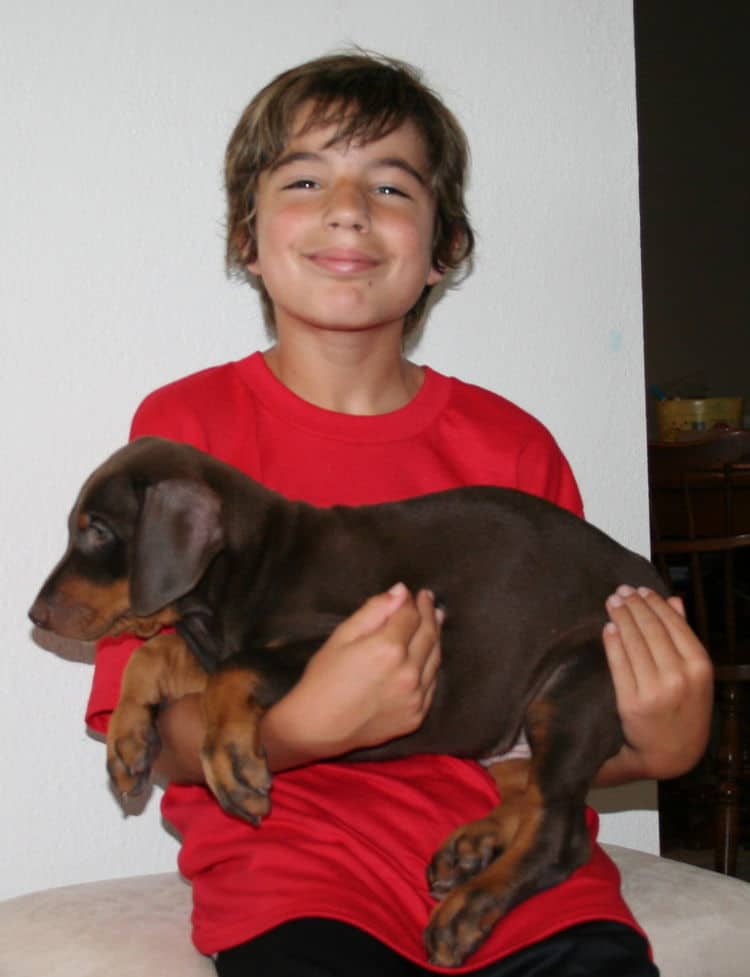 August 14, 2006 -
"The new boys are great – we stopped and bought all the required puppy gear (bed, toys, crate with fluffy liner, gate, bowls, food, leashes, collars, puppy shampoo, bathtub liner – which is great, it keeps them from slipping and sliding).

There was a little whining and barking at night and I got up twice to let them outside. There were no accidents inside the house as of 9:30 this morning – which I think is great – we keep them inside the house in a little gated area by the back door for now – and Preston and Nolan take them outside several times during the day to run and play.

Preston and Nolan are staying home today and tomorrow to take care of the pups (Louie is the brown one – he reminds Preston of the brown Louis Vuitton handbags and Anakin is the black one since Nolan is a Star Wars fan.)

We are sad that we do not have the opportunity to extend our love and family to the fawn pup. I hope the fawn owner takes great care of the precious little boy – he is a beauty. We may be interested in a fawn later still – I would love to have three. I am so glad that we took the 2 pups – it is fun to see them pal around and play together. I think it is hard on one to leave the entire litter behind.

We will send you some pictures soon. Thank you, Laura – tell Pat that we love our new little princes.

Valerie"
August 8, 2006 -
"Laura,

Please let me know if we could come see the pups and make our picks sometime on Sunday the 13th – and then come back the following weekend and actually take them home if they have adjusted. Also, please let me know which vet you recommend –
I would like to use one that is familiar with Dobermans.

Thank you,
Valerie"

RESPONSE:

"Valerie,

Pat and I haven't set the time for when the pups will get here. She offered to bring them and I may take her up on that offer. Would you like to be here when she brings them? That way you could meet Pat as well. I really don't have a problem with you taking the pups Sunday, entirely up to you. They will be 7 weeks old the next day.

As for the best vet to use, Dr. Schaffer is the only one I would use if you don't mind driving to Frisco. Her number is:
972-335-1234

As for the black male pick, Pat has some previous owners that came back to her to get a pup from Guen. It was her arrangement and they picked one of the two already. That was really out of my hands. But, I truly feel like you would be happy with either. You, of course, have the pick of the three red males. So, that is going to be fun having to decide! I always have a hard time saying this is "the" pup. I know Pat and Don are favoring 1 of the red males. I will have to ask which one it is.

I need to run. Get back to me about all the above!

Thanks!
Laura"

August 10, 2006 -
"Any one of these pups are fantastic. All great picks. There is a big red male and a big black male. I would like them to go together. They are buddies. I know it is up to the buyer. The other two red males look alike. I will bring them to you. -- Pat"
July 31, 2006 -
"Laura,

Just checking in to see if the intended purchaser for the fawn is still interested – also, please let us know when the pups will be available to see and pick.

We are all very excited about having two of the pups as part of our family.

Thanks,
Valerie"

RESPONSE:

"Valerie,

As far as I know, the fawn is still spoken for - haven't heard anything different. The pups will be here on Sunday, August 13. You can pick up your pups anytime after that.

Having first pick on the males, sooner would work better so that I know what to tell other owners.

Thanks!
Laura"
July 24, 2006 -
"Laura,

Please let me know what size kennels we should buy for the pups. Our boys are very excited about the pups and want to start preparing.

Thanks,
Valerie"

RESPONSE:

"Yikes! Hmm .. a large one, for sure, if you are wanting them to remain crate trained when full grown. One large one would work fine for both to be in at the same time for quite awhile. The one we have that will accomodate our adult Dobes is 38" x 30" x 27" or something close to that, not that I ever use it for them. It really is only used for pups to pile in! --Laura"
July 18, 2006 -
"Laura,

I spoke to you this weekend and we are interested in a first pick of a black male and a first pick of a red male from Guen's litter – please remember that we would like to be the back-up owner for the fawn male pup instead of the red male, if available. I am mailing you my check in the amount of $400.00 today as the deposits for the two pups. We are very interested in seeing the litter of pups when they are delivered to you.

Please confirm the pricing for the pups, and let me know when we may come view and pick.

Thank you,
Valerie"

RESPONSE:

"Valerie,

Good to hear back from you. Don't get your hopes up too high on the fawn .. I have already received the deposit for him and the lady was pretty excited. Always feel free to shoot questions at me when you have them!

Laura"
July 14, 2006 -
"We are very interested in one or two Doberman pups. Please let us know if you have any pups available. We have a large loving home with 2 boys. -- Valerie"

RESPONSE:

"We have three that may go home now as they are 10 weeks old. One, a black male, was returned because the owners' son turned out to be allergic to dogs. Another pup (red female) is now available because the owner had to back out due to her builder not getting what he said he was going to do actually done in time. And, the third - a red male - has simply had no interest. Red males seem to always be last to go? Let me know if you have any question! Laura"

REPLY BACK:

"Generally, when are the ears cropped? Are the pups available to see and hold and kiss? We would be interested in two males. What are the prices for the two males?

Beautiful pups!
Valerie"

RESPONSE:

"The ears are usually done around this age to 13 weeks old. I have done them with my vet (owner's expense) earlier than that and then let them go home. Absolutely, you are welcome to come out. We ask $850 for blacks and $950 for reds. I want you to understand that I do not have the parents here. I am representing another breeder who incorporates the same socialization we do .. raise and handle them from day 1 WITH our children. I can provide information on both parents as well as pictures. I got the pups at 7 weeks old. Why am I placing the pups? Because the traffic my web site draws in is high and I get a larger pool of owners to choose from = better homes for the pups. On that note, please include some info on you as potential owners in your next email.

Thanks!
Laura"
---
Find a New Home for Your Dobe
Doberman Rescue Organizations
All Content Copyright © 2000-2010 GarrettsDobermans.com.
All rights reserved.